Our Tuesday morning snowfall, March 18, 2008.
Posted on 2008.03.19 at 09:04
~*~
C
an you believe it? This post has nothing to do with Frodo, Tolkien, or men's underwear.
Last week, looking at your LJ's at entries in which some of you showed the view from where you live, I remember thinking, "well, there's nothing noteworthy about
our
view. (Well, there *is* a huge, gorgeous lake four blocks away down the hill, but we sit too low to see it over the houses across the street.) Yesterday morning, however, I woke up to see snow. Again. For heaven's sake, it's Holy Week, practically Easter! Enough, already! But it was so pretty, I took photographs. For those who like snow pictures, I have posted a few.
I shouldn't complain, really. Except for a lot of snow in December, it's been virtually snowless here, a snowy place, so our lack of snow has constituted a drought. It has snowed, but just a few inches here and there. Enough to be a nuisance but not enough to help the water table. So we need any precipitation we can get. And this snow was extra-pretty. Because it was just below freezing (toasty for here), the snow was damp and sticky and clung to every horizontal surface, flocking everything with a thick white blanket of snow: trees, shrubs, power and clothes lines, houses, fences, parked cars, everything. There was no wind to blow it off, and it was warm enough to stand outside in my slippers to take the pictures. I loved how still it was, nothing moving but the last flakes falling. All sound was muffled (until the next snow blower cranked up).
Perfect.
~*~
This is the view out the back of the house. This was my first view of the new snow fall.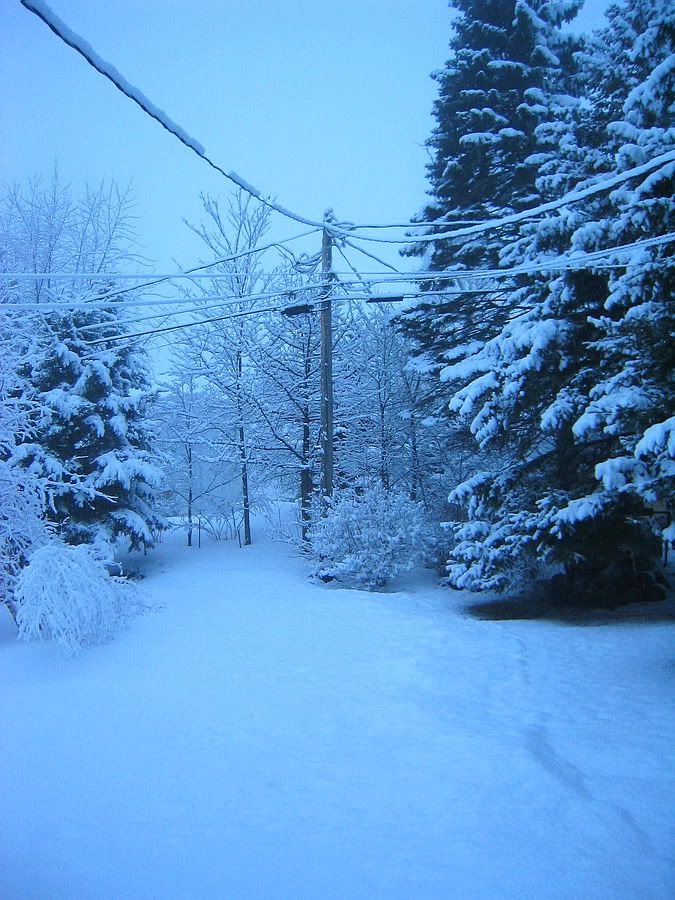 Here's the view of the street from the side porch. My husband, dear man, had blown the snow out of the driveway before I even woke up.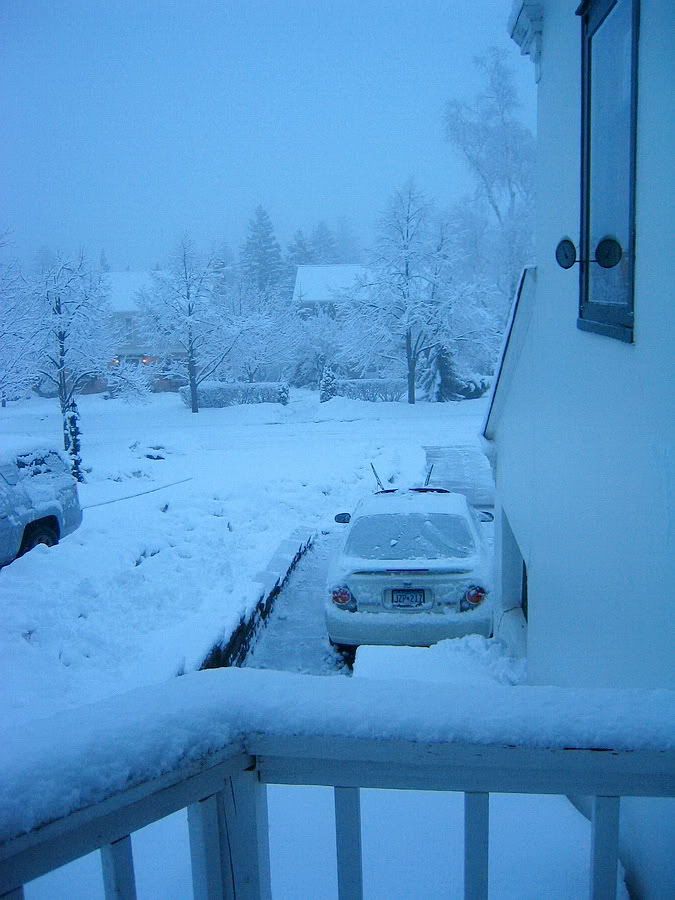 Still dim under the heavy skies, the world a soft, Lothlórien blue (Tolkien gets into my posts no matter what), people leaving for early-morning jobs drove by in near-silence. Their headlights looked like homey in the blue twilight, like lanterns.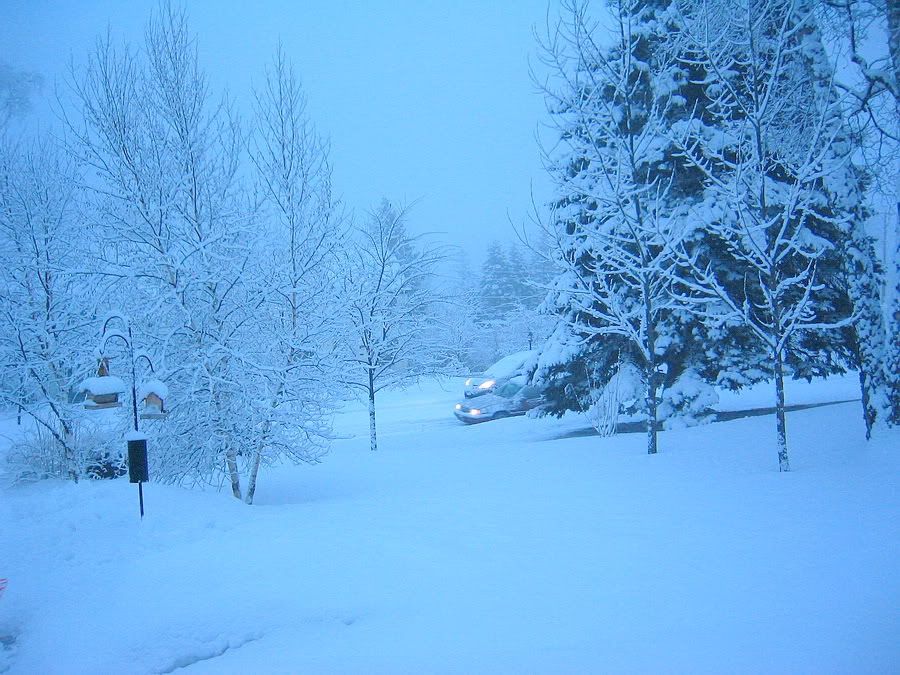 From the front step, this is my husband beginning to shovel the front walk. (I only did the finishing touches and the side walkway, after he'd left for work.)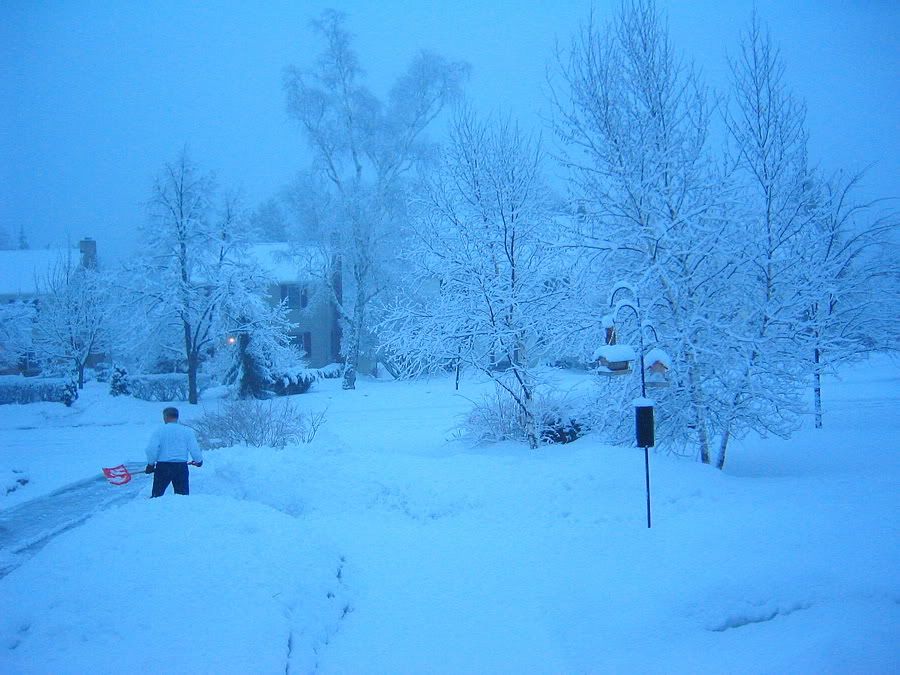 Ah! He's made it up past the bird feeders. The birds (and the squirrels and rabbits) will be very happy after I clear out the snow beneath it, to uncover the fallen seed.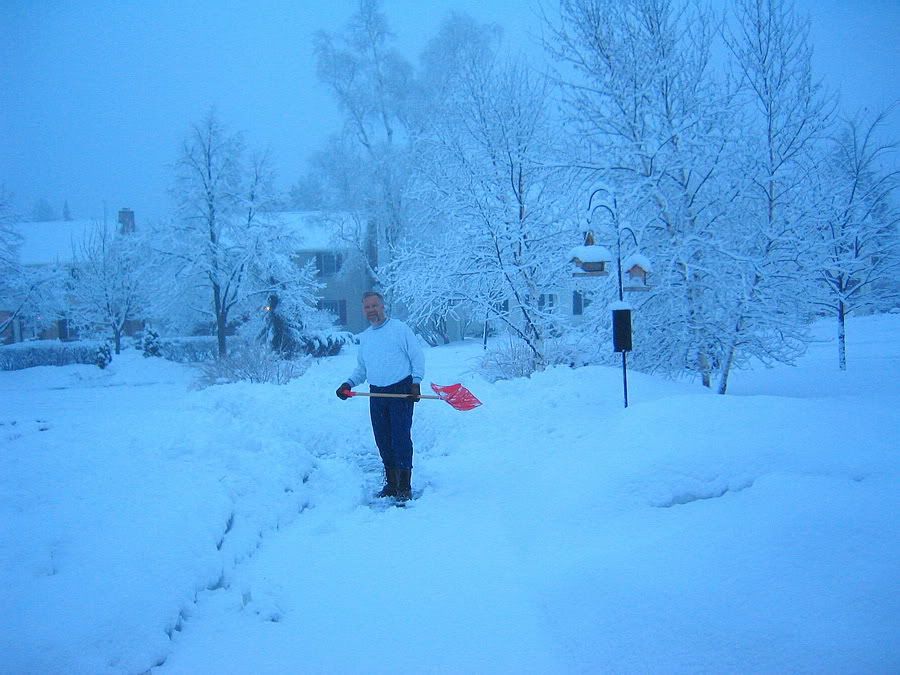 The finished walk, with a nice view of the flocking on the trees, a ghostly car driving by.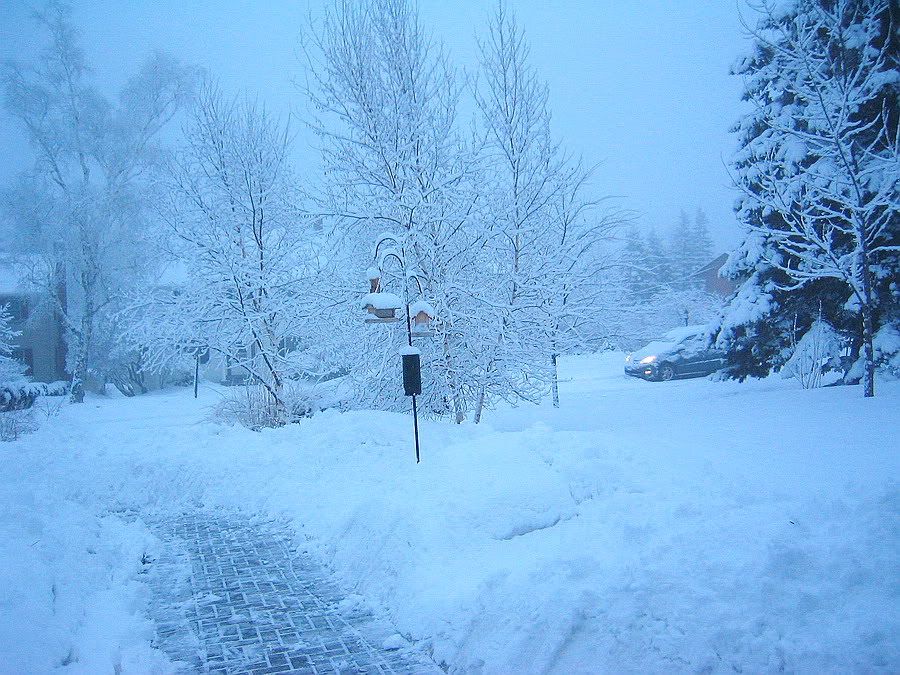 I'm very glad I took these photos. As I suspected, because of the snow's weight and the day's warmth, the flocking began dropping off as soon as the snow stopped. By noon the trees were bare, stray clumps of snow on the driveway and walks had melted, and you'd never know there had been a new snowfall.
~ Mechtild