A new poem by jan-u-wine, with a Frodo Art Travesty made from Metsu's 'Man Writing a Letter'.
Posted on 2007.12.22 at 14:45
~*~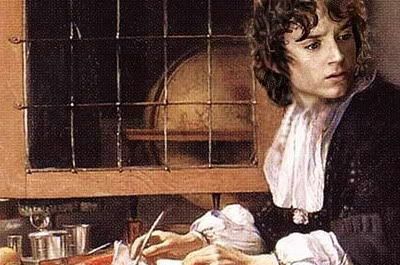 I
said in our "Thank you"post I had a few Art Travesties planned, Frodo manips with which I could showcase poems of
jan-u-wine
. This is one of them.
Although the poem and manip are more thoughtful and brooding than cheery, I thought they might do well as a gift of the season—according to my understanding of the season, that is.
For me, Christmas is more grave, more moving, and more poignant than what is conveyed by lighted trees and jolly men who come down chimneys saying 'Ho! Ho! Ho!' bearing sacks of presents. It has a joy for me, but a quiet, contemplative joy. To put it another way, if this entry were Christmas music, it would have more in common with "What Child is This" or "Lo, How a Rose E'er Blooming", than "Grandma Got Run Over By a Reindeer" or "Jingle Bell Rock". :)
~*~
In case you want to skip some of the sections, this is the structure of the entry:
1. Discussion of the source painting and its painter (for art fans).
2. The finished piece in three sizes (the largest size is linked).
3. Jan-u-wine's poem, That Which Matters Not, for which this manip was made, followed by a reflection.
4. A technical section, for those interested in the making of the manip.
I hope you enjoy the art and poetry. My thanks to Jan, not only for writng the fabulous poem that prompted this Art Travesty, but for her help writing and proofing the texts for this post.
1. About the painting.
Gabriel Metsu was a Dutch painter, born in 1629 or 1630 in Leiden, where he lived and worked until moving to Amsterdam. His life and career were both regrettably short: he died in Amsterdam in 1667. He was not yet forty. Metsu's father, a Flemish painter, was probably his first teacher. He is said to have become the pupil of a reputed Leiden genre painter, Gerard Dou. Yet Metsu's early pictures were not of genre scenes. He began painting historical and mythological subjects, "musts" for any artist who wished to be considered a Serious Painter. Yet as the WGA entry says,




"[H]is most characteristic works are genre scenes, some of which rank among the finest of their period. He concentrated on scenes of genteel middle-class life, fairly close to de Hooch and Terborch in style, but with a personal stamp. One of his best-known works, 'The Sick Child' (Rijksmuseum, Amsterdam), is often compared with Vermeer [also noted for his use of light]."


The writer of the Wikipedia article wrote my favourite assessment:




"What Metsu undertook and carried out from the first with surprising success was the low life of the market and tavern, contrasted, with wonderful versatility, by incidents of high life and the drawing-room. In no single instance do the artistic lessons of Rembrandt appear to have been lost upon him. The same principles of light and shade which had marked his schoolwork in the "Woman taken in Adultery" were applied to subjects of quite a different kind. A group in a drawing-room, a series of groups in the market-place, or a single figure in the gloom of a tavern or parlour, was treated with the utmost felicity by fit concentration and gradation of light, a warm flush of tone pervading every part, and, with that, the study of texture in stuffs was carried as far as it had been by Ter Borch or Gerard Dou, if not with the finish or the brio of De Hooch."


Because he did not date his work, the painting, "A Man Writing a Letter" is only roughly dated at 1665-67. There is a companion piece, "Woman Reading a Letter", perhaps meant to show the same letter written being read.

An art critic reviewing a show of paintings depicting the writing and receiving of letters—a popular subject in Dutch genre paintings—wrote of the painting for this manip,




"Bathed in clear, silvery light, both paintings are packed with pictorial symbols. In ''Man Writing a Letter,'' we see a young man at an open window composing a letter. Behind him are a globe and a classical pastoral landscape in a carved gilt frame. He is a man of means and education."



~ from "The Intense Dramas Of Letter Writing" by Benjamin Genocchio, cited from an article in The New York Times, Feb. 8, 2004.


None of the Internet entries I found on Metsu's life are long, the one at Wikipedia being the most detailed, but my sources can be read in full at Rijksmuseum Museum, Wikipedia, the Web Museum of Art (WGA), and HiBeam Encyclopedia.
~ Source painting: Gabriel Metsu's
Man Writing a Letter
, ca. 1665-67:
~*~
2. The Finished Manip ~ "Frodo in Gabriel Metsu's Man Writing a Letter".
I have fallen in love with this Art Travesty, partly because the source painting is so lovely, and partly because of the way Frodo looks in it. The way he is turning away (or turning back?)—the twist of his body in the chair, the expression on his face—all these aspects are evocative and multivalent. Given the watchful look in his eyes, (a look practically of recognition), it is almost as if he feels the presence of another person within the room.

Thanks to Metsu, the lighting is beautifully rendered, as if he were writing in the morning, perhaps between breakfast and elevenses. Jan-u-wine, seeing this manip, called Metsu "a good scene designer", the setting is so perfect for the transported Squire. The room and its appointments are those of a gentlehobbit of means and taste: not ostentatious, but everything well-made and carefully chosen. I quite love his modest but elegant 17th century Dutch gentleman's dress, fastidious without being fussy. Jan wrote of this scene, "Frodo looks entirely natural and comfortable within this framework, as if this is truly an alternate universe that he might have inhabited."





~*~




The first copy of the final manip is shown at an intermediate size. If you have a smaller computer monitor you still won't be able to see the whole image from top to bottom without scrolling, but it will give you a good sense for the over-all look of the piece.
~ Lj size (800 pixels wide) of the final manip:
The image below is cropped, top and bottom, from a still-larger version, so that the detail can better be seen. I love being able to see the things on his desk, and the beauty with which Metsu renders everything. It moves me very much when a painter has "a reverent eye" towards his subject, whether it be a hare and a piece of turf or the creating of the heavens and the earth. Also, cropping the top and bottom hides the fact that the Dutch gentleman in the original painting wears shoes, something Frodo was unlikely to have done.
~ Crop of a larger version (1000 pixels wide), in order to show detail: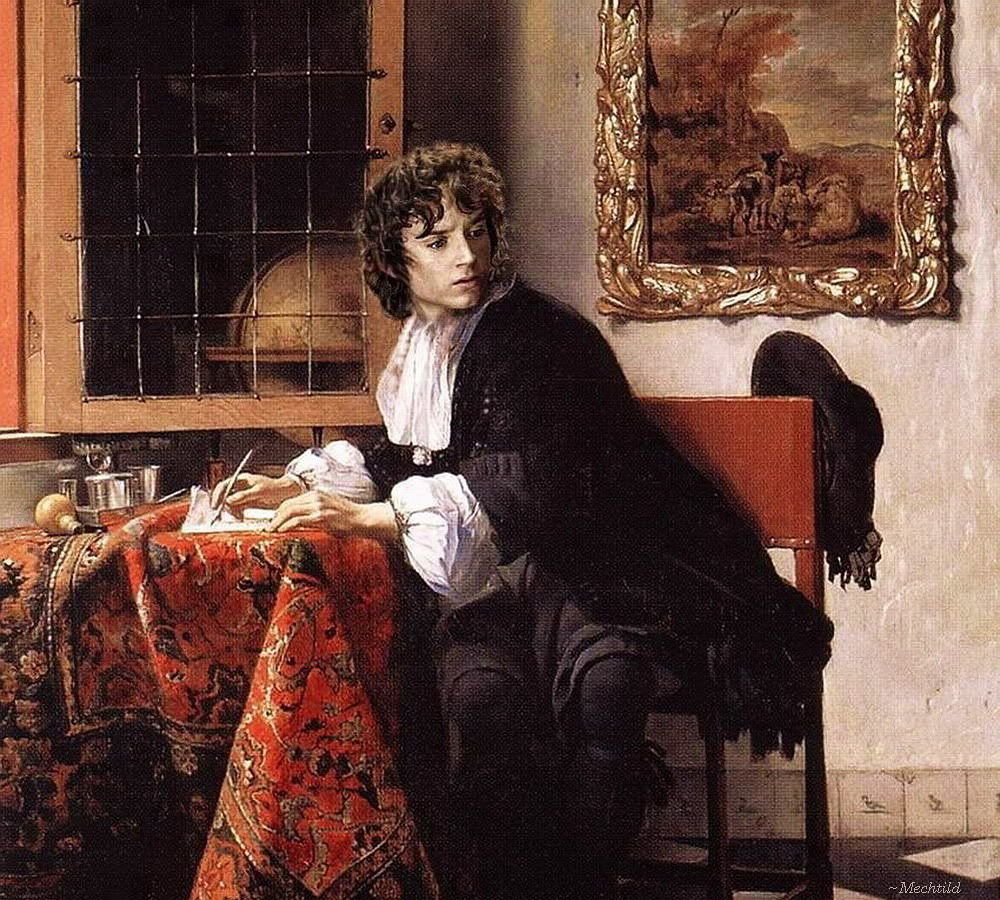 ~
Very large version:
For viewers with very large monitors, or for those who simply would like to see Frodo or the whole painting in better detail, the largest version (1100 pixels wide) of the full manip may be seen by clicking HERE.

Note: When the image opens, it immediately defaults to a smaller size. Open it to full size by hovering the mouse over the lower right-hand corner: click the button that appears.
~*~
3. Jan-u-wine's poem.J
an-u-wine's gorgeous poem,
That Which Matters Not,
was written only last week. The manip was made to illustrate the poem. When I first read it, I was stunned. When I had recovered I wrote back feverishly, "We must post this! I must find something to illustrate it!'' But what?
I had already screencapped the RotK scene of Frodo writing at his desk twice (the film version, and the take of the scene included in the EE extra, 'The End of an Era'). I had done an art manip of Frodo seated at a desk before, too. But I did have another suitable painting tucked away in my "Art for Manips" file, Gabriel Metsu's Dutch gentleman writing a letter. I sent a copy to jan-u-wine, suggesting it serve as the poem's illustration, once it had been made into a manip.
Four days later I showed Jan the finished manip. "Perfect!" she said. Perfect, in what way, I wondered? The crafting was good, I thought, but not impeccable. I read the poem again. Moving between poem and manip I began to see the way the image in the painting mirrored the image made with words. It was the pairing of the two, the way the manip went with the poem, that she'd meant.
I'll save the rest of my comments for after the poem. I want readers to be able to savour the experience of reading it for themselves, without any outside influences.

That Which Matters Not

~ by jan-u-wine


Shadowed dark lies without,
hallways drowned

deep
in sleep and night.

A single candle stays upon the desk,
the round of its light soft

and dying
upon neatened pages.

Even the hearth-fire is spent,
whispering low

with tired
blue-orange eyes.

He does not know I am here,
standing silent behind him,

breathing as he breathes,
quieting as he quiets.

Watching every rush of quill upon parchment,

fretting
at every moment it stills.

Like the moon his hand is,
casting its Light upon the midnight of the sky,
silver-pale fingers

spreading

upon the desk's dark face.

The cuff of his writing hand is carefully unfastened.

There are no stains upon the linen.

No.

No stains upon anything which matters not.

And I see the reversed marks of the letters upon the heel of his hand as he up-turns the page,

the banding of them half-circled against the bird's-wing working of his wrist.

How fragile and innocent-beautiful it looks in the shadow-curved light.

I watch the slow deliberation of it until my eyes cannot see else,
my ears so taken with the feathered scratch of the quill
that my heart assumes its rhythm.

And when the music of it stops,
I stop, too,

coming to myself
as one who has walked far in the dremes of the night.

I do not need the words upon the page to know where he might be,
or why it is the quill has fallen without note from his hand.

I can all but feel the start-and-stop pulse in the hollow of his throat,
slow threaded sweat winding its way like cold memory.

Oh, if I were really *there*......

What would I do?

Would I kneel and tell him that I love him?

That the darkness means......
that the darkness

*is*
nothing......

That it is only because we are mortal that it means anything at all.

It will pass,

and in passing,
become Light.

Light, which time and circumstance will consume

perforce
until Day's candle drips again with tallow'd night.

There is nothing I might do,
nothing I might say

that should comfort him.

Already, he is above my small concern.


* * * *

His fingers touch the quill:

halting,
as if he does not wish to take it up again.

As great a burden, this, as ever the other was.

_________________________________________

In the morning,
the soft calls of birds yet half-asleep

beat
upon the sweet-cold air.

Sun fingers steal like wakened Spring across the floor,
ripple in the window-rounds,

coil
their advancing warmth upon the tilted desk.

There is tea here, too, the small breath of it making a thin scent-wraith above the pot.

He is looking out the window now,
the quill at ease in its rest.

He looks *easeful*, too,

as if he has found,
between the darkness and the dawn,
his own rest.

If peace has a scent,
it flavours the air within this room,

if hope may be placed within a frame of flesh,
it lives in the assured calm of his face.

This is his victory,

this small moment,
with the sun slicing its rainbows through the window,

the book closed upon the desk,
the white-pink uneveness of his hand touching it,

soft,
as one might, with love, shut the eyes of a departed friend.

Only one of us cries.


It hardly matters,

for I am not
*really* here.....

Yet,

tomorrow
(and ever after) there shall live a circle upon wine-coloured leather,

a salted signature of love unspoken.

~*~
A Reflection on jan-u-wine's poem.A
s I said above, when I first read this poem on December 14th I was stunned. I know I say "stunned" a lot, meaning by it, "I thought it was sensational". And I do mean that. But I also mean I was stunned in the literal sense—struck still—struck not only by the beauty of the poem itself, as writing, but by the emotional impact of reading it. "Experiencing it" would be nearer the mark.
Never had I felt so close to this character, so privy to what might have gone on in Frodo's mind/soul/spirit/heart as he wrote the darkest passages of the Red Book, revisiting what had to be the worst moment he had ever known, and getting through it somehow, perhaps in the act of writing about it. Yet, paradoxically, I felt myself curiously distanced, as if there were an invisible wall between us. Like the person in the poem's point of view, the person watching Frodo as he wrote and struggled and mastered himself, I could not speak, or reach to touch him, however close I was; the "wall" was in the way. And that invisible wall was not breached until the very end of the poem.
Who was it that watched, I wondered? It did not seem to be Sam. Surely Sam, seeing his master entering an obviously critical place in his memories, would have spoken, would have tried to intervene somehow, if only to comfort and assure. But if it wasn't Sam, then who?
I asked the author. It was
us
, she said, the readers: we who love and care about Frodo so deeply, who feel so close to him, yet who are not really *there*.
It is our lot as readers to see our beloved character in his nakedness, not his living nakedness, but his emotional and mental nakedness, in a way no character in the book may. Or that is what I think. We don't have the relational closeness Frodo has with Sam and his friends, but we are permitted another sort of closeness, one that permits us to see what is veiled from them. We see Frodo after his friends have left the room—when he lets out his breath and his shoulders slump, and there is no one left for whom he must put up a front, out of pride or love. But that is because from his point of view we are not there.
The paradox of becoming involved in the lives of fictional characters is that we *are* there, in a sense. We are close enough to hear Frodo breathe, to see the corners of his eyes crease when he smiles, to smell his fear. We simply can't be seen. We're there from our side, but, as far as Frodo is concerned, we don't exist. It is the storyteller (or poet) that allows us to see Frodo more nakedly and more vulnerably than anyone in his acquaintance could. Yet we cannot speak a word to him, touch him, or enter his world in any way that might make a difference. We can only watch, and love.
Maybe that's why we write fanfic (or make fan art). It is the only way we have to get through that invisible wall. As writers, we create scenarios and write characters—original, or developed from characters in canon—who
do
have relationships with Frodo. Through those relationships we can make a difference in the life of the character we love, if vicariously, a difference we cannot make as readers, because of the invisible wall that separates us.
When I read this poem, thinking of Christmas, it reminds me that the invisible wall can actually be breached—shatteringly, with a blaze of trumpets, or softly and silently as falling snow or water running under rock—but not by mortals. For me, that's the depth of the message of Christmas. And it makes me joyful—in a modest, fastidious, gentlehobbit-like way—to think on it.
~*~
4. Technical Matters: Behind the Manip.
a. The elements of the manip.

After browsing my screencap files, I selected about half a dozen different faces I thought might suit this painting, keeping Jan's poem in mind. To make the selection, I made quick, sketchy cut-outs of the "possibles" and rough-pasted them on top of the head in Metsu's painting, in otherwise un-retouched copies of the image. Jockeying between the semi-finalists, I finally decided which face I thought worked best. For this manip, it was a face from TTT.
~ Preliminary mock-up for selecting the right face: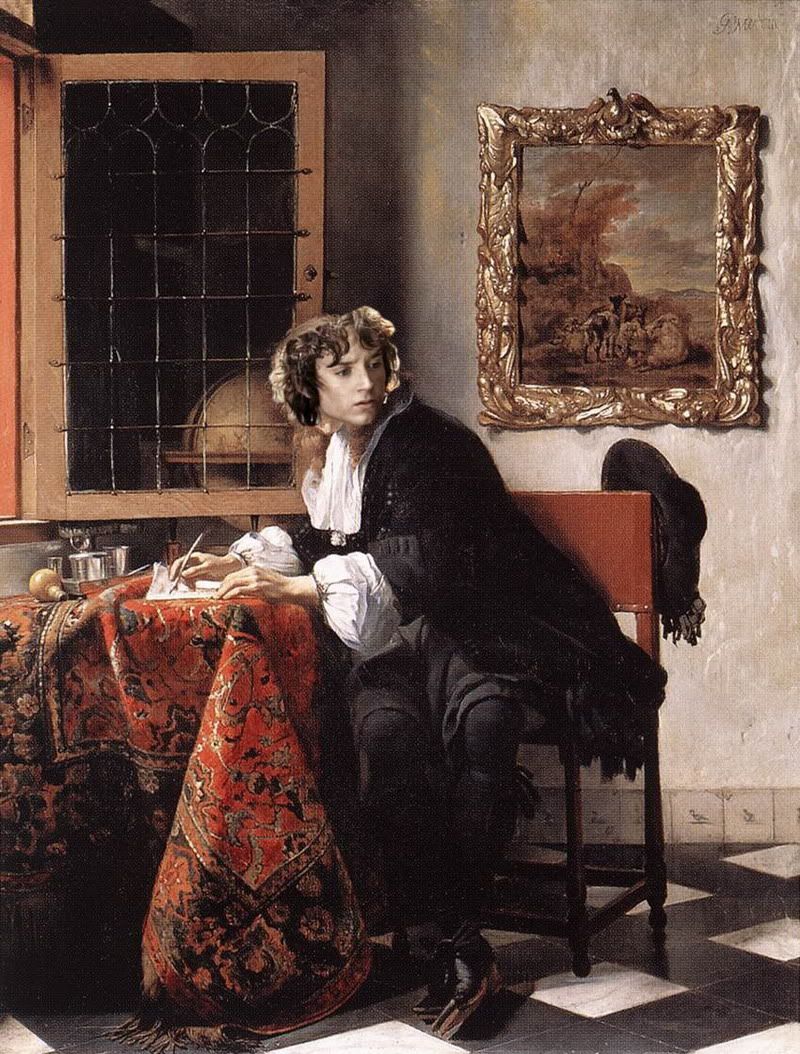 The face for this manip was taken from an Emyn Muil screencap in which Frodo has just heard Gollum affirm his promise on the Precious, and Sam is saying he doesn't believe him. To use it for this manip, I flipped the image horizontally.
~ Source of the head and face: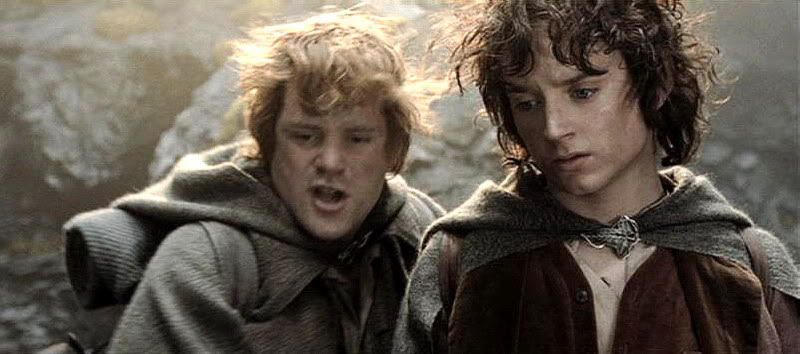 Because in the screencap the top of Frodo's head is cut off, extra hair was necessary to supplement the missing area. I made a "toupee" from hair in a related screencap from the series.
~ Source of the crown hair: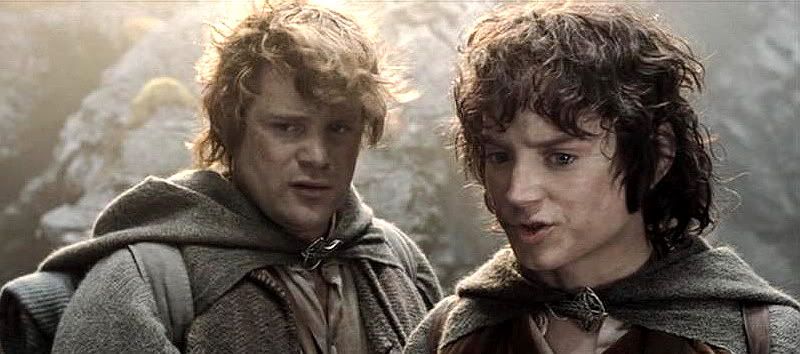 b.
The manip-making steps.
After I had made up my mind which head to use, I opened a fresh copy of the painting. Since Frodo's head would be in a different position from the original model's, and his hair would be much shorter, newly-revealed areas of the background needed to be constructed.
~ A close-up of the placement of the head in the source painting: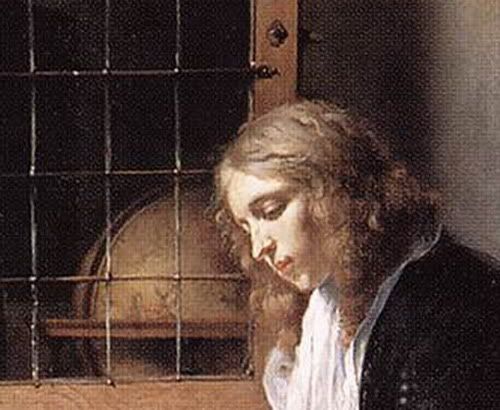 A working draft of the manip, below, is cropped to show more detail. Behind the rudimentary head for this manip (i.e. the cut-out head, with the piece of extra hair pasted on, retouched to match the painting in colour and lighting), can be seen the sort of "reconstruction work" necessary for these projects. I created the right side of the window frame, brought in surrounding background area to fill in at the top and right, and made more fabric for the collar area of the shirt. For the most part I used the cloning tool at various transparencies.
~ A close-up of the same area with the newly-visible parts of the background supplemented with new construction. An earlier working version of Frodo's head (hair on the left trimmed back) is pasted on for reference.
Below is a late version of the manip. The background work has been done, and the working head with its toupee has been pasted in. After saving it as a JPEG file, which fastens all the parts together permanently, my program then allows me to use the retouching tools and filters I will need to work on the picture as a whole.

The finished manip required using the cloning and blending tools in order to finesse the hair, neck and collar areas into the source painting. To add extra clarity to the face and bring it out better, I also further sharpened it and added highlights. After that, I "lassoed" the imported face and head in order to apply a filter. At a low setting, adding a filter helps match the new head's surface texture to that of the painting. In this case, I used "Watercolor - Damp".

After all that was done I did additional adjustments to the full image, tweaking the contrast, overall lighting, colour saturation, and sharpness.
~ Near-end-stage version, all the pieces in place, ready for the final retouching.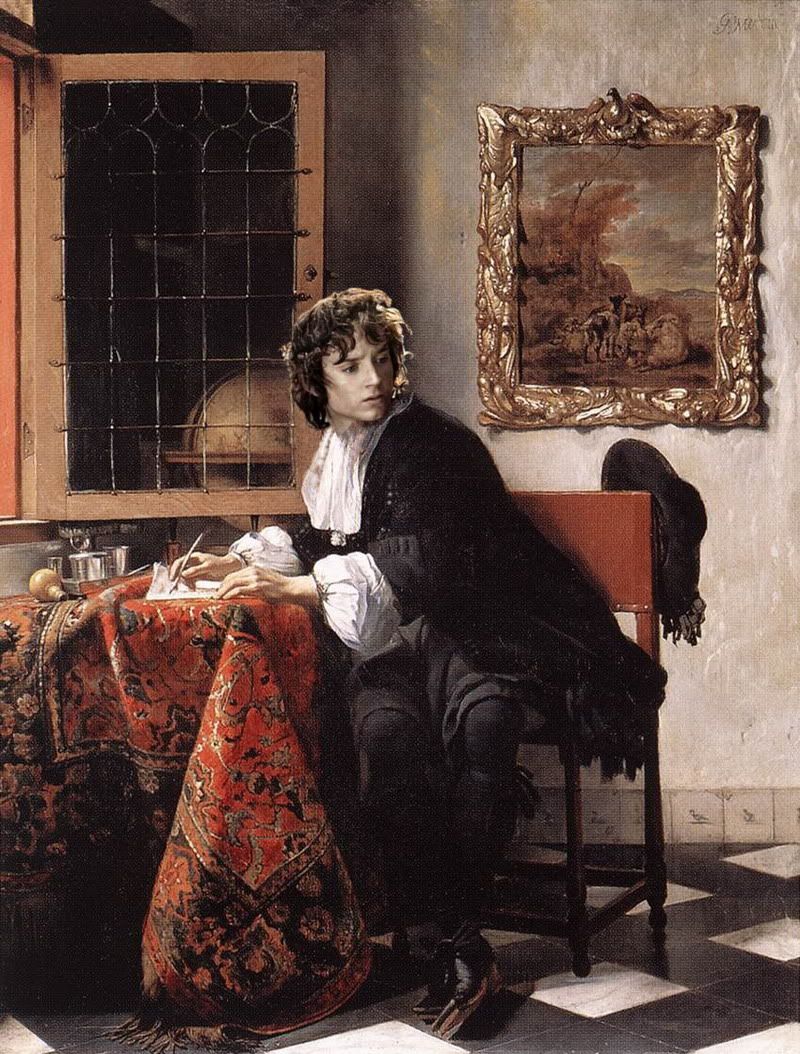 ~*~
Have a joyous holiday season, dear readers!
~ Mechtild
Tables of Links (click images to open):
~ Frodo Art Travesty LJ entries (entries that present selected manips, which may feature notes on the paintings and manip techniques, as well as essays or poems).


~ ALBUM of all Frodo Art Travesties (a gallery of images only—be sure to enlarge images after opening).


~ All entries featuring jan-u-wine's poems.


~ Frodo & Elijah Wood screencap entries