Look Fairer, Feels Fouler ~ caps from the FotR EE....
Posted on 2007.02.26 at 21:00
~*~
T
his set of caps is made from the EE of FotR, an "expanded" scene. It's a scene I already liked the look of, especially Frodo in it. I already had a few images from the TE version of it on file, copied from the Internet, but I always wanted better ones -- and more of them. Even though it is a tiny scene, I wanted eventually to cap it. Film-Frodo doesn't get many opportunities to show his more valiant, resolute side. A few good glimpses are offered in this scene. A proper "halfling prince" he looks in many of the frames. (I included a few Sam frames because he looks so dear saying, "We're going to see the Elves!")
I also like the expanded version of the scene because it restores a favourite line from the book (although used in a different setting).
~*~
The Film Scene from FotR:
Having left Bree, Strider is advancing through a wooded countryside, the Hobbits following. Only two new lines of dialogue were added to the EE, which I have put in bold-face type.


Frodo: Where are you taking us?

Strider: (looking straight ahead) Into the wild.

Merry: (aside to Frodo) How do we know this Strider is a friend of Gandalf?

Frodo: I think a servant of the enemy would look fairer and feel fouler.

Merry: I think he's foul enough.

Frodo: We have no choice but to trust him.

Sam: But where is he leading us?

Strider: (still looking straight ahead) To Rivendell, Master Gamgee, to the house of Elrond.

Sam: Did you hear that? Rivendell! We're going to see the Elves!
The Book Scene
~
from "Strider" in FotR:
In the book, the restored lines come from the scene at the Prancing Pony in Bree, after Frodo has committed his faux pas with the Ring in the common room. Back in their own rooms, having read Gandalf's letter explaining who Aragorn is, Frodo asks Aragorn why he did not say he was Gandalf's friend at once.
"Would any of you have believed me till now?' said Strider. (…) 'In any case, I did not intend to tell you all about myself at once. I had to study you first, and make sure of you. The Enemy has set traps for me before now. As soon as I had made up my mind, I was ready to tell you whatever you asked.'
After this comes Aragorn's bitter-sweet admission:
"But I must admit," he added with a queer laugh, 'that I hoped you would take me for my own sake. A hunted man sometimes wearies of distrust and longs for friendship. But there, I believe my looks are against me.
Pippin admits that they are. Sam, still very suspicious, challenges Strider....
'How do we know you are the Strider that Gandalf speaks about?' he demanded. 'You never mentioned Gandalf, till this letter came out. You might be a play-acting spy, for all I can see, trying to get us to go with you. You might have done in the real Strider and took his clothes. What have you to say to that?'

'That you are a stout fellow,' answered Strider; 'but I am afraid my only answer to you, Sam Gamgee, is this. If I had killed the real Strider, I could kill you. And I should have killed you already without so much talk. If I was after the Ring, I could have—NOW!'

He stood up, and seemed suddenly to grow taller. In his eyes gleamed a light, keen and commanding. Throwing back his cloak, he laid his hand on the hilt of a sword that had hung concealed by his side. They did not dare to move. Sam sat wide-mouthed staring at him dumbly.

'But I am the real Strider, fortunately,' he said, looking down at them with his face softened by a sudden smile. 'I am Aragorn son of Arathorn; and if by life or death I can save you, I will.'

There was a long silence. At last Frodo spoke with hesitation. 'I believed that you were a friend before the letter came,' he said, 'or at least I wished to. You have frightened me several times tonight, but never in the way that servants of the Enemy would, or so I imagine. I think one of his spies would—well, seem fairer and feel fouler, if you understand.'

'I see,' laughed Strider. 'I look foul and feel fair. Is that it? All that is gold does not glitter, not all those who wander are lost.'
~*~
I love the "Strider" chapter very much for the glimpses it gives into the characters of Aragorn and the various hobbits. I am sorry so little of it made it into the film. But, given the pressure the filmmakers were under to compress the story (read Sibley's book on Jackson as filmmaker; it's an eye-opener), they were able to include a surprising amount in not very much screen time.
As for the placement of the "fairer…fouler" line, I am glad it was added into the EE, even if it is not spoken in Bree. Some have thought it makes less sense here, since Aragorn has already saved them from being stabbed to death in their beds, and told them about the Nazgul. If they were still so unsure of Strider, why would they be following him?
I think it works well enough, even if out of narrative place. It provides a way of underscoring how much Aragorn is thought to look like a shady character by those who are ignorant of his true mission. In the film, too, there is no reading of Gandalf's letter to establish Aragorn's credentials, so they really wouldn't be as sure of him. And it's good to see Merry continuing to move away from the frat boy-prankster of the opening scenes (scowling wonderfully here), looking more like to the hobbit of the book: sharp, canny, alert to danger, always keen to formulate plans of action.
~ From the EE of FotR, these are slightly cropped, and tweaked for lighting and focus.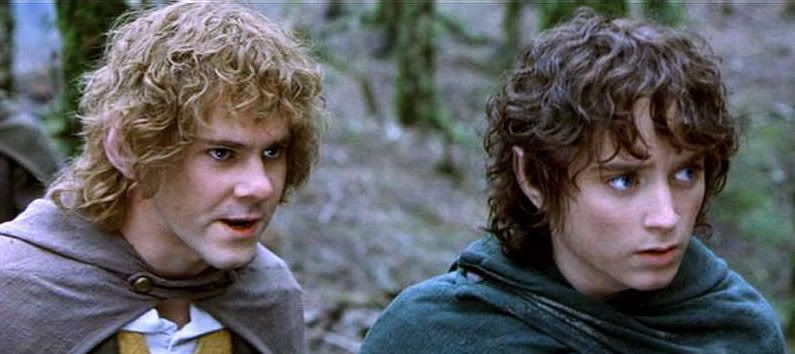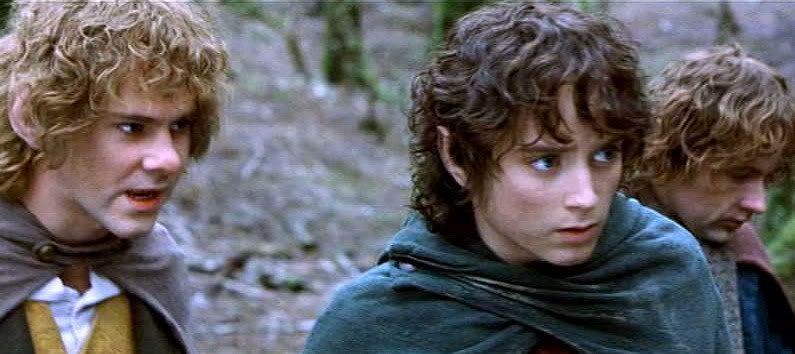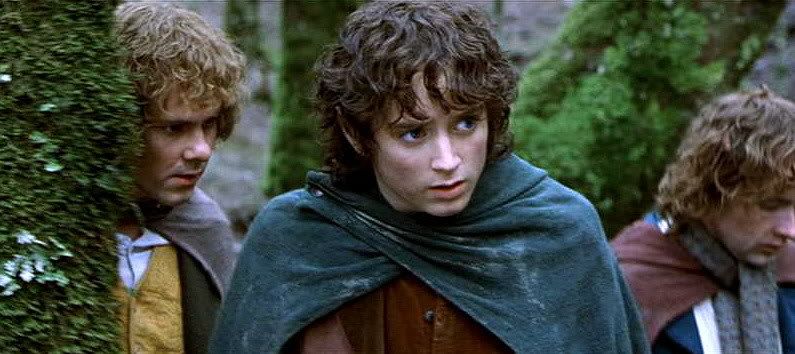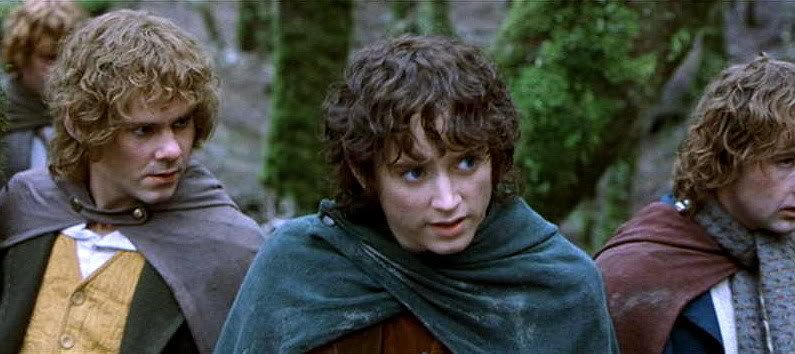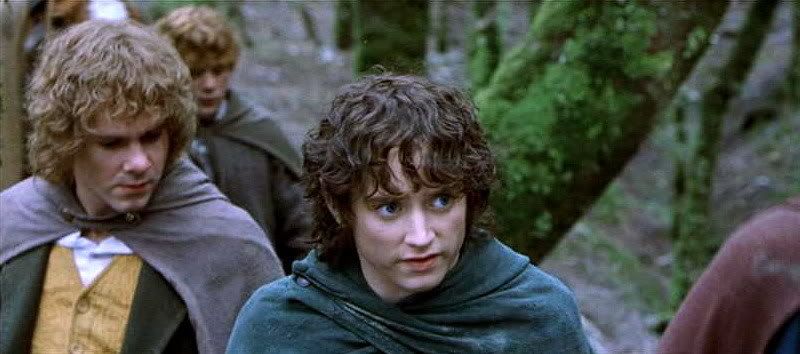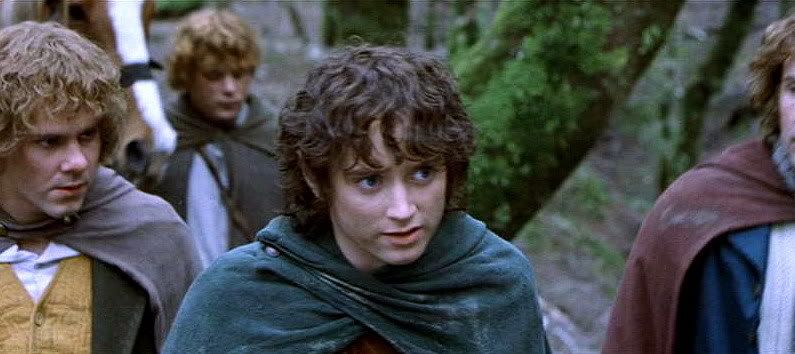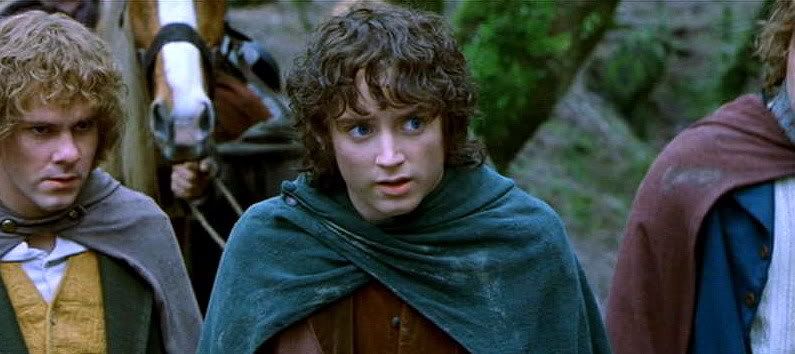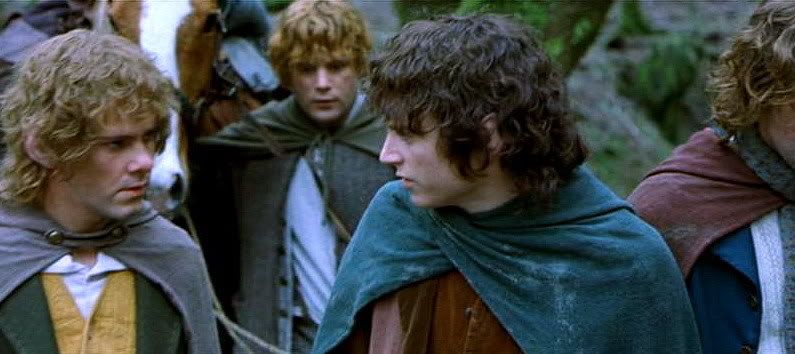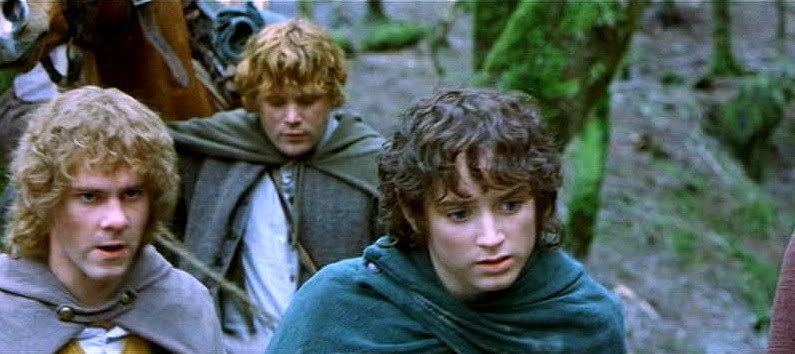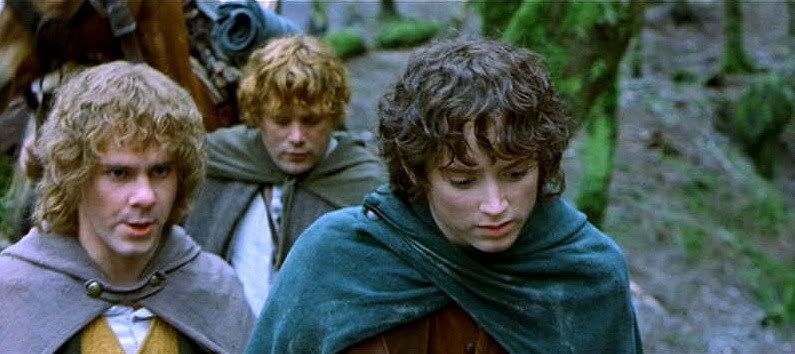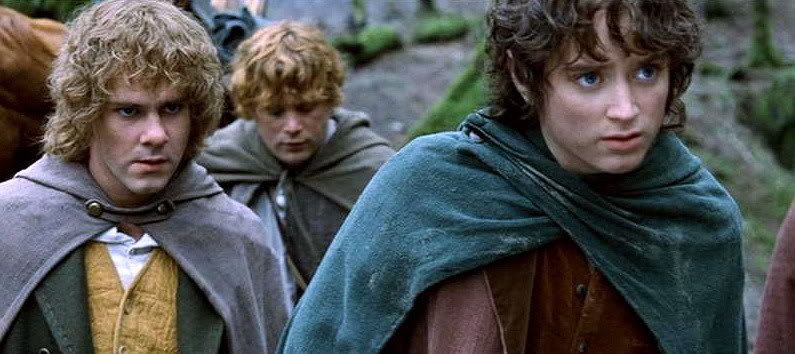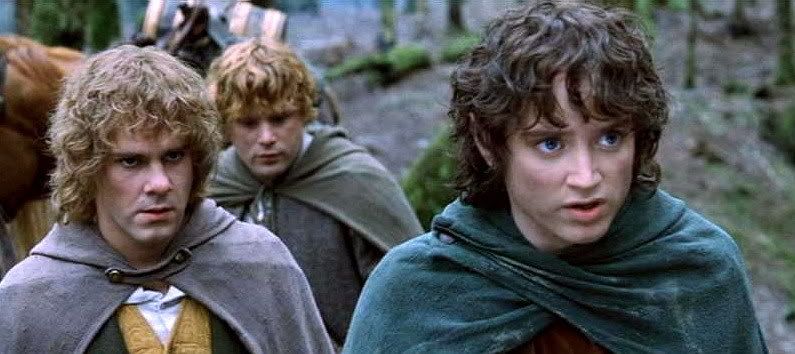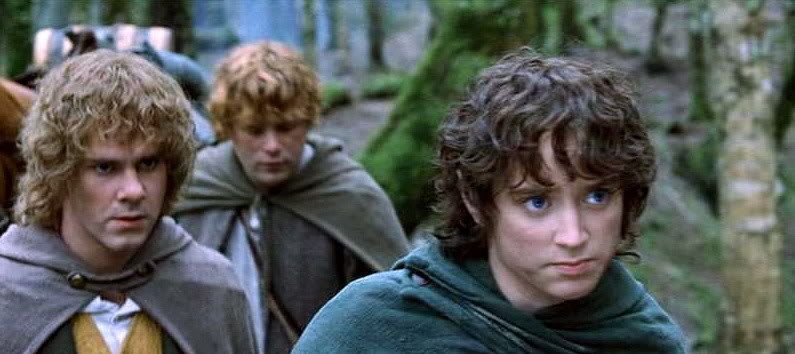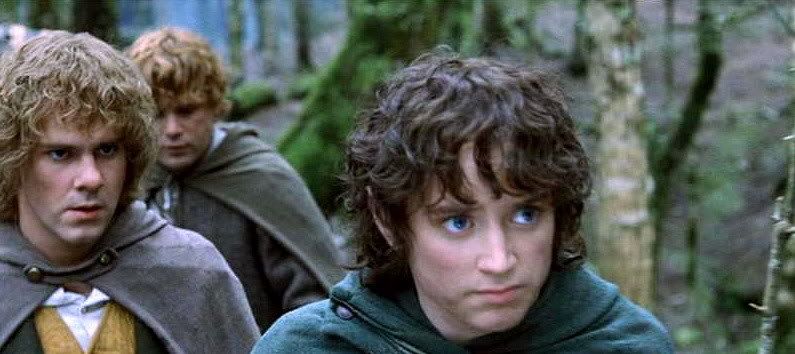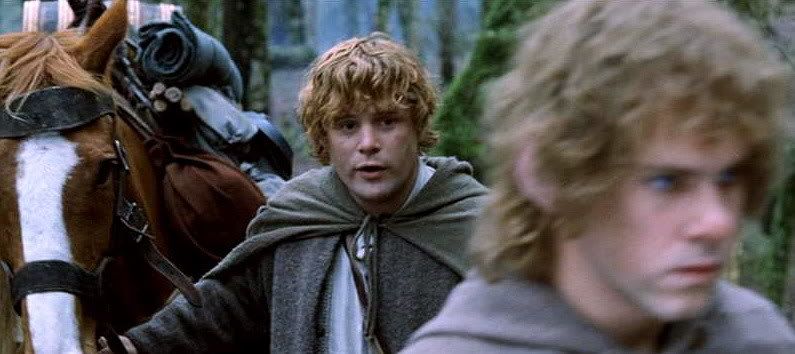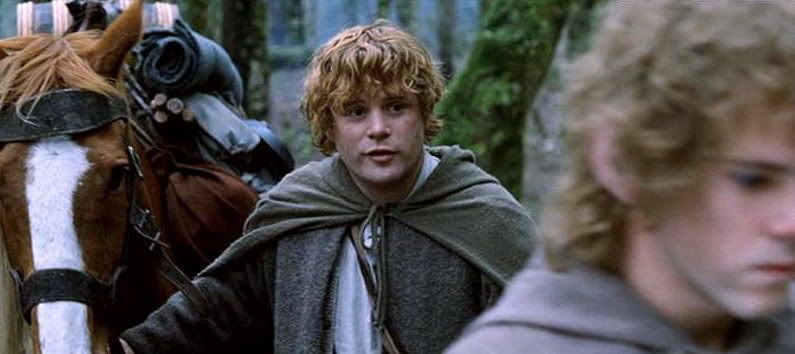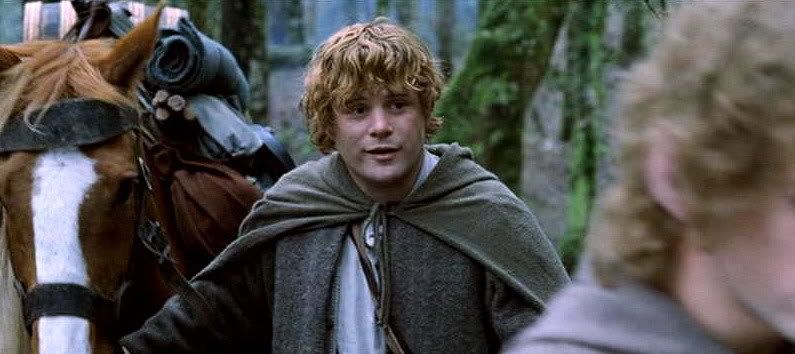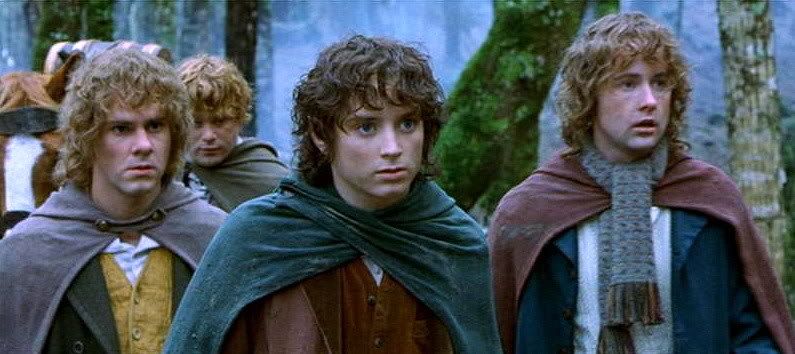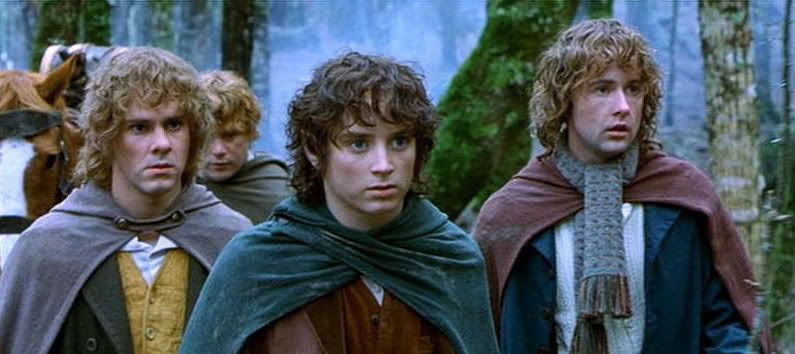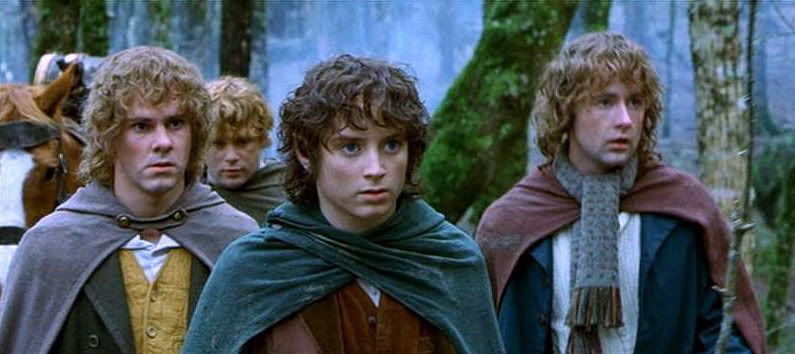 ~*~
Recent Screencap Entries:
Hollin:
"Who then do I trust?" ~ plus jan-u-wine's "In the Telling".
Moria Pt. 1:
"The Pity of Bilbo", plus
jan-u-wine
's
In Durin's Halls
.
Moria Pt. 2:
Troll attack and "I'm not hurt".
Moria Pt. 3:
The Mithril Shirt ~ A Screen Icon.
Links to all other LotR screencaps:
HERE
.
~ Mechtild