Moria Pt. 3: The Mithril Shirt ~ A Screen Icon
Posted on 2007.02.21 at 10:18
~*~
Warning: long post
, with many images, also religious content, which may offend some.
~*~
T
he moment in Moria when Frodo, revived, is seen to be wearing the mithril shirt is for me one of the most strangely moving in FotR. Of course I wanted someday to cap it. In preparation for this Moria series, I did.
I was surprised, however, to see how lacking the caps seemed to me, compared to what I feel when watching the actual scene. I scrolled up and down and up and down the frames of Frodo's face thinking, "They're lovely, but they just don't convey that sense of wonder, somehow. Why not?"
In this post, I offer the results of my staring and thinking.
First, I will present the actual scene, well-described in the book. It takes place well after the film sequence occurs, past the Dimrill Stair and Mirrormere, half way to Lothlórien, but the screenwriters drew from this scene.
How I love this description of brave Sam and Frodo, wounded and in pain yet uncomplaining, struggling to keep up. And how I love the care the other members of the Fellowship show them as they tend them.
~*~
Book scene (somewhat abridged), from Book II, Chapter 6, "Lothlórien":




For some time Frodo and Sam managed to keep up with the others; but Aragorn was leading them at a great pace, and after a while they lagged behind. They had eaten nothing since the early morning. Sam's cut was burning like fire, and his head felt light. In spite of the shining sun the wind seemed chill after the warm darkness of Moria. He shivered. Frodo felt every step more painful and he gasped for breath.

At last Legolas turned, and seeing them now far behind, he spoke to Aragorn. The others halted, and Aragorn ran back, calling to Boromir to come with him.

'I am sorry, Frodo!" he cried, full of concern. 'So much has happened this day and we have such need of haste, that I have forgotten that you were hurt; and Sam too. You should have spoken. We have done nothing to ease you, as we ought, though all the orcs of Moria were after us. Come now! A little further on there is a place where we can rest for a little. There I will do what I can for you. Come, Boromir! We will carry them.'

Soon afterwards they came upon another stream that ran down from the west, and joined its bubbling water with the hurrying Silverlode. Together they plunged over a fall of green-hued stone, and foamed down into a dell. About it stood fir-trees, short and bent, and its sides were steep and clothed with harts-tongue and whortle-berry. At the bottom there was a level space through which the stream flowed noisily over shining pebbles. Here they rested.

(…Sam's wound is tended.) [Aragorn] opened his pouch and drew out some withered leaves. 'They are dry, and some of their virtue has gone,' he said, 'but here I have still some of the leaves of the athelas that I gathered near Weathertop. Crush one in the water, and wash the wound clean, and I will bind it. Now it is your turn, Frodo.'

'I am all right,' said Frodo, reluctant to have his garments touched. 'All I needed was some food and a little rest.'

'No!' said Aragorn. 'We must have a look and see what the hammer and anvil have done to you. I still marvel that you are alive at all.' Gently he stripped off Frodo's old jacket and worn tunic, and gave a gasp of wonder. Then he laughed. The silver corslet shimmered before his eyes like the light upon a rippling sea. Carefully he took it off and held it up, and the gems on it glittered like stars, and the sound of the shaken rings was like the tinkle of rain in a pool.

'Look, my friends!' he called. 'Here's a pretty hobbit-skin to wrap an elven-princeling in! If it were known that hobbits had such hides, all the hunters of Middle-earth would be riding to the Shire.'

'And all the arrows of all the hunters in the world would be in vain,' said Gimli, gazing at the mail in wonder. 'It is a mithril-coat. Mithril! I have never seen or heard tell of one so fair. Is this the coat that Gandalf spoke of? Then he undervalued it. But it was well given.'

'I have often wondered what you and Bilbo were doing, so close in his little room,' said Merry. 'Bless the old hobbit! I love him more than ever. I hope he get a chance of telling him about it!'

There was a dark and blackened bruise on Frodo's right side and breast. Under the mail there was shirt of soft leather, but at one point the rings had been driven through it into the flesh. Frodo's left side also was scored and bruised were he had been hurled against the wall. While the others set the food ready, Aragorn bathed the hurts with water in which athelas was steeped. The pungent fragrance filled the dell, and all those who stooped over the steaming water felt refreshed and strengthened. Soon Frodo felt the pain leave him, and his breath grew easy: though he was stiff and sore to the touch for many days. Aragorn bound some soft pads of cloth at his side.

'The mail is marvellously light,' he said. 'Put it on again, if you can bear it. My heart is glad to know that you have such a coat. Do not lay it aside, even in sleep, unless fortune brings you where you are safe for a while; and that will seldom chance while your quest lasts.'
~*~
In both the book and film, the mithril-coat (or 'corslet' or 'shirt'), which was given by Thorin to Bilbo and then to Frodo, is discussed by Gandalf early in their journey through Moria. "A kingly gift!" Gimli exclaimed, hearing of it. Yes, Gandalf agreed. Bilbo did not realise it, but its worth "was greater than the value of the Shire and everything in it!" Frodo is shown as awed to be wearing something so magnificent; overwhelmed, perhaps, even abashed. He says nothing.
When it does come to the revealing of the mithril shirt, in the film Frodo reveals it of his own accord, in answer to Aragorn's astonished remarks ("You should be dead; that spear would have skewered a wild boar!"). Revealing the shirt, Frodo confesses to Aragorn and the rest, without words but as if to say, "
This
which you see here is what kept me alive".
~*~
As usual, the screencaps of this scene have been cropped and adjusted for brightness, contrast and focus.
~ Frodo reveals he is wearing the mithril shirt; all marvel until the sound of Orcs spurs them to make their get-away: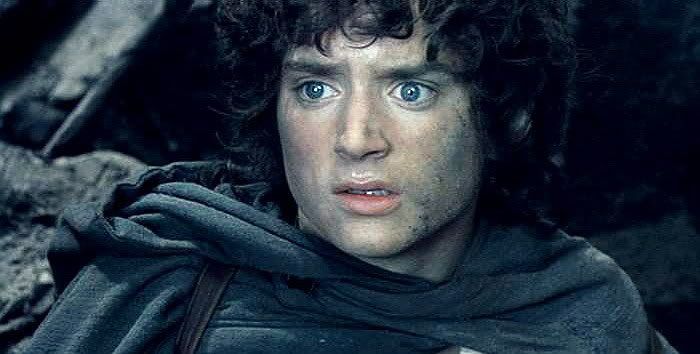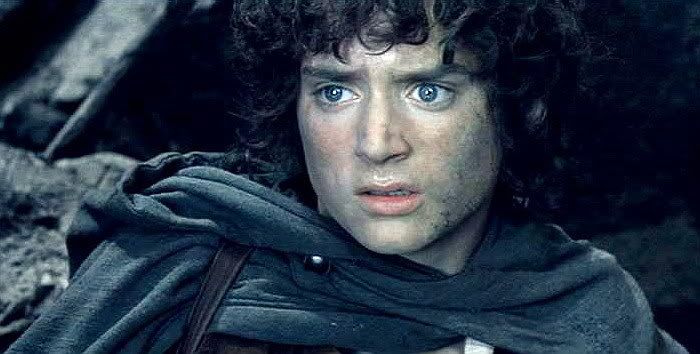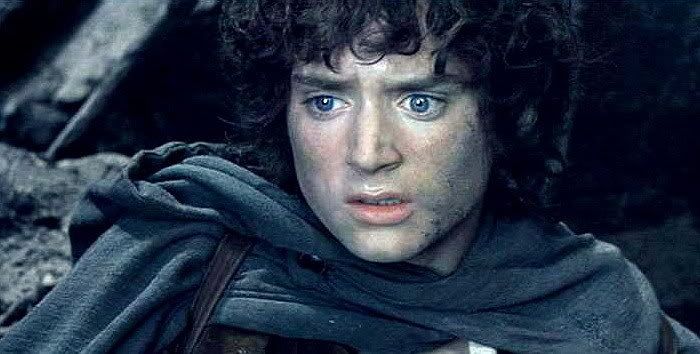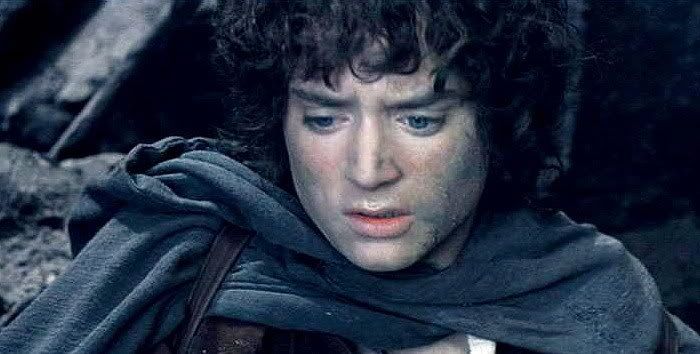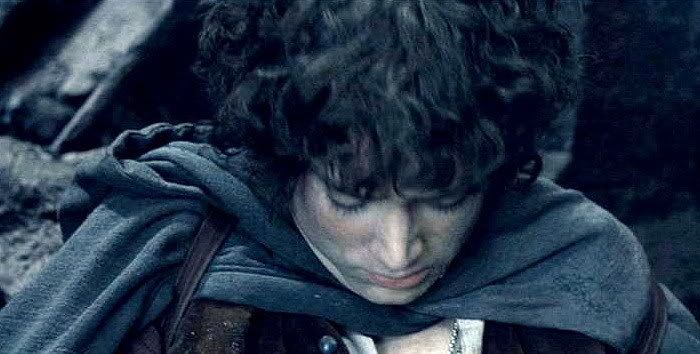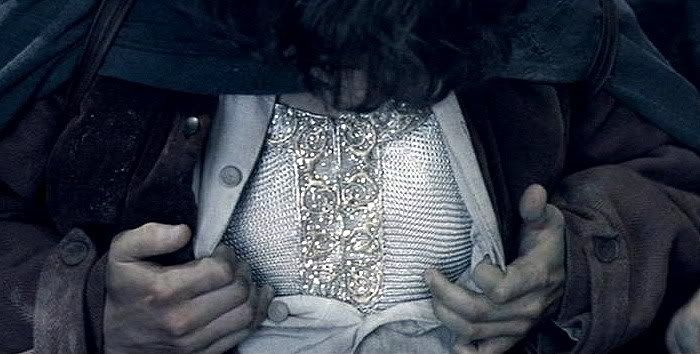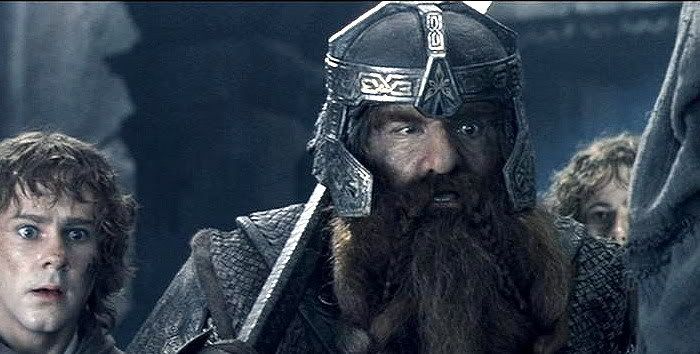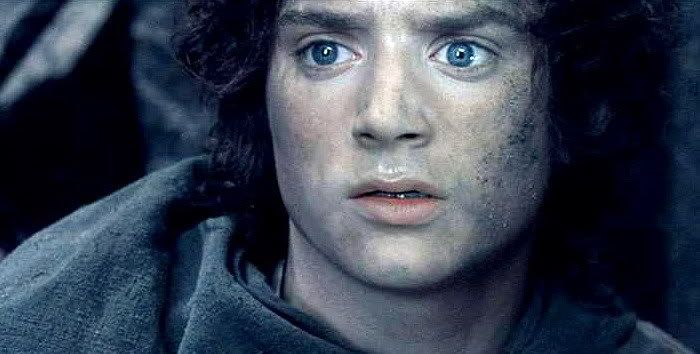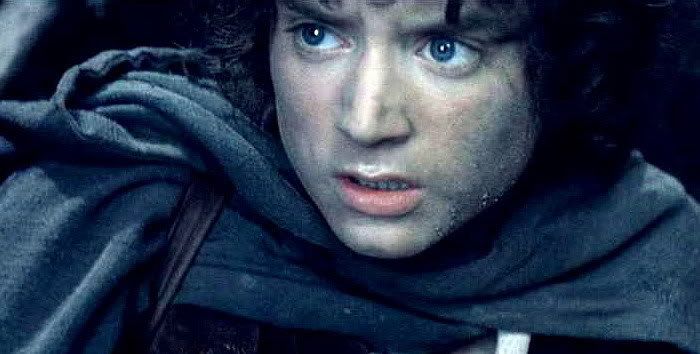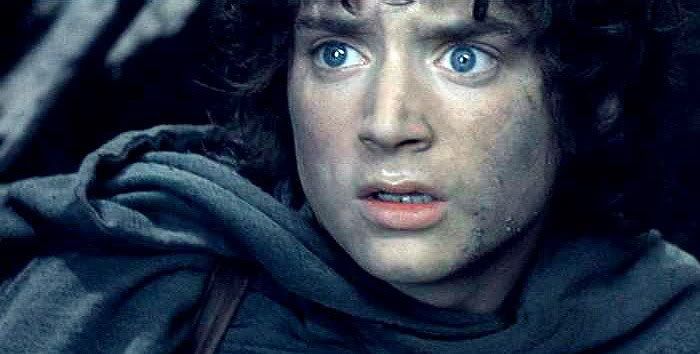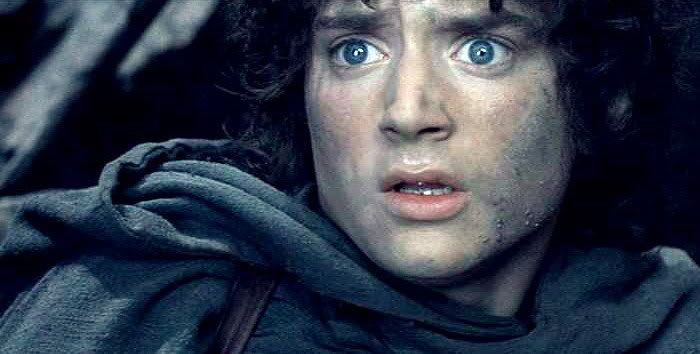 ~*~
In the book, things are different when it comes to the discovery of Bilbo's secret gift. Frodo does not reveal he is wearing the corslet. After he has been wounded, he won't complain about his hurts, and resists all attempts to see or dress his wounds. Only when Legolas notices Frodo and Sam lagging far behind, and the others refuse to let them go on uncared for, does he submit. Aragorn almost must force Frodo to let his injuries be examined and treated, which is when the mithril shirt is discovered.
Why does Frodo resist so strenuously, and for so long, the dressing of his wounds?
For starters, he doesn't want the Company to lose time in order to tend to him. And, as shown below, he promised Bilbo in Rivendell that he would keep the shirt secret. Perhaps Frodo is a bit embarrassed, too. Everyone thinks he has an amazingly sturdy constitution to have survived such a blow, but Frodo knows it comes from a loaned shirt.
I think Frodo's reluctance comes, too, from his habitual modesty. Always he is made uncomfortable by too much attention. Even more, it comes from his innate humility. I don't think Frodo believes, deep down, that he is worthy to wear such a costly, rare thing, although he would not say it that way. What he told Bilbo in Rivendell was that such gear was not his style....
'I should look—well, I don't think I should look right in it,' said Frodo.

'Just what I said myself,' said Bilbo. 'But never mind about looks. You can wear it under your outer clothes. Come on! (…)'

'Very well, I will take it,' said Frodo. Bilbo put it on him, and fastened Sting upon the glittering belt; and then Frodo put over the top his weather-stained breeches, tunic, and jacket.

'Just a plain hobbit you look,' said Bilbo. 'But there is more about you now than appears on the surface. Good luck to you!'
~*~
A sense of Frodo's humility comes across in the film scene, and it is a pleasure to see it. But the scene has a power that comes from something more than a demonstration of Frodo's humility. Something else is going on in it - or under it - or through it.
Whatever it is, I thought, scrolling through the pretty images I had made, it was not there in my screencaps. Whatever gave the scene its profundity and power was missing. Watching the scene had been for me almost like a religious experience.
So I scrolled and re-scrolled through the screencaps, dissatisfied and puzzled. Then I watched the DVD scene again, finally viewing it frame by frame. As I moved through the frames of the mithril corselet it dawned on me.
It wasn't the image of Frodo's exquisite
face
that gave the scene its power -- not this time -- it was the image of his exquisite
shirt
.
I made more screencaps.
~ The revealing of the shirt of Mithril, FotR EE: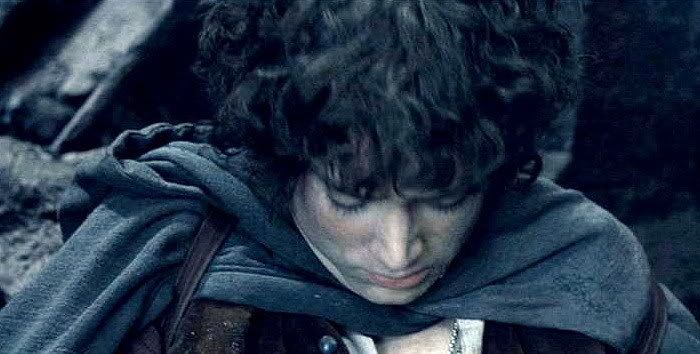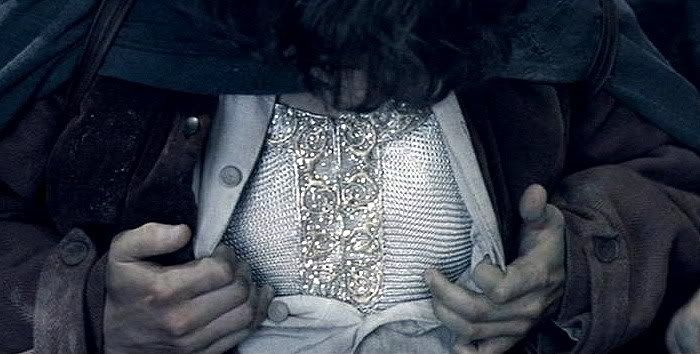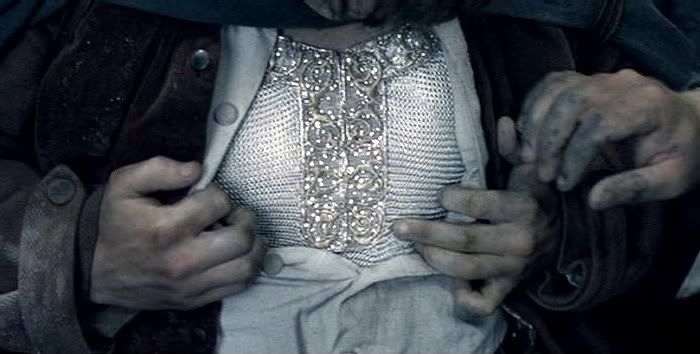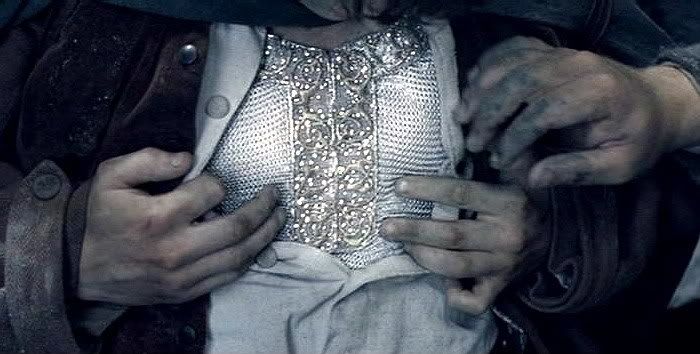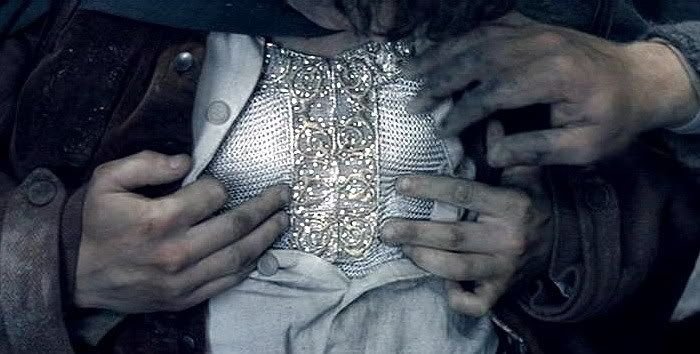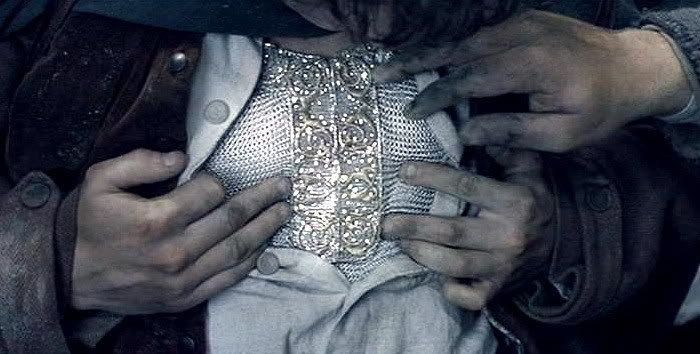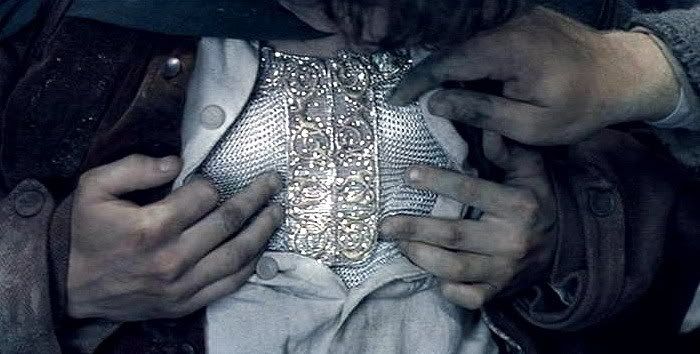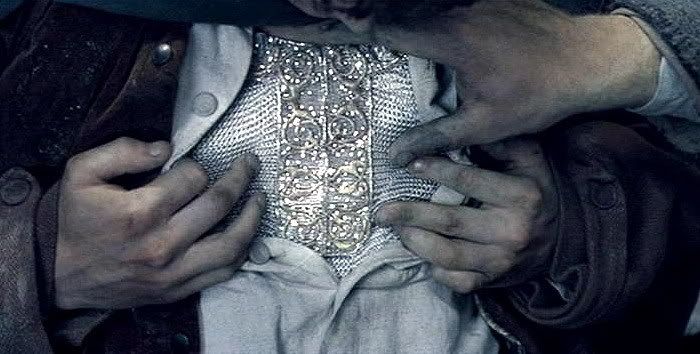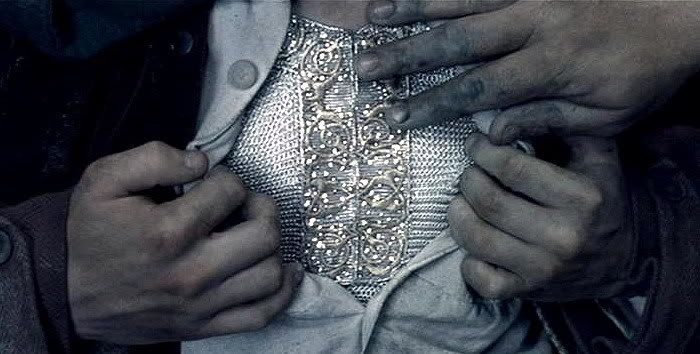 T
he power of the scene, it turned out, came
not
from the image of Frodo's face, but from the image of the mithril corselet. Upon it the camera dwells long and lovingly, almost with adoration, as if the shirt were more than a shirt -- a sign and revelation of something in Frodo -- perhaps something greater than Frodo, which shone through him.
I will recapitulate the film scene.
Frodo, face down on the stone floor, is pulled up by Aragorn, who is amazed to discover the Ring-bearer is not dead. Supported by Aragorn, Frodo reclines on his side, his breathing laboured. He manages to sit up with pain, his hand on his wounded breast. "I'm not hurt", he assures them, panting.
But Aragorn is still confounded. That spear-thrust should have killed him, he insists, staring hard at Frodo. Frodo opens his linen shirt tentatively, revealing the upper part of the famed mithril corslet. He does not unbutton the whole of his shirt, which would make the garment fully and easily visible. He unbuttons his shirt only part way, using his fingers to draw the linen down and aside, so that the mithril can be seen.
The others react with awe and wonder. Howard Shore's scoring creates a musical radiance, making the scene take on a "glow", as if what is being witnessed between the drawn-back plackets of Frodo's linen shirt is awe-inspiring; miraculous, for the camera has moved in close, so close that Frodo's face is no longer in frame.
"You are full of surprises, Master Baggins," Gimli comments dryly, yet he, too, is awed.
And not just by the shirt. That Frodo should
have
the shirt, and should be wearing the shirt when dealt what should have been a mortal blow, is not lost on Gimli. The degree of awe seems to reference the "something else at work" in the world, the power for good that Gandalf told of, a power "beyond any design of the Ring-maker".
The camera, still tightly focussed on the bosom of the the gleaming shirt, lets us see Sam's hand as it moves to touch the shining mail. His hand moves slowly, lightly, tentatively, as if to test whether it's really real -- whether Frodo's rescue from death is really real. Or maybe it's just to touch something so exquisite and finely made. We see Sam's disembodied fingers move over the glittering mail as if it were a holy relic.
In asides, the eyes of the others are filled with wonder like that of the shepherds looking inside the crêche on Christmas morning. Shore's heavenly music furthers the sense that what we (and they) are seeing is much more than a cunningly-wrought piece of protective armour.
What I experienced as I watched
felt
"religious", and it was created by references to religious iconography of the past, musical and visual.
Suddenly I saw the screencaps before me as images of an icon; an icon familiar to me from art history, Sunday school prayer-cards, and cheap votive candles sold at the local grocery store: the icon of the Sacred Heart
*
.
~*~
T
his is not the cue, I hope, for readers who are Christians to cry, "Blasphemy!" or for those who do not hold religious beliefs to protest, "Bah,religion!" I'm just saying what I saw.
Every Tolkien reader knows that in life Tolkien was a devoted Catholic Christian. Yet he chose to write his secondary world as non-Christian. In Middle-earth, Tolkien meant to portray an ancient world, but the real world, long before the God of bibilical accounts appeared. Of course, then, there could be no mention of this god.
Yet peoples of the ancient world were not without god, or gods, or a sense of the divine. Tolkien invented a mythology with a creator god, and sub-creating "powers" – the Ainur – who together sang Arda into being. Some of these, the Valar and Maiar, continued to care for it and its creatures -- enough to enter into it -- up to and including the time of LotR.
The filmmakers eschewed most of what sounded explicitly religious in the story of LotR (very little, really), focussing more on the theme of the good that dwells within people, and their fellowship with each other, rather than a 'higher' good. At the coronation of Aragorn, film-Gandalf says, "Now come the days of the King; may they be blessed". Blessed by whom, by what? Book-Gandalf says, "... may they be blessed ...
while the thrones of the Valar endure
." No doubt the qualifier was cut lest viewers be confused, not knowing who the Valar are. But perhaps it was part of the larger tendency to downplay the role played by Eru and the Valar as too obviously religious.
But the filmmakers only downplayed what is religious as expressed in
words
. When it came to the images created by music and the visual arts, religious references were all over the place. They certainly were going on the scene of the mithril shirt.
Watching it over and over, I realised that what made it so deeply meaningful (to me) was its roots in religious iconography. On the surface of the screencapped scene, the members of the Fellowship merely are oohing and aahing over a beautiful piece of Dwarvish mail-work, beyond price, and marvellously made, to be sure. But is that all they are marvelling at?
Even if it was an unconscious choice on the part of the filmmakers, the iconography of this scene leads the viewer to see and hear what is going on as something
transcendent
. It's not just that Frodo has been saved by wearing an extremely effective piece of gear, he's been saved by – well – by grace.
The shirt is a talisman, a mediator of divine protective power, just like the phial of Galadriel -- or the cloaks that hid them from evil eyes -- or the lembas that fed the will even when it did not satisfy desire, giving "strength to endure beyond the measure of mortal kind". The mithril shirt is a token of the divine favour that watches over Frodo as he carries the weight of the world around his neck.
~*~
I Googled up a slew of images of "the Sacred Heart". I am sure this figure of a divine person, shown with his or her hands pointing to his or her heart, may be seen in other religious iconography, not just Christian. It is an archetypical image. The heart stands for the core of who a person is; it stands for that which makes humans fully human: enthused, caring, loving, with wills able to act on what their minds deem true and right. Warriors are "brave hearts", the despairing "lose heart", and lovers and mystics have "burning hearts".
What the "Sacred Heart" as a religious icon or symbol means to convey in Christian devotion is the love of Jesus, which in turn reveals the divine Love that burns for the world and its creatures. Reflecting upon this, I would say that this film scene so moves me not just because it draws on a familiar religious icon, but because the icon resonates with the LotR story.
Reflecting upon this, I would say that this film scene so moves me not just because it draws on a familiar religious icon, but because the icon actually makes sense with the LotR story.
Again, I am not saying the reference was intentional on the part of the filmmakers; more than likely the image emerged from what is a subconscious store of images shared across the culture. That is how religious imagery works for most of us, including me.
But a heart burning with love seems an apt image for Frodo Baggins, in whose heart a love for the Shire blazed up -- once he learned it was in danger -- and in whose heart a flame was said to have leapt when he thought of following Bilbo on his Quest.
"Following Bilbo." What did it mean, for Frodo to follow Bilbo? Speaking off the top of his head Frodo might answer, to go on an adventure, even to experience danger in so far as it is exciting. But Bilbo's adventure meant more than danger, it meant suffering. In his own time Bilbo was called upon to save the day, as Frodo would, but at a cost. Bilbo did not have to get the Ring to Mt. Doom, but caught between warring factions who should be allies, he took a coveted jewel, the Arkenstone, and gave it to Thorin's enemies, which caused fury and intense grief to Thorin, whom Bilbo loved. Bilbo's adventure was shot through with anguish and grief. Frodo followed Bilbo more than he knew.
~*~
By drawing a comparison to the image of the Sacred Heart, I do not mean to imply that Frodo is a figure of Jesus. But Frodo does, as a character, manifest a humble, almost pure goodness of character. Although he is little and vulnerable, as are all mortals, really, he risked much -- even all -- out of the fire of love that burned within his breast. Love burned in him for the Shire, for his friends, for the cause of the peoples of the West, and for the mysterious Powers he knew not but which knew him, especially Elbereth, servants of the maker of Arda.
To what do the fingers point in the frames from the Mithril Shirt scene? To shining Dwarvish metal, rare and beyond price, marvellously made, and strong to save, all hidden under homely cloth. This could be a metaphor for Frodo himself: a hobbit: mortal and small, but who bore within him a rare and shining light.
I think this scene, consciously or unconsciously, means to bring that light to view. Frodo's light, but also the light of the One who made all light, and which in Frodo glows uncommonly bright.
Below is a screencap of the mithril shirt which I find so iconographic, followed by a series of [cropped] paintings of the actual icon, the Sacred Heart of Jesus, for comparison.
Note that the motif of the Sacred Heart need not be limited to divine beings. Below these is a cropped image of the Sacred Heart of Mary. Mary was a human, not a god, but she was revered for her burning love for the world, and for its people.
Screencap of the Mithril Shirt: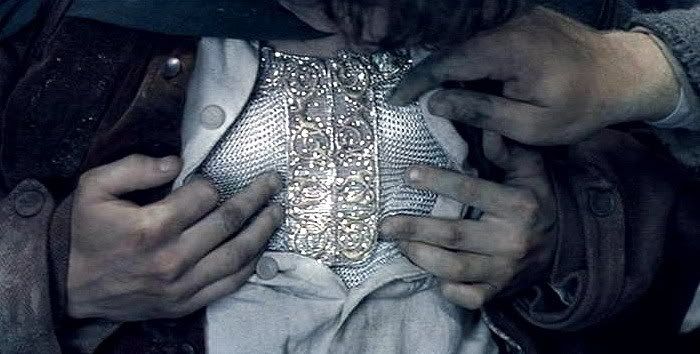 Cropped images of "The Sacred Heart of Jesus":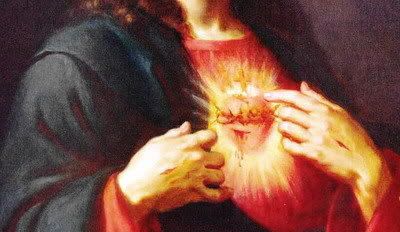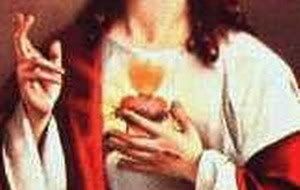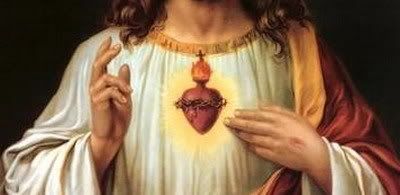 Cropped image of "The Sacred Heart of Mary":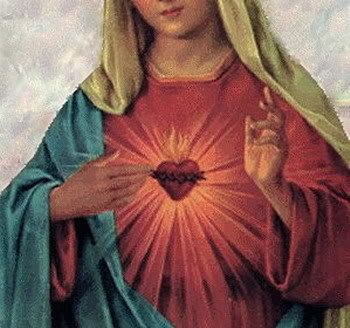 Again, I don't mean to be blasphemous, only to lift up what I and perhaps others sense radiating from within the character of Frodo. So I made a little manip, a sort of "Sacred Heart of Frodo", in order to illustrate my point more graphically.
Here it is below, my clumsy attempt to make explicit the religious iconography that I see implied in this scene of the revealing of the mithril shirt: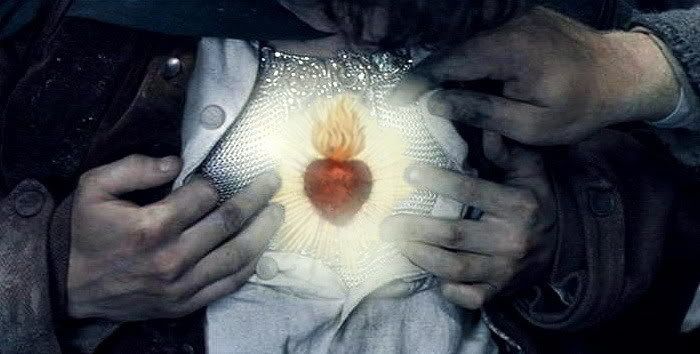 ~*~
As an unexpected boon while looking for icons of the Sacred Heart, was coming across an amazing icon of child-Jesus, a devotional image popular in many Spanish-speaking countries,
Santo Niño de Atocha
. This particular image was painted by contemporary artist Fr. William McNichols.
I thought the image made an excellent icon of Frodo with the Light of Eärendil, complete with Lembas in a basket. (No, that's not what the icon is meant to represent. Please don't stone me.)
~ Icon of Santo Niño de Atocha, St. Andrei Rublev Icon Studio: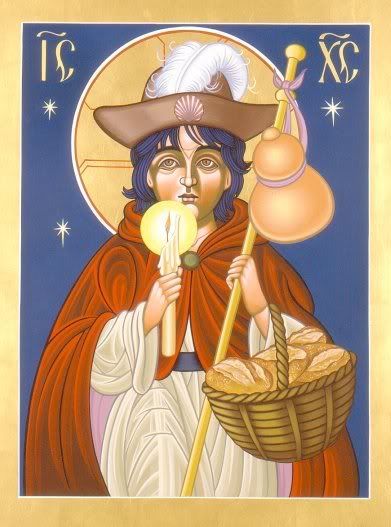 If you would like to know more about devotion to
Santo Niño de Atocha
, read the Wikipedia entry
here
.
~ Mechtild
* Note:
The formal devotion to the Sacred Heart of Jesus became popular after a 17th century nun,
Marguerite Marie Alacoque
, saw a vision of it.
~*~
Recent Screencap Entries:
Moria Pt. 1:
"The Pity of Bilbo", plus
jan-u-wine
's
In Durin's Halls
.
Moria Pt. 2:
Troll attack and "I'm not hurt".
Moria Pt. 3:
The Mithril Shirt ~ A Screen Icon.
Links to all other LotR screencaps:
HERE
.