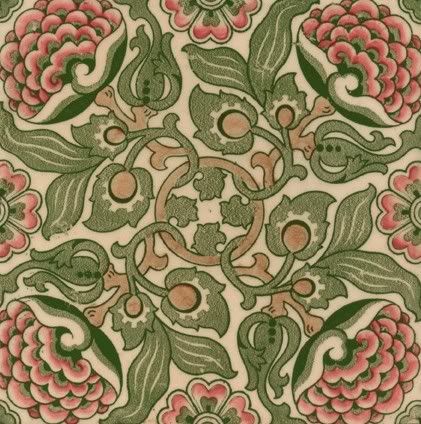 ~ Detail from a tile, 19th century, possibly made by John Meir and Sons.



This all started when I saw
just_ann_now's new journal lay-out last week. Ann's new journal was a WOW. I was thrilled by her new look -- classy, sensuous, inviting -- like a red damask-panelled parlour in a ritzy brothel from another century, its floor strewn with Persian carpets. It was utterly evocative of its owner's art. Ann writes fic that is not only intelligent, but sensuous, hearth-warm, and spiced with a dash of the exotic -- yet soundly rooted in the heritage of our artistic and literary past.

I asked Ann what lay-out scheme she used, too. I thought it exceptionally clear and easy to scan, along with leaving a lot of beautiful background visible. "Nebula", she answered. I looked it up at once in LJ's styles and themes.

Heavens! What she had done with it! She had taken the lay-out and utterly transformed the look with her custom background, page-header image, and colours. Like Pippin, I was seized with a fit of "I'm getting one!" desire. Ann gave me a couple of links for images and backgrounds along with a good colour chart, and I was off.

The result is this new journal look. I am using it for my fanfic LJ, too, to showcase Threshold. The only difference from this one is that I narrowed the text box a bit more, to make its lengthy chapters easier to scan.




~*~



For my own LJ, although I ADORED Ann's colour scheme (we have red oriental rugs, with Siamese cats to fur them up), I knew I needed something lighter and more muted in colour, since I present a lot of screencaps and art images. I didn't want the background to overpower the visuals.

Also, because of my particular interests and because of my Shire-based fanfic, I wanted a "Shire-ish" feel to it. I was thinking of a look that would recall the past, even "old-fashioned", but a specifically English past. And while I wanted the colours to be muted, even a little faded, I wanted the palette to be that of the earth and green, growing things.

I will link the sources below, but I found "background heaven" at a site selling textile and wall products made from the designs of William Morris. After I tested about a dozen "finalists" I chose the textile in this background, William Morris' "Fruit Minor". Then, working from the new textile background, I chose the colours for the rest of the lay-out elements.




~*~



For you who are interested in changing your own LJ's colours or backgrounds from the canned versions, but are as poor at these things as I am, I am making technical notes below for how to try and do it. I will be linking the various LJ lay-out pages.



Note of advice:
Before I changed my actual LJ's, I did all of my experimenting on a "practice LJ". I opened another free LJ account under another name. That way if it took days to complete, it wouldn't make my "real" LJ's a mess. I just copied and pasted a few sample entries from my other LJ's into the practice journal so that I could see how the lay-out would look with my own entries, featuring manips, screencaps, and fic chapters.



"How to's" for 'Nebula' (probably similar for most lay-out styles - read only if interested in journal formats):



To start. To change the look of your lay-out, first open your LJ so that the menu bars show at the top. The User Info page works for me. Starting with "Manage", go down and click "Customize". It will open to a selection of pages, each with a tab. The first page is tabbed…..


1. Basics: http://www.livejournal.com/customize/index.bml

There you will find places to enter Journal Titles, make a links list, and select a Style System. I have been working with system S2.


2. Look and Feel: http://www.livejournal.com/customize/style.bml

This page has a number of choices:

-- Layout – This let's you look at samples.

Here are the sample lay-outs they offer. Take a look at "Nebula" to see how different one can make it look.

I was using "Digital Multiplex" with a slight use of custom colours, but I like this lay-out's structure better – clean and simple, easy to change, with lots of background area visible.

-- Language

- Themes – Unfortunately, not all the colour (theme) previews work; they didn't for "Nebula". I did look at them all by saving and viewing each one, but they were all very loud in colour, not my thing at all.

-- Ad Layout

- Mood Icons (smileys).


3. Custom Options* (This is where the MAIN locus for making visible changes):



Presentation: http://www.livejournal.com/customize/options.bml

This has a lot of options including how many entries you view on your LJ or Friend's Page, where basic components are (sidebar left or right) where the text body is (left, right, center), etc.

The only changes I made for this layout were these:

-- Page width* – For my fic LJ I reduced it to 70% (default is 80%), so the text column would be easier to read.
-- Sidebar width* 15% (default is 20%)
-- Which side of page for sidebar – Right (my wider images screw up the display if the sidebar remains on the left, since the "extra" hangs over to the right).
-- Use gradients – I turned this feature off. "Nebula" uses gradients in the entry headers and sidebars. I find this look too contemporary for what I want.



*Note: If you post images that are too wide for the text column, they "spill" over to the right. If they run into the place where the sidebar would go (if it's on the right), they displace the sidebar to the bottom of the page.


Colours: http://www.livejournal.com/customize/options.bml

I changed almost all of these, leaving some black and white defaults. To find colours I used mostly two sites, which I'll list below.

The bore about choosing colours is that there's no preview function in Customizing. Each time you wish to see what your colour looks like (or which element it is that will be changed!), you have to hit "save", then, "view journal". This means that if you preferred the previous colour, if you didn't write it down, you won't know what it was. Make notes!


Fonts: http://www.livejournal.com/customize/options.bml

Because I want a more old-fashioned look, I replaced the default type faces with something more classic. I had been using "Century Schoolbook" in my previous style, and I chose it again. So, in every box that shows a default type font, I replaced it with my desired font.

I don't know where there is a list for font options on LJ. I just tried ones that I knew from Microsoft Word and entered them until one I wanted worked.


Images: http://www.livejournal.com/customize/options.bml

This is where you select your novelty backgrounds. To wallpaper an image behind your text boxes and sidebars, enter a URL for the image you want (uploaded to a photo hosting site like Photobucket or Scrapbook), and there it will be ("repeat" the image is the default, which is what you want to make wallpaper). If you want to put a signature image for the page header, you put the URL of that image in the appropriate box at the bottom.


Text: http://www.livejournal.com/customize/options.bml

I didn't do anything with this.


Custom CSS: http://www.livejournal.com/customize/options.bml

I didn't use this page, either.




4. Advanced: http://www.livejournal.com/customize/advanced.bml

I've also never done anything with this.
More notes about customizing one's lay-out.
1. Backgrounds.

Finding a background (not the same thing as a colour) you really like is not difficult but may be time-consuming. I found lots of internet-ready stuff Googling up "Backgrounds". There are loads of free sources.

This one, Absolute Backgrounds Textures Archive, has a wide variety of backgrounds, but little that looks like antique textiles.

Here is a site with image-swatches from [real] wallpaper and borders, free if you are using them for a personal website: Gally's Graphics Gate.

The place where I found what I wanted for my own journal is a site selling reproductions of the textile and wallpaper designs of Pre-Raphaelite artist William Morris (*swoon*). My wallpaper is made from the lemony-green version of Fruit – Minor. (If you open the site, click on the swatches and they enlarge.)



This came from Charles Rupert's Wallpapers and Fabrics ~ William Morris page.


None of the swatches are watermarked, perhaps because William Morris has been dead long enough to be out of copyright, so I felt free to copy and use them. But you will need to trim them yourself, since they have text boxes on them.

You also need to test them as wallpaper to see if they will work. These images are made from photos of actual wallpaper and fabric samples, so, sometimes, there is a shadow on one side that you don't see until it appears repeated as a wallpaper. This makes all the joinings painfully obvious. Some swatches are more uniformly lit than others. For mine, there still was a darker side, so I just trimmed off the darker side and used a smaller, more uniform sample for my wallpaper.

Ann's background came from an excellent site that features Celtic designs:
Free Ware Celtic Clip Art.

Not all of the web elements there are free, in fact (since these are watermarked, they clearly are not to be copy-and-pasted), but her background came from their excellent page of free ware, which includes textile squares in a range of hues for making wallpapers. On their Clip Art page, they also have buttons, borders, single images -- you name it.

Here's their "free ware" main page. Most of the elements I would use are all on its "Clip Art" sub-page.




2. The Image for the Page Header.

I loved the page-header image Ann used, an intricate but clear-cut Celtic design with a multiple-banded border. I don't know where she got her design from, but it's a beaut. It gives real distinction to her journal page.

I couldn't find anything of comparable quality [for free], so I made my own. I cut a swatch from my background wallpaper, put coloured borders around it (in my photo program, it's under "Effects" > "Edges" > "Artistic Edges", choosing an opaque brush).

To give it a central focus, I trimmed an image of an antique tile and pasted it in the middle. This sounds simple, but it actually took forever, since I had to shop the net for old tiles to download, trim and try. But you won't have to look everywhere if you like old tiles. I will give you the link to a GREAT site.

Here's the place I found my tile (I downloaded dozens): Tile Heaven: Aesthetic Tiles.

Again, the image doesn't have to be clip art, or something you make yourself. It could be a photographic image, an icon, a screencap. Or you don't have to use one at all! But "Nebula" is such a plain design, I think it is a little bare without a page header image.



ETA: Ann says she got her page header design from Dover Design Sampler. You can sign up and they send samples every week. However, she adds, "One thing about the Dover Design newsletters that I just discovered, to my chagrin, is that the links don't stay active for more than a couple weeks. So if you see something you like, snag it right away! Before it's gone."

Thanks, Ann!




2. Colours.

Below are colour charts with codes. The second two charts are vast, opening up to rows of numbered samples, depending on which hue you click.

To enter a colour in your customization, just copy and paste a code from one of the charts – be sure to use the # prefix each time.

This was perhaps the most challenging part to this computer-design newbie, since I didn't know what the various parts of the lay-out scheme listed referred to, in order to change them. I just had to experiment. One day I plan to open another practice journal and fill in every box with a different bright colour. That way I would be able to see which element is being referred to.



Colour Charts:

1. LJ's simpler color chart.

2. A nice, full chart with a good page of just greys.

3. An excellent, really extensive chart, but without a separate page for greys.


* I think it's helpful to have a number of windows open when choosing colours. I have the test journal open -- with its new background in it -- then browse the charts on another window. That way you can jockey back and forth while applying different hues.


And that's it!

I hope you have fun fooling around with the look of your LJ. But I warn you, it's *addictive* -- just like the Internet generally.



~ Mechtild