Nan Gagnon's "Reunion", plus Jan-u-wine's "Across So Wide a Sea"....
Posted on 2006.12.02 at 06:10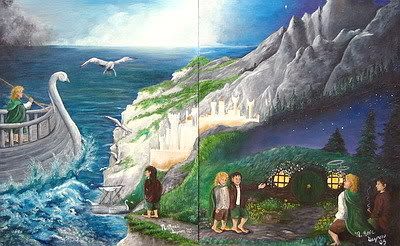 ~ Greatly-reduced version of Nan's "Reunion".
I
n my last post I mentioned that
jan-u-wine
not only brought herself to visit me in the frigid North, but the two-panel oil painting she had commissioned from a fellow artist friend. Because I am always interested in seeing Tolkien illustrations, Jan had sent little images of this diptych in emails. I was intrigued by its imaginative composition and folk-art style, and wrote wistfully it was a shame they couldn't be seen life-sized in person. Jan, in her visit, surprised me by giving me just that opportunity. She allowed me to hang onto the panels after she left, so that my husband could take some high resolution pictures of it. (It's since been returned to its loving owner.)
I didn't say more about this painting in my previous journal entry because I wasn't sure Jan or its maker would want to share images of it with a wider public. But I've checked with jan-u-wine who contacted the artist,
Nanette-Rosie Gagnon
("Nan"), and they both are amenable to having the work showcased.
~*~
Jan-u-wine first discussed with Nan the project of illustrating her poem, "Across So Wide a Sea", which tells of Sam's reunion with Frodo on Tol Eressëa, at the "
Hall of Fire
", a festive fan-event which preceded the "Into the West" party for the 2004 Oscars. She and Nan had met on the LotR-based Decipher board. At that event, Jan read the poem aloud with another fan-artist friend, Debbie (who has created LotR fan art under the name of 'Primmy', some of which has illustrated Jan's poems, of which she also is a fan). Jan took the part of Sam, while Debbie read Frodo's sections.
For the painting, Jan imagined a two-panelled piece that would depict multiple scenes from her poem, but in one visual sweep. Jan had seen this convention used in folk paintings. I am familiar with its use in religious art of centuries past, in which the artist attempts to tell a sequenced story in one picture. I have a copy of an early Renaissance painting, for instance, which shows God creating the world on the left, Adam and Eve being expelled from the garden by an angel on the right, with the various waters flowing out of Eden at the bottom. For her painting, other than specifying that the piece be done in a folk style, Jan felt that Nan should feel free to create her own look for the setting and figures.
~*~
The painting:
Once the viewer takes in the whole two-canvas painting, which Nan has called
Reunion
, the composition invites the viewer to examine it more closely, moving from left to right. The scenes correspond with the narrative in Jan's poem,
Across So Wide A Sea
(posted after the images below).
Entering from the left, Sam on the Elven ship sails a frothy sea. Behind a scrim of swirling grey mist, Middle-earth is visible, providing a tiny view of the world Sam has left behind. One can just make out the Grey Havens and one White Tower; even Mt. Doom is pictured, although it is no more. Following Sam's eye to the right, Eärendil burns like a beacon in the evening sky over Elvenhome, guiding the ship.

The eye follows the slope of the rugged, wind-swept land back down to the large gull with wings outspred, dropping down to smaller and still smaller gulls that wheel around Sam's ship, now tiny, anchored in the mostly unseen firth. High above, standing upon the headlands, the solitary figure of Frodo stands and watches.

Then, without a blink, the eye is led to the right panel where Frodo is walking Sam up the path, now flower-edged, to the door of his new home, Bag End West. On the trellis around the entry, Jan pointed out, in honour of Sam's first child, Elanor (the Fair), Frodo has trained elanor to climb, the flower for which she was named.

Finally, the viewer's eye rests with Sam and Frodo as they sit smoking their pipes beneath a star-sprinkled sky, the twilight deepening into night.
~*~
For me, this is a Tolkien-inspired painting of great charm, with an ingenious composition. My sorrow is that the panels are too large to present properly on a computer monitor. My husband took some nice pictures of them, which are better than what Jan had before, but a 16" wide monitor simply can't show what there is to see in a 32 X 20 canvas. This painting's power to enchant is in its detail as much as its overall design.
I have provided a number of life-size views below, so that the details in the painting might be better seen, but they do not begin to show the crispness of the brushwork, or the array of colours Nan used. I tweaked and twiddled with my digital copies, Nan's originals propped beside the computer monitor for reference, but I could not get the colours to truly match. I got the general palette, but not the the variety of hues and tones. But these copies will have to do.
Here
is a link to
Nanette-Rosie Gagnon
's other Tolkien-inspired works, but if the difference between seeing Jan's "Reunion" in person and in a little computer image is anything to go by, the tiny images on her web page could not do them justice.
~*~
Note
:
jan-u-wine
has received the honour of one of her poems,
A Day of Rain
, being selected for the November
Amon Hen
, a publication of the
Tolkien Society
. This is a real magazine, not an on-line journal.
Amon Hen
includes a wide range of material from the humorous to the scholarly, from announcements and reviews to fiction, artwork and letters of comment. It also frequently includes an extensive roundup of other small press publications, and an updated stock list from Tolkien Society Trading roughly every quarter, with news of forthcoming publications. Any member of the Society is welcome and encouraged to contribute.
I love Jan's poems, as readers of this journal know. I read them more as beautifully reflective fics than as standard verse.
Across So Wide a Sea
moves me as deeply as her any of her very best. How she kept from weeping while reading it in front of a gathering of Tolkien fans I'll never know.
The poem is posted below the images.
~*~
Images of Nanette-Rosie Gagnon's "Reunion":
~ Over view of the two panels, each 16" by 20":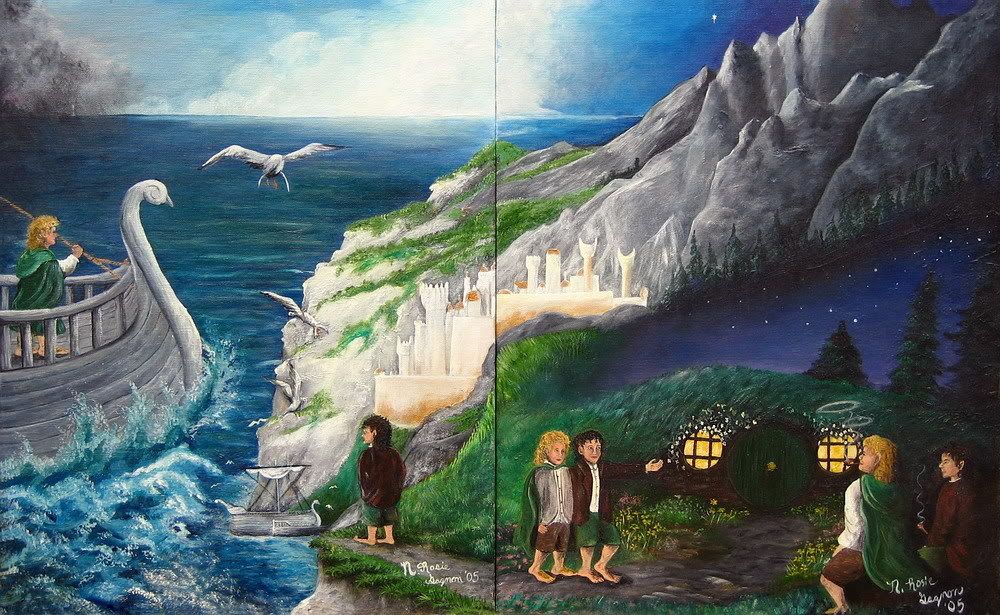 ~ Left panel: Sam sails to Tol Eressëa: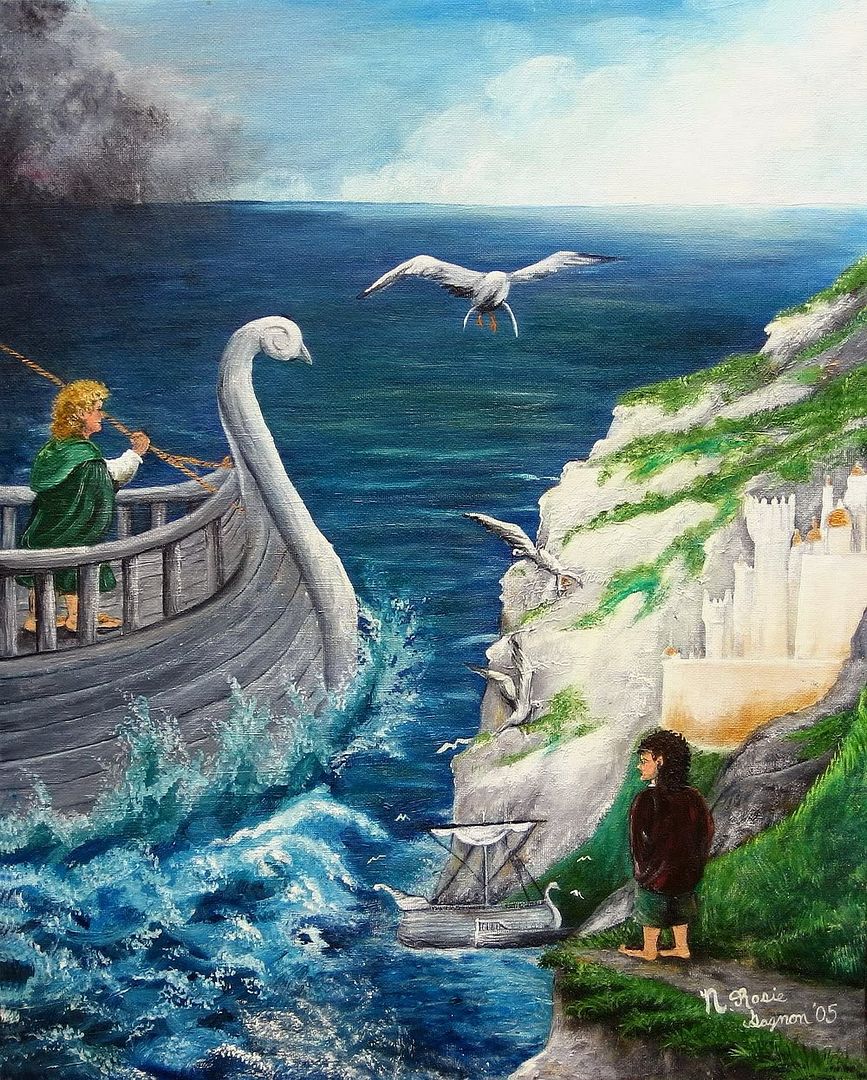 ~ Right panel: Frodo welcomes Sam to the new Bag End: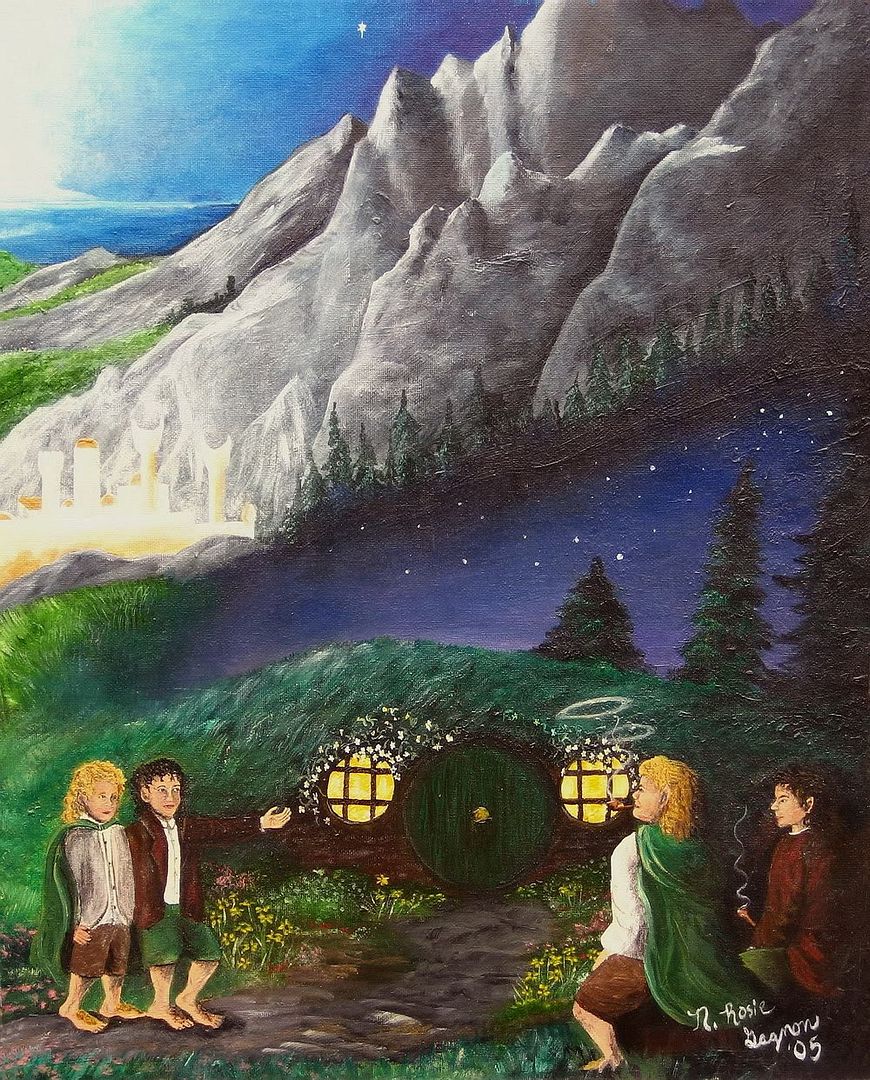 ~ Detail of mountains and sky in upper portion of right panel: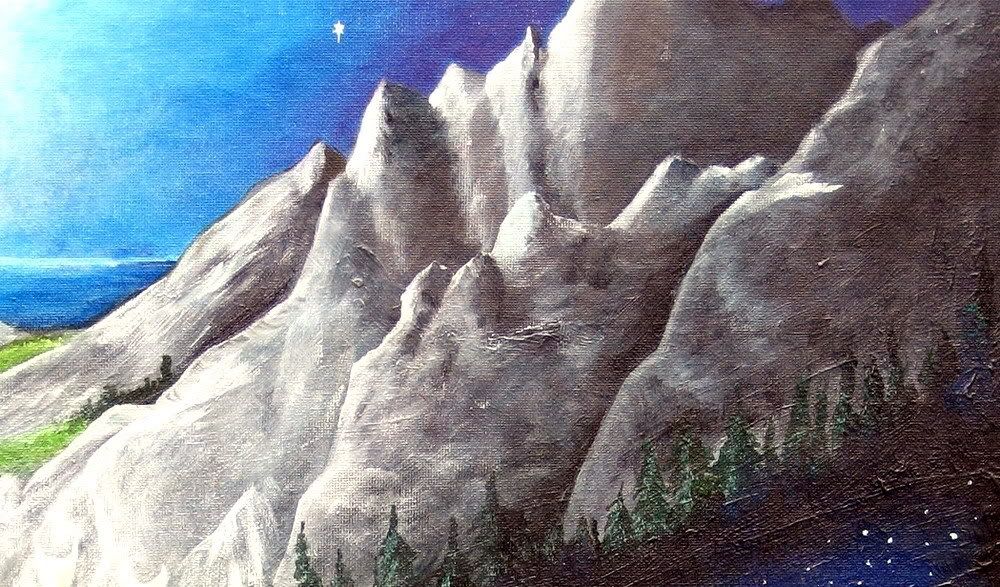 ~ Detail of upper left panel showing Sam, with glimpses of Middle-earth behind the cloud:
~ Sam's ship plying the waves, the little version of it drawing into the firth as gulls wheel overhead: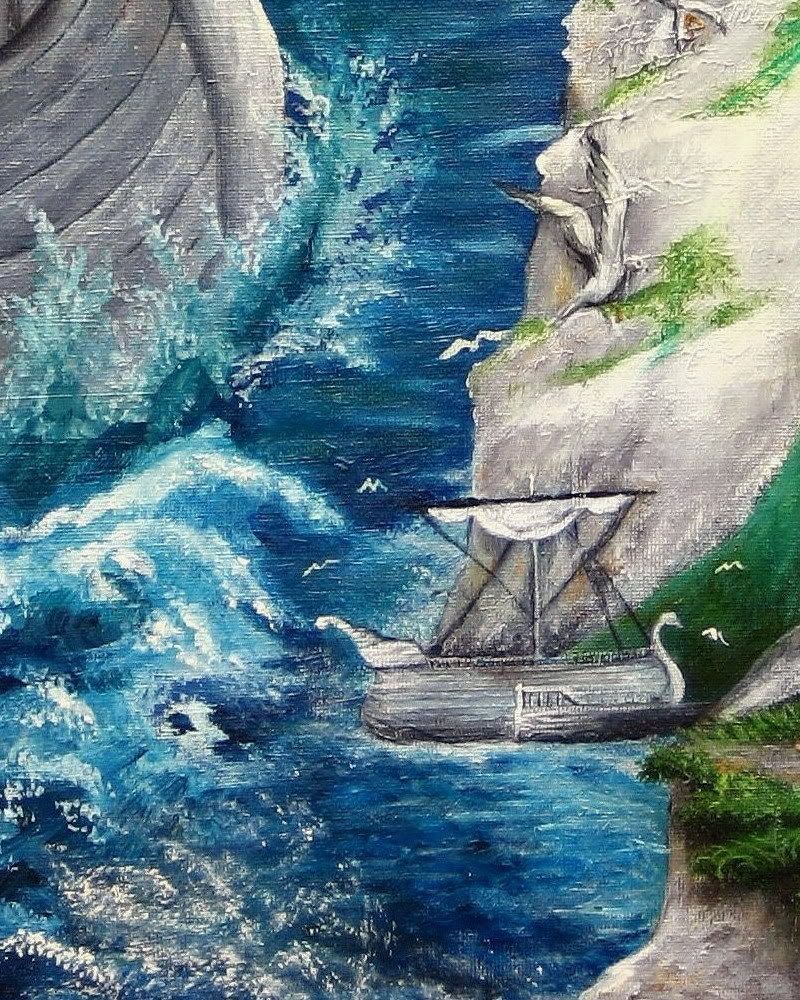 ~ High above, Frodo stands and watches: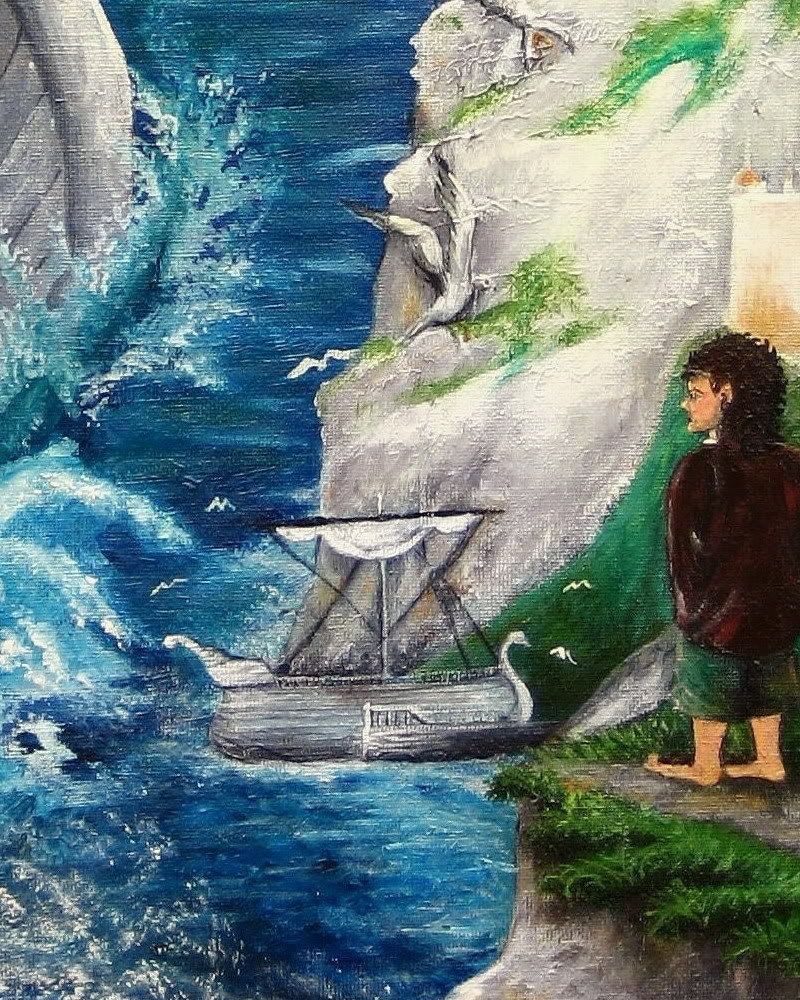 ~ Frodo welcomes Sam, leading him to his new home, around whose entry elanor climbs: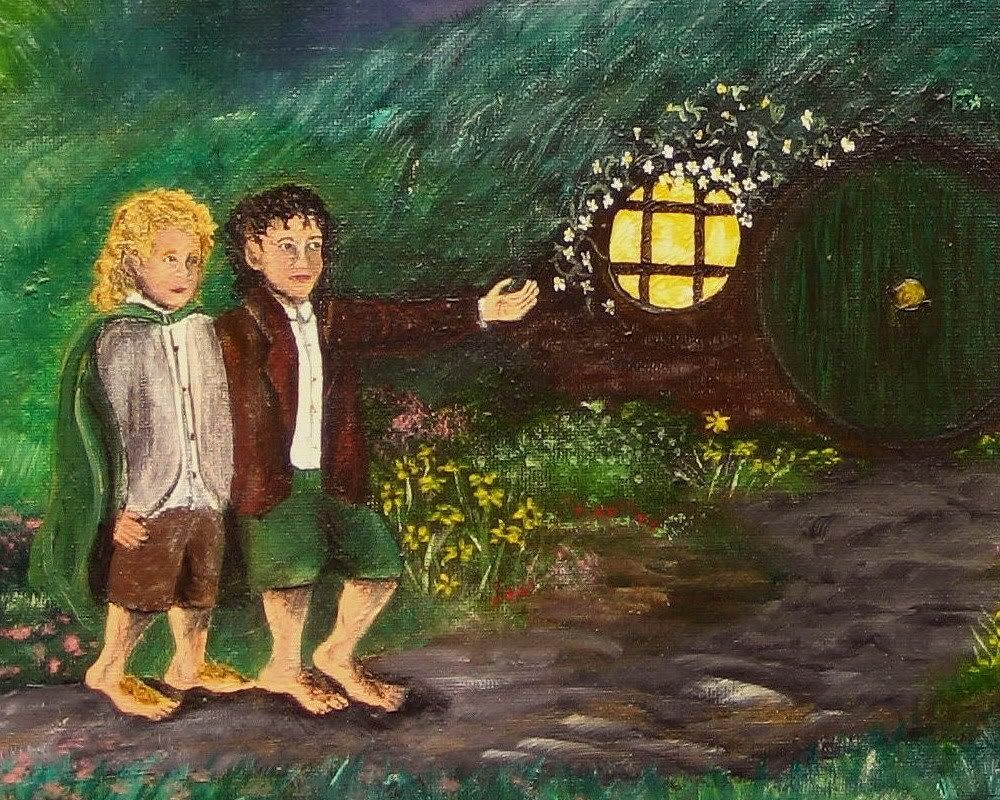 ~ Outside under a starry sky, Sam and Frodo sit and share a smoke: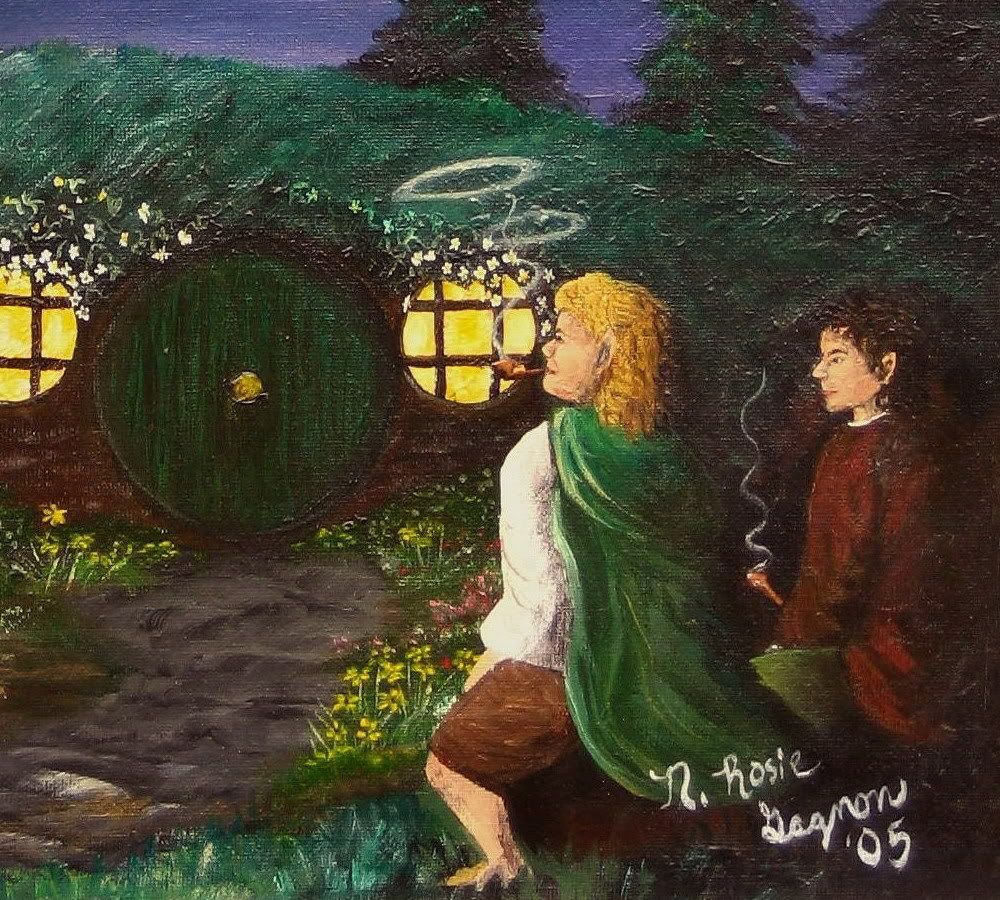 Across So Wide a Sea

~ by jan-u-wine



*(it is said
that the last of the
Ringbearers
passed the gate
of the Sea,
sailing away
into the West)
* * * * * * *

It fair broke my heart
when my Rosie
left..

worse,
still,
worse…..

when
she went
where
I could not
follow,
then
I could,
at last,
follow you.
* * * * *

The years
have
been long
and
mostly
kind:

My Rosie….

Elanorelle….

All the
Flowers of
a Gardener….

The Shire,
blossoming gold
and green,
ripe
with more
trees and
bright
flowers
than ever
I could name.

There could be
naught else
to wish for……
* * * * * *

Sixty years…..

Sixty years
and more……

still,

sometimes,
in the silence
of the road,
I hear your voice….

sometimes,

when the moon
chances
to walk in water,
I see you,
within the tired
circle of my mind.
* * * * * * *

This home
was never
really
my Home.

Oddly lonely,
the ink-stand
and quill
rest
upon the red and green
of orderly journals
in the study's
muted
light.

Bright curtain's lace
fitfully
traces the winds
calm breath
as She searches
the bedrooms
feather'd silence.

A crackled vase,
its worn face
lined in sky-blue,
waits upon the
tea-dyed plank
of the table.

The last of the summer roses
rest sweetly
within its mouth.

She loved
white roses……

my Rosie..
* * * * * *

Frodo-lad
stands
quiet
by the gate.

My son.

Your namesake.

Somehow,
his head
seems always
in the clouds,

yet

I have made
certain
his hands
are anchored
to the very
rightness….
the strength

of solid earth.
* * * * *

I scarce know
what
words to say
to the lad
I shall n'er
see again.

The eyes
that fill with tears
as slow Elvish
words
of farewell
spool,
like silver,
between us,
are as summer leaves
upon a stream.

I cannot see him
for the pain'd
knowledge:

to go towards one
of you,
I must leave the other
forever
behind.

I do not look back


until


I reach

the very top

of the Hill.


The Row
sleeps
beneath me,

and
he…..

small……

so


small……


hand
raised
in soft star-light.

Farewell…..

my son,

my home….

farewell.

It is September the twenty-second, 1482.
* * * * * * * * * * * * * *

Not all roads
are lonely……

even if
one is alone.

This path
leads
through a field
my younger feet
have known.

The fog's grey
shirt
embraces
a tree
whose roots
once held
two hobbits
bent
on aimless Adventure.

no
Fair Folk
journey West
these days….

and though
my road
now joins with theirs,
still,
I feel sad…..

sad.

Even now,
I cannot say
why.

It is leagues
and
weary
leagues
to the edge
of the Great
Sea.

There are
no smials
upon that drifted shore….

my
Elanorelle
dwells there.

She
who may never
seek refuge
over the Sea,
stays yet
beside it.

For me,
she has come
this far,

for us,
she will stay,
ever,
and look,
ever,
into the undying West.
* * * * * * * *

The ship lies
steady,
quiet,
upon the turning tide.

It is as if
she knows
my fears.

I kiss the tears
from Elle's
fair cheek.

With tender care,
she holds the book
against her heart.

She is smiling.

I know now that I have never been whole.
* * * * * * * * * * * * * *

Fearsomely dark
and
empty
it is
upon this great
expanse
of water.

The sighing
of wave
to bow
fills me
only
with a longing
for the soft feel
of earth
beneath my feet,
the smell of rich soil
warm
within my hands.

Like a child,
newly set out
upon a journey,
I wonder
how much
longer
this ageless
night
shall last.
* * * * *

The Phial.

The Lady's Light:

That is what it looks like:

soft hills
pierced
by starred
splendour -
pearl'd Light
playing like grey flame
over dreaming quays.

It seems
an eternity
before
the graceful
bow
rests her
head
upon the
sanctuary
of the dock.

I must
walk forward,
I know.

Never
in all
my life
have I been
afraid
to touch
foot
to earth.

Until now.

What if…..

what if you
are not
here?

The fair
Elvish voices,
which have
accompanied
this endless
voyage,
cease

Impatient
footsteps…..

a walking dance
whose rhythm
I recognize
even
after this long age,
stop a little above my head.

A hand that I know
as well as my own
pulls me
(again)
from a water'd berth.

What words
could
we ever
really
say
to each other?

None.

And so,
just for a moment,
like we did then,
we hold fast to each other
and tears of thankful
sorrow
fill the great gap
of time.

How different
in meaning
the words
that sing now
with soft
wonder,
with joy
upon my ear:

"I am glad you are with me…..
here,
at the end
of all things, Sam."

I am, that.

~Valinor, Home~
* * * * * *

Frodo:


It is different,
here.

Time
has not
the same
flow…..

yet

I cannot
remember
how else
her tide
might feel.

The very sunlight
fills me
with calm,
the grey storm
of the Sea
touches my mind
with dreams of peace.

The great wheel
of minutes,
hours,
days,

drifts….

a smooth,
veinless
leaf
suspended in
the crystalline river
of my life.
* * * * * * * *

A ship
rides
in the haven of the harbour,
white sail luffing
in down-turned wind.

Grey,
swan-prow'd,
she shimmers there,
like a pearl
laid upon
the brow of the Sea.

I smile.

A familiar shape
stands
sentinel
by the rail,
a roughened hand,
nervous as a
rider
upon an errant pony,
grasping
a silver length
of Elven rope.

Sam.

I have
so much
to tell him….

so much…

and yet,
nothing…..

nothing
at all.
* * * *

The rounded green
of the door
stands open
to the soft cries of mourning doves,
their lament
entwined in the faint
salt
of the Sea.

He is waiting.

I pass
through
the riot of
my careless
garden,
brushing
fingers
through the soft tangle
of amaryllis
where Bilbo lies.. ….

Odd….the lilies bloom there
as well….
their speckled gowns
lie
upon the sugared-pink-and-green curve
of earth.


My mind
fills
with thoughts
of him

and

Sam.

He will miss
seeing
again
the lad
who so painstakingly
learned his letters
so long
an age
ago.

He will miss
speaking
slow Elvish
and hearing
a shy,
stumbling
reply.
* * * * *

Soft sighs of
waves
hush
against sea-wormed
wood….

he stands quite
still
upon the gentle
shift of grey dock.

His eyes
are still
like sun-flecked leaves….

his hand
still
sturdily,
warmly brown
as it clasps mine.
* * * * * * *

There are
many words
as we climb
from Harbour
to Hill.

He tells me
of the King….

my Lady Arwen….

little Pip….

and Merry…..

Rosie and Elanorelle….


Even here,
there are tears,
even here,
I still taste regret.

We linger
among the trees….
bemusedly,
I see that he is naming them
In his mind.

his hand
touches
each,
gently,
as if they were
his child.

For a moment,
I am far away,
In pine-scented
forests
that I shall never see again…

his hands,
with knowing calm,
fall upon my shoulders,

his eyes hold mine
with steadying wisdom.
* * * * * * * * * *
The three Ringbearers:

Here,
in this
darkening garden,
a world and more
away from Home,
we meet again.

gentl'd
afternoon
settles to
lavender dusk….

Already,
we are silent.

Trailings
of the vine
that Sam
names
thatra untibah*
weave their
golden embroidery
about
our feet.

Smoke rings
of insignificant
magnificence
rise
like unspoken
words
into leaven'd dark.

Sam
has never been one
to insist
on having
a final word.

Sam,
like much else
that I have known,
has changed.

"Well,"
says he,
bright
tears
shadowing
the gentle
sadness
of his eyes,
"I'm back."



*from Old English: "there and back"






After Jan received the panels, she thought them so lovely that she felt she must put Sam's feelings at seeing his new home down….







How soft
the light beckons
within:

fair bows the round window
with welcome,
it does.....

Just the sight of the tender spill
of it,

the sweet trail of vine
laced about its curve....
star-flowers twined to night-fogged
rippled glass....

just the sight of it comforts me,
brings Home close to my heart.

And the garden!

all a-riot
with I-know-not-what,
roses strange and familiar,
sweet grasses and lavender
scenting the pearl-dusk air....

Elanor clinging to a hand-hewn trellis....

And you.

The same,
yet
different as well.

more quiet
(if such a more there could ever be)
yet
so free,

so light of heart,

it does my heart good.

And the dark gathers close about us,
(a kindly dark, this)

and the great cloak of stars holds us,
silent, together,

pinned to this place,
this moment,

this life,

this Home.






~ Mechtild