Holiday Greetings....
Posted on 2006.11.23 at 11:27
This is just to wish those of you in countries that celebrate it....
Happy Thanksgiving!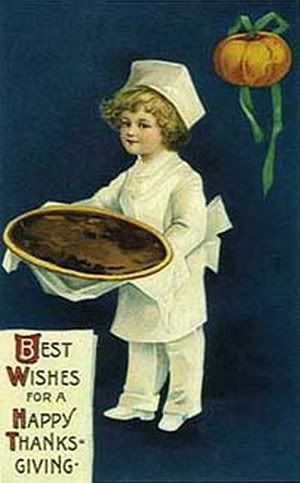 I am the hostess this year and for once I think I have things in hand in a timely fashion. Huzzah! (I have a terrible reputation for lateness getting the dinner on the table. It's not just my fic that takes for ever.)
For the rest of you, perhaps you'd prefer celebrating
"Happy Buy Nothing Day"
. I am sure it is the more wholesome way to go, for both body and soul. It is a fine thing to eat together in a festive manner and to celebrate what we have received by way of bodily sustenance and each other. Cultures have been celebrating the harvest since before written history.
I would agree with critics of our excess that things have got out of hand. Many of us Americans associate Thanksgiving primarily with watching football, going to the day-after sales, and eating like Romans (during the era of the vomitorium). Few stop to remember the early colonists who gave thanks for enough to eat in a strange world with the help of strange friends, starvation kept at bay for one more season. Such times could always return. Perhaps if they did we'd be more thankful. *Munches buttered toast philosophically*
Whatever your mode of celebration is, I hope it is plenteous and enjoyable!
~ Mechtild