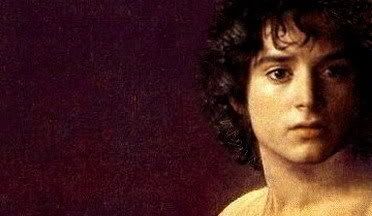 ~ detail from Frodo in Caravaggio's "The Lute Player"
Yes, it's time for a new manip, this one based on the Baroque master, Caravaggio. For my fellow-art fans out there, here are selected snippets taken from the packed Caravaggio entry in Wikipedia:
Michelangelo Merisi da Caravaggio (28 September 1571 – 18 July 1610) was an Italian artist active in Rome, Naples, Malta and Sicily between 1593 and 1610. He is the first great representative of the Baroque school.

Even in his own lifetime Caravaggio was considered enigmatic, fascinating, and dangerous. He burst upon the Rome art scene and never lacked for commissions or patrons, yet handled his success atrociously. An early published notice on him, dating from 1604, tells how "after a fortnight's work he will swagger about for a month or two with a sword at his side and a servant following him, from one ball-court to the next, ever ready to engage in a fight or an argument."

In 1606 he killed a young man in a brawl and fled from Rome with a price on his head. He was twenty-five. In 1508, in Malta, he was involved in another brawl, and yet another in Naples in 1609, possibly a deliberate attempt on his life by unidentified enemies. By the next year, at the age of 38, after a career of little more than a decade, he was dead.

Famous and extremely influential while he lived, Caravaggio was almost completely forgotten in the centuries after his death, and it was only in the 20th century that his importance to the development of Western art was rediscovered.

When Caravaggio arrived in Rome in 1592 (he had apprenticed for four years in Milan), he did "hack-work": painting flowers and fruit for the very successful artist, Giuseppe Cesari. In 1594 he left, determined to make his own way.

His fortunes were at their lowest ebb, but he forged some extremely important friendships. Painter Prospero Orsi introduced him to influential collectors; architect Onorio Longhi, more balefully, introduced him to the world of Roman street-brawls. Sixteen-year-old Sicilian artist Mario Minniti served as a model, and, years later, would be instrumental in helping Caravaggio to important commissions in Sicily.

It had been suggested that the model for the boy in many of Caravaggio's paintings in the late 1590's (whom some viewers thought was a girl) might have been Pedro Montoya, a castrato known to have been a member of the Del Monte household and a singer at the Sistine Chapel at about this time. More recently, Caravaggio biographer Peter Robb has identified him as Mario Minniti.
Wikipedia has a whole page on Caravaggio's The Lute Player, of which there are three versions, all painted in 1596. The first version of The Lute Player, the one that I have used for my manip, hangs in the The Hermitage, in St. Petersburg. The second version is in the Metropolitan Museum, in New York. A third version, called Apollo the Lute Player, hangs in the Ex-Badminton House, in Gloucestershire.

In every version the detail work is unbelievable, not only for the human figure, but for all the "still life" elements. His early years doing "hack-work" to keep himself from starving, painting flowers and fruit in Cesari's workshop, did not go to waste.

I was fascinated to learn the identity of the model, since his face appears in so many of Caravaggio's paintings. I will provide links to other paintings for which Mario Minniti sat.

Two are paintings from which I already have made manips.: The Fortune Teller (made into this manip), and Bacchus (made into this manip, one of my earliest Frodo Art Travesties). Clearly, the model is the same.

Here are two others painted between 1594 and 1596, for which his companion (friend?—fellow-artist?—lover?— all three?), Mario Minniti was a model: The Cardsharps, and The Musicians. The first was a huge success, the second faulted only for its spatial relations.

Of these it is also written in the Wikipedia entry, "The allegedly homoerotic ambience of these paintings has been the centre of considerable dispute amongst scholars and biographers since it was first raised in the later half of the 20th century".




A perusal of Caravaggio's 1594 painting, Boy With a Basket of Fruit persuades me that the painter found his model and friend Minniti erotic -- his image if not his person:





The almost photographically-rendered fruit is the technical tour de force, but the extremely sensuous youth who holds the basket is not to be ignored. His shapely bared shoulder, curved neck, ruddy complexion, and full, parted lips all pronounce the fruit-bearer as luscious as the fruit.




Mario Minniti did not model only for secular paintings. In Caravaggio's St. Francis in Ecstasy (detail) he appears as an angel, gently supporting and consoling the saint who has just received the stigmata:






The curves, the lush colours and textures, even the undraped shoulder all are there in the figure of the angel, but the mood is very different.






~*~





When I first became a fan of the LotR films, I remember reading in more than one review that spoke of the particular beauty of Elijah Wood's Frodo as "something out of Caravaggio". pearlette has called film-Frodo a "Baroque angel". I think they all were thinking of this painting, and paintings like it: images of youths in which the sublime and the earthy come together, at once strong and sensuous, timeless and immediate.



For the face in my new "Frodo Art Travesty" I used a screencap from the scene in the Prancing Pony at Bree:








The source painting for the manip is Caravaggio's first version of "The Lute Player", 1596:









In this version of Caravaggio's painting, the marble table-top holds a violin and bow (as if expecting another player, said one commenter), a vase of flowers and a selection of fruit, all of it beautifully rendered. This copy does not begin to show the detail. The sheet music on the table is an actual song by Jacques Arcadelt (1515–1568). Viewed in person, the visible text begins: "Vous savez que je vous aime et vous adore (...) Je fus vôtre"....

You know I love you and adore you...I was yours.

Did Caravaggio feel himself addressed by this song personally, or did he mean it more generally?

In any event, in this Frodo Art Travesty, it is Frodo Baggins, not Mario Minniti who is the Troubadour of Love. The viewer must conjecture to whom the troubadour might be revealing his heart.




~*~



As usual, not a very expert mannipper, I mainly tweaked the source and face images for a match in lighting, colour, sharpness, and contrast. I used the clone tool to create and detail extra hair. With the clone and blend tools I fitted the face into the main painting. I used the airbrush for fine-tinting, and applied the "film grain--rough" filter at various transparencies to help make the apparent texture of the screencap a better match to Caravaggio's painting.

The main outlay of time, however, went (as usual) to finding the right face.













~ Frodo as "The Troubadour of Love" in Caravaggio's 'The Lute Player':












ETA #1:

I was wondering to a few art/Frodo fans, why hadn't there been a film made of Caravaggio's life? It seems like a natural: great costumes, violence, sex, and fascinating characters. wendylady1 pointed out that a film had indeed been made twenty years ago, directed by Derek Jarman. I had been thinking Oliver Reed would have been perfect for Caravaggio.

Caravaggio slipped self-portraits into several of his paintings, but take a look at this 1621 posthumous pastel done by Ottavio Leoni (a younger artist who had sketched Caravaggio when they were younger):





Middle-aged Oliver Reed, as I live and breathe. (whiteling would agree.) But Reed must already have been too old in 1986 -- or too drunk, or just unavailable. The actor chosen to play Caravaggio was Nigel Terry. But guess who was cast as his lover, Ranuccio, the man Caravaggio killed in a fight? Sean Bean!

Naturally, I have applied through Inter-library loan to borrow a copy of this out-of-print film. Sean Bean as the lover! Hubba-hubba. If anyone is interested in reading the customer reviews for it at Amazon, they are HERE.



ETA #2:

I've just started browsing the recent bio of the artist by Peter Robb, M: The Man Who Became Caravaggio. Caravaggio sounds as though he had an erotic apprecation for both females and males, but he definitely had a weakness for his youth models.

Fellow-artist Mario Minniti, whom he painted many times in the mid-to-late 1590's, was only five years younger than Caravaggio. He married, it seems, some time after 1600. He never became the artist Caravaggio was but he had a successful career and provided contacts for Caravaggio. Caravaggio's new boy model was only twelve when he first was painted him as an angel in "The Martyrdom of St. Matthew" (1599-1600).

At the time that Mario ceased being his main boy model, Caravaggio began to paint this young boy. He was Francesco Boneri, nick-named "Cecco". By 1602 Caravaggio was painting him as a strapping, delectable adolescent in pictures that are unabashedly lusty. Here is Cecco as Love Victorious and as St. John in the Wild. (These can be clicked to enlarge.)

Caravaggio's contemporaries seemed to think that Cecco was not only a model and servant but also shared his master's bed. I am thinking Cecco was more than a casual bed-partner, since he seems to have made Cecco a pupil. The artist Cecco del Caravaggio ("Caravaggio's Cecco") is believed to have been the boy who was Caravaggio's model.

Furthermore, there's the visual evidence in one of Caravaggio's later works painted in 1606, the year after he killed a man in a brawl (this dating is according to Peter Robb; the tradition said the painting was done in the last year of his life).

In this version of David holding the head of Goliath, David observes the head of the giant he has slain aloft with a pensive, almost melancholy expression. The model for this David is Cecco, but, even more interestingly, the face of Goliath is Caravaggio's self-portrait. Perhaps the painting shows Caravaggio's feelings about being arrested and convicted for murder: he had "a price of his head" and the price had been paid: exile, and the "cutting-off" of his career (in fact, he continued to paint). Or had love for his boy-pupil "slain" him?


~ "David With the Head of Goliath", 1606 or 1609 -- Francesco 'Cecco' Boneri as David, Caravaggio as Goliath









Scrapbook Album of "Frodo Art Travesties".

Table of LJ Entries featuring Frodo Art Travesties.



~ Mechtild