Now begins the "End Scenes" series, after which I intend to put screencapping aside for a while. I have an 'addictive personality' -- and stop-pausing through Frodo film material is highly addictive. So is fiddling with it afterwards, tweaking and trimming and cropping. It's just as pleasurable as fiddling with Art Travesty manips. (Yes, I used to pick my scabs when I was little.)
This first series of caps is from RotK. Three establishing shots ("How do you pick up the threads of an old life...?") are followed by a short series of medium shots of Frodo at his desk.
From Tolkien's text ~ The Grey Havens:

Altogether 1420 in the Shire was a marvelous year. Not only was there wonderful sunshine and delicious rain, in due times and perfect measure, but there seemed something more: an air of richness and growth, and a gleam of a beauty beyond that of mortal summers that flicker and pass upon Middle-earth….


Sam stayed at first at the Cotton's with Frodo; but when the New Row was ready he went with the Gaffer. In addition to all his other labours he was busy directing the cleaning up and restoring of Bag End; but he was often away in the Shire on his forestry work. So he was not at home in early March and did not know that Frodo had been ill. On the thirteenth of that month Farmer Cotton had found Frodo lying on his bed; he was clutching a white gem that hung on a chain about his neck and he seemed half in a dream.


'It is gone for ever,' he said, 'and now all is dark and empty.'


But the fit passed, and when Sam got back on the twenty-fifth, Frodo had recovered, and he said nothing about himself. In the meanwhile Bag End had been set in order, and Merry and Pippin came over from Crickhollow bringing back all the old furniture and gear, so that the old hole soon looked very much as it always had done.

~*~


As usual, all the caps have been adjusted for sharpness, brightness, and contrast.





~ From the "Red Book" scene in RotK, theatrical full-screen version: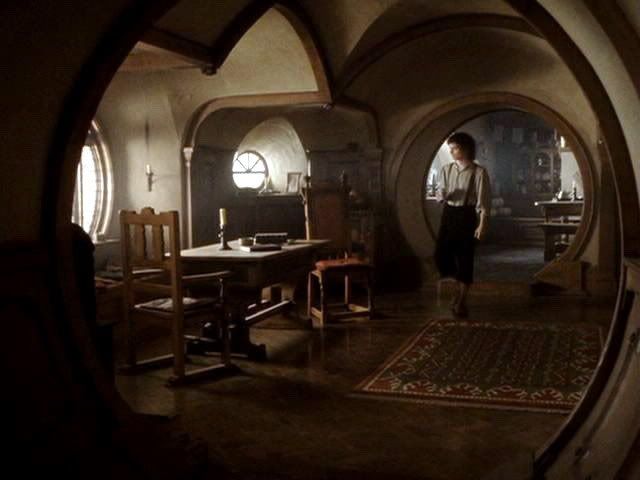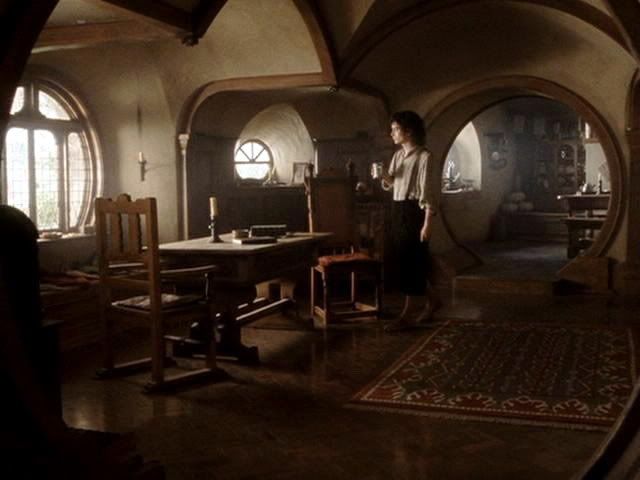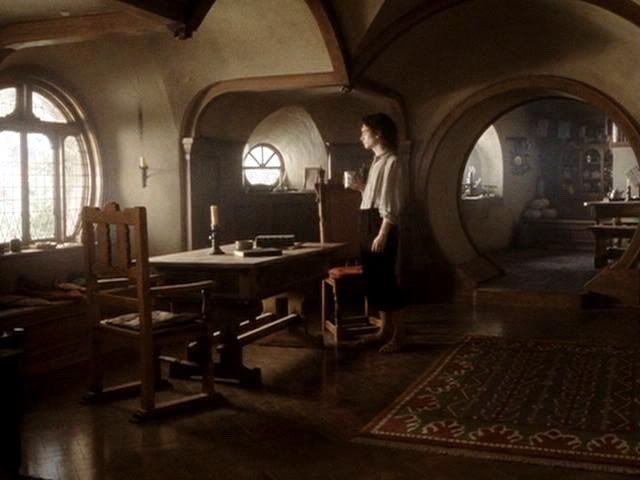 ~ Same scene, but from the EE version, wide-screen (cropped):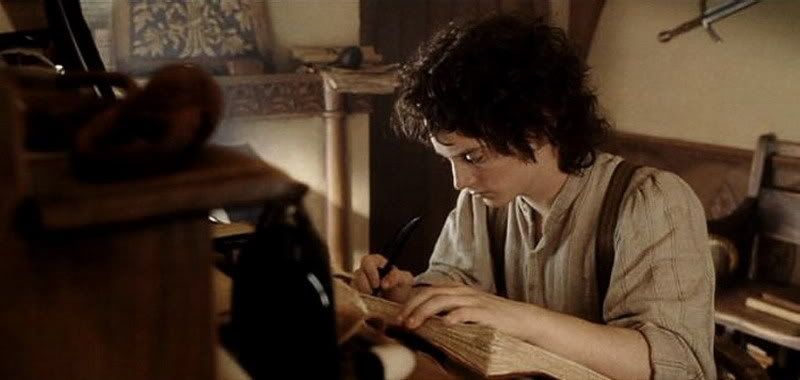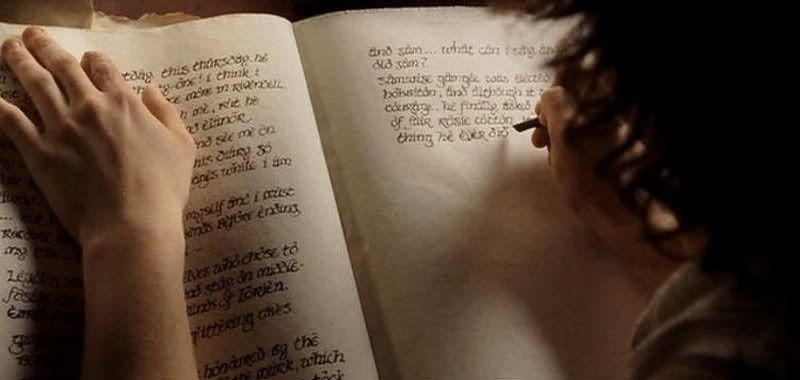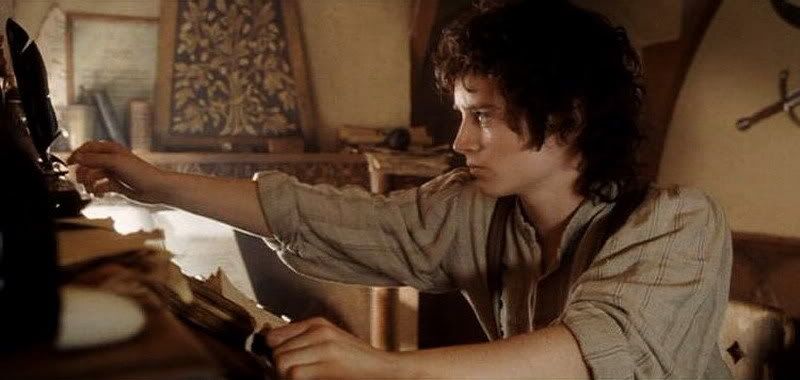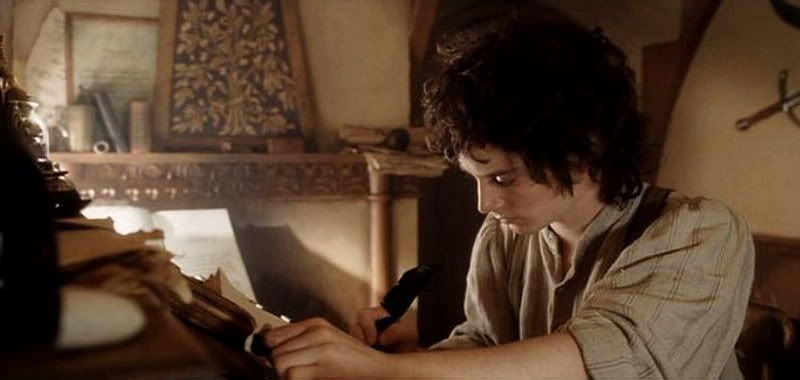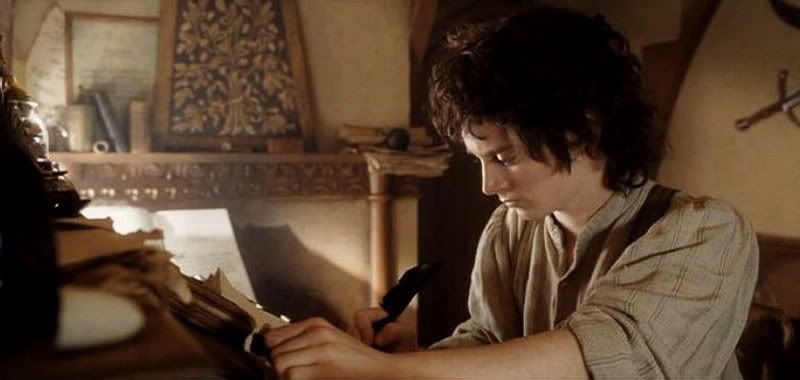 I chose those caps to open this section, but also to complement a poem by jan-u-wine called, "And All the Small and Simple Things". It's a poem that looks at the Shire, freshly cleansed and renewed from Sharkey's debauch of it, through Frodo's eyes.


A scholarly reader of this poem [from a serious Tolkien periodical] loved how it evoked, "such clear and familiar and gorgeous pictures, like exquisite little Vermeers."
I couldn't agree more.

The poem is posted below the caps.



~*~




And All the Small and Simple Things (Frodo's impressions of Bag End, back from Quest)


~ jan-u-wine




and all the small and simple things......

________________________

the gate's crooked edge,
bound,
closed
against the night,

tiny frightened
tongues
of the fire
licking
green
and red,
spitting
sudden vehemence
into the sky
of the flue,

the hard,
cracked
ridge
of tile,
dusty by the door....

the door.......

the door.

Defier of darkness,
gateway....

ever-beckoning

gateway,
upon whose kindly face
I rest
my Road-weary head......

the clean rub of linen
folding tight
about me,
the soft wind-smell
of blankets dried in autumn gardens....
the ever-falling drift of sweet/sharp-quilled
mattress...
pillows.....white and deep
as snow-drifts......

lazy amber-eyed sun,
light spilling
slowly
up the length
of the bed.....

ice,
brittle,
sharp as teeth....
cold,
cold upon the blue
face of the basin....

the odd, harsh
comfort
of the water's
shocking
chill.

the summer yellow
of butter,
pooling
into pillowed,
lemony eggs,
lying like daisy-eyes
against the black
of the battered pan.

the wide, white warmth of
milk,
winking
in its pail....
heavy
with scent of honest earth.

the pure
crisp
brown
of honey'd loaves,
steam rising
as they rest on the oven's
open mouth......

sticky-sweetness
of seed-cake,
autumn leaf-smell
of tea
steeping
in the cracked mustard-yellow
pot.

two plain cups,
side-by-plain-side,
fine,
to me,
as any
service for a king,
upon the strewn
plank of the table.

the garden.

the tumult
of the roses,
dizzying
in the blaze of sun,

the tender sweet green
of saplings
entwined
by solemn
unyielding
deep-delving
roots........

and the small
and simple
Master
of it all......


My hand
closes about
the sturdy gnarled
form
of those very same roots,

so close,
so
wonderfully close
above my head....

my eyes open,
it seems,
from faded dream.

There is too much
color....

too much scent....

too much sound

about me.


There is too much
for me
to feel.

I look into the calm
burnished gilt
of the glass:

I touch the face reflected
there.

I have not looked
into my own eyes
for many a lonely day.

I find myself
sitting
behind the study's
high desk.

This room holds
a silence
peopled with purpose,
heavy with life.

My life......

it waited for me,
here,
safe
within this sun-lit
warmth.

carefully,
I pick up the pen that
has lain, untouched
for what seems an age.

The ink is dark upon the gold glitter of the nib.

Elvish letters
spill
in light
and beauty,
silver-starr'd
upon the page.

No less a wonder,
the crystal
drops
that fall
with joy
to lie alongside them.

_________
and all the small
and
simple things.


[the poet's postscript]

No one has ever deserved to come Home more.

~*~
Jan-u-wine's
LotR-based poetry may be found
here
.
Next Entry (Frodo Writes the Red Book, Pt. I)
HERE
.
Listing for ALL Frodo Screencaps
here
.
~ Mechtild