Beautiful statues beautifully sculpted of beautifully naked people...
Posted on 2005.08.27 at 18:20
Blame it on Pearl
...
Yesterday,
Pearl
sent me an image of a statue by the Italian Neo-classicist artist, Antonio Canova (1757 - 1822). It was a detail of a scuplture, but I was sure I recognized the piece. I Googled around and found it. Here it is: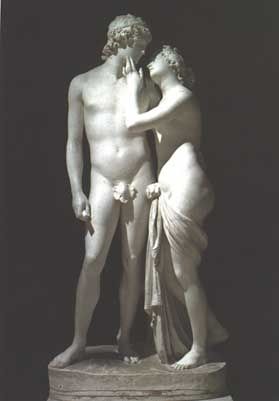 That is Canova's "Venus and Adonis," c. 1794. Canova would have been 37 years old at that time. Ah, talented young men. Aren't they fascinating? I researched some bio material on him, of course....
Educated by his grandfather, Pasino Canova, a stone-cutter of unusual ability, the boy could model in clay and carve little marble shrines before he was ten. The attention of Senator Giovanni Falieri was attracted to the child, whom he placed with the sculptor Torretto at Bassano, where he worked for two years. Canova then went back to his grandfather; but Falieri's sons interceded for their playmate, and the boy-artist was invited to the palace in Venice. After one year under Torretto's nephew, he spent the next four years in independent efforts. He owed his first workshop to the kindness of certain monks who gave him a vacant cell for a studio. In his sixteenth year he modelled his first statue, "Eurydice"...
(Here's a link to a good, full bio on Canova:
http://www.nndb.com/people/377/000095092/
)
As the opera singer told Salieri in
Amadeus
, "I love a man with talent!" (Especially when he is young and beautiful.) I don't know if Canova was beautiful, but he certainly had an eye for beauty.
And for tenderness.
Pearl
wrote in her LJ entry about the standing "Cupid and Psyche" by Canova she had linked,
Isn't it gorgeous? Such creamy-white marble. So erotically charged and so tender.
Pearl's LJ entry on Canova
is here:
http://www.livejournal.com/users/pearlette/11114.html#cutid1
I could not see what she meant from the image of the whole piece, posted above, but it was clearly shown in the detail of their heads, in the image she sent me in her email:
Look at the way Venus touches his face and the tilt of her head as she gazes into her lover's face. It looks as if she were one of us, gazing into the face of film Frodo, thinking with besotted awe,
"Unbelievably lovely!"
And what is Adonis thinking? He appears to me to be melting; perhaps he is thinking something along the lines of what I would imagine "my" Frodo would be thinging, something like, "Heavens ... I can't believe she is looking at me like this. I shall swoon in a moment. Thank goodness for fig leaves!"
Edited to add...
I found this tiny close-up of the two of them from the other view, showing the face of Venus. I tried making it larger, but the result was to blur it. Anyway, I thought it worth posting here: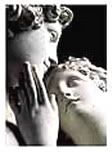 ~ Mechtild