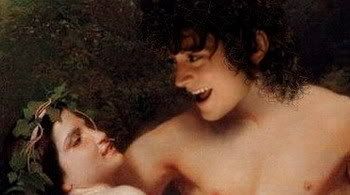 ~ 'Faun and Bacchante', by W. A. Bouguereau, 19th cent., detail.

Warnings: NOT WORKSAFE. By no means sleazy, but it is a nude painting. Depends on your workplace.



* * *


So, then. I'm back from my trip. Once I had gone through my mail, I had meant to get right to work on my next chapter. But it's too darned hot! I can't get serious about writing anything. Catching up on my f-list, I saw an entry from Frodosweetstuff, putting out a call for hobbit-oriented posts. I thought, what about a manip...?

For the last couple of months I've been cruising Google Images and online art galleries looking for chapter illustrations for my fic. While I was at it, I also kept coming across possible paintings for making Frodo Art Travesties.

One of the treasure troves I found was a site hosting the work of French 19th century Academy painter William Adolphe Bouguereau. You who are familiar with my Frodo art manips know that I have made two manips from his paintings, both depicting Cupid and Psyche.

While I appreciate the polish of Bouguereau's technique, I continue to think his compositions almost cloying and sentimental in their extreme sweetness, and campy when they are supposed to be erotic. Still, they can make darned good vehicles for showcasing the beauties of Frodo.

One of his specialties is the artistic presentation of beautiful bodies. He seems especially fond of dishy women, but he can produce dishy men, too (as some of you know from his RAVISHING Cupids, possessors of my favourite Frodo-bodies in art).

The painting I used for this manip is one of many he did set in an idealized Greek antiquity, in which the women are porcelain-skinned, classically-built (tall but curvaceous) beauties -- just this side of [19th century] pin-ups. The children could do ads for baby products; the men are suitably virile, well-built, and handsome. His settings are very lovely, meticulously painted whether they are meadows, courtyards, gardens or seashores.

The couple in this painting, Faun and Bacchante, are lolly-gagging under a tree in a beautifully rendered, atmospheric wood. I am afraid the faun is a little too powerfully-built for "my" sort of Frodo, but there is no denying he is a fine specimen, with lovely skin and a satiny chest. He has dark hair, too.... Otherwise, he is NO match for film-Frodo, as you will see.

The bacchante does not look particularly bacchante-ish, more mellow than wild. Is she mellow from drinking the wine in the amphora that Faun-Frodo is holding? Or is it that she is in a bit of a swoon, being in such proximity to her lovely partner?

As for Faun-Frodo, he could not fail to appreciate his bacchante's superb skin and lush curves, even though he seems more merry than amorous. He's laughing now, full of wine, but I suspect the look in her eyes will draw him in. The wine will be forgotten in melting eyes, honeyed lips, and sweet, heated skin.




* * *



Although this manip is almost campy, I really do like it. I love the way Frodo looks so happy, so light-hearted as a tipsy faun with his lover. The real Frodo seemed to know so little happiness once the Ring entered his life, it's good to see him enjoying himself, if only in artistic fantasy.






~ Frodo in William A. Bouguereau's, 'Faun and Bacchante'.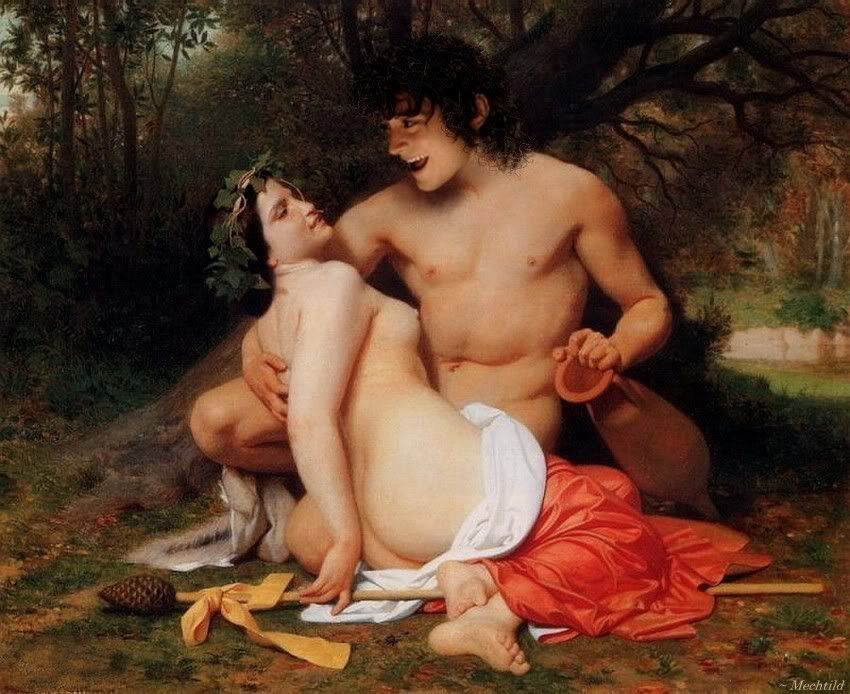 * * *




To browse previous journal entries featuring Frodo Art Travesties, go HERE.

To see complete album of Frodo Art Travesties, go HERE.


~ Mechtild