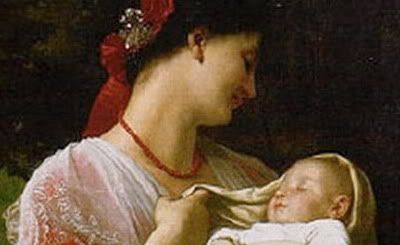 ~ 'Mother and Child', by William-Adolphe Bouguereau, 19th century, detail.


After I posted my announcement and thoughts on "my old Mum," I got a letter from e-friend and poet, jan-u-wine, whose work I have posted several times when she has written things inspired by Frodo Art Travesty manips. It turns out that the black-and-white photograph I had posted of me and my mother (petting the little dog), reminded her of a poem she had written about her own mother. She wrote it after her mother had died, inspired by an old black-and-white snapshot of her and her mother, when she was a baby.

Jan-u-wine's poem speaks beautifully to many things we said, talking about our relationships with our mothers, in the comments section after that post.

I realise I am about to leave, but I really wanted to post this poem right away, because it caught the flavour of what many of you said so feelingly and eloquently in your comments.

As a note, Jan-u-wine found this lovely painting of a mother and child by Bouguereau. I had told her I wanted to find a painting to illustrate the post, preferable a mother wearing pearls. "The woman IS wearing a necklace," she said wryly, "though not of pearls"....






The Bridge of Pearls

by jan-u-wine

A picture
of she and me:

black-and-white,

pearls
gleam about her neck.

I don't remember.

I was too small to remember.

She looked happy though,
and I

all unfocused-eyes-sappy,
as only babies do.

I hold the necklace in both hands,
clasp

and closure....

and,

in between,

a bridge of beads....

as if the moon and planets

were held tight in the interval
betwixt left

and right.

And I think on pearls, and the sea,

and the moon

and

the nature of bridges.

And I think on how

life

is like the sea,

roaring and foaming and sliding with
joyous abandon upon the shore

and tiptoeing with a whisper
as it departs.

And I think how we
are like pearls,

sand from the fingers of God
held in the shell of His fragile earth,

tumbled and turned by the winds and currents of life.

And I think on the bridge,

the bridge between

clasp

and

closure.

Night,
with hope inside it,
presses me close,

and the world becomes smaller,

somehow....


A picture:

she and me.

And a necklace, strung like moon-pearls against her
throat.

It lies, incomplete, now, in my hand.

I broke it,

watched in silence as the pearls fell and rolled
away

beneath sundry furniture.

What does it matter,
after all,

what is one necklace, one pearl,

one

bridge

in the great wideness
of the world?

And still,
I bow my head

and do not know how to go on without that one pearl.




~ Full view of Bourguereau's 'Mother and Child'....







~ Jan-u-wine's Lord of the Rings-based poetry is here.

~ Previous post on "Old Mums" here.


Further note: Since I am leaving tomorrow morning at 5:00 a.m., I may not be able to speak to any comments for a while. But do leave comments if you are moved to do so; I will be sending the link to jan-u-wine.



~ Mechtild