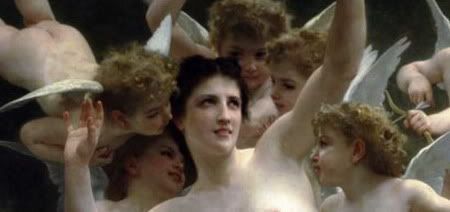 ~ 'The Invasion', by Bouguereau, 19th century, detail.

Halleluia!

At last! Come celebrate with me! A new chapter of
Threshold:

Ch. 13 ~ The Hay-cut
Rating: mild Mature

Now, for the first time, on LJ (illustrated!):

Threshold ~ Chapter 13
Threshold ~ Main Chapter Listing

*Links in "Links list" in left margin of regular LJ main page, also on User Info page.


Or, read it at its usual sites:

Open Scrolls Archives
Frodo's Harem Fanfiction Archives
LotR Fanfiction Community
Henneth Annun*

* one must register at HASA to open it.



Story profile:

Author: Mechtild
Complete or WIP: WIP
Rating: Varies from mild Mature to Adult.
Pairing: Frodo Baggins/OFC
Warnings: Het; Erotic scenes rather explicit, but not tasteless or extraneous.
Summary: As Frodo grows up, so does his childhood affection for an older friend. Adolescent desire becomes passion, and passion deepens into love.




~*~




I know, I know. It must seem as unbelievable to some of you as it is to me. After ten months of stewing and fiddling and angsting, Threshold has resumed publication at last.

Thanks and a big hug to Lembas who made me the great "new chapter" icon [months ago], and thanks to you readers who have continued to be so supportive, asking how it is coming along and waiting so patiently all this time.

Profuse thanks to my beta, Scarlet, (my beta), still hanging in there and keeping up the encouragement, and who has critiqued the new chapters with her usual taste and care.


Note: I actually had planned to post the two new chapters at one time, since Chs. 13 and 14 form a thematic unit (both from Bilbo's P.O.V.), but Scarlet informs me that she will not be able to finish critiquing Ch. 14 very soon. Since Ch. 13 is ready, I am going to go ahead and post it.


~ Mechtild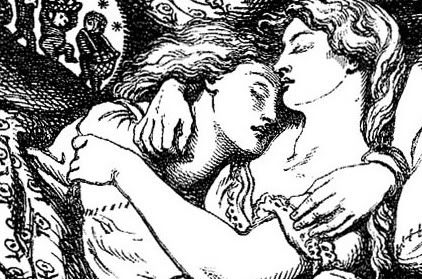 ~ 'The Goblin Market', by D. G. Rossetti, 1865, detail.