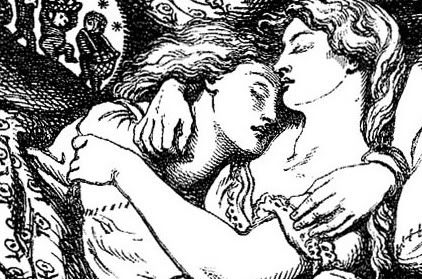 ~ 'The Goblin Market', by D. G. Rossetti, cropped.


I am taking a break to post tonight because I wanted to publicly thank Ariel (
elasg ) for nominating Threshold for a MEFA award. It's never been nominated for anything, so I am thrilled and touched.

Big SMOOCHES to you, Ariel! Here it is, in virtual black and white: the MEFA nomination blurb for Threshold, by Mechtild.

MEFA's....

Although I was vaguely familiar with the acronym, I did not actually know what the MEFA awards were. Since Ariel
told me she had nominated my story, I have looked up the site. I see that they sponsor popularly voted awards for stories based on any of Tolkien's works (not just Hobbits -- imagine!).

Reading the submission rules, I was concerned that Threshold would be too highly-rated to be considered, whether it had been nominated or not. In terms of ratings, the cut-off was "R". (Which was why, I realised, a lot of my favourite fics weren't nominated!) I will not be surprised, therefore, if it is disqualified. I usually have rated Threshold's most explicit chapters "NC-17". But, from what I read under "Ratings", it might squeak by as a "hard R."

Here's what was linked to show further discussion about whether MEFA would consider a submitted story NC-17 or R.

The excerpt below is taken from a discussion by rhapsody_the_bard (full text here):

As for what's R and what's NC17, this really is a grey area. I try to use the standard of what would be acceptable in either an R-rated movie or on a television show that you'd see before about midnight....
(…)
[S]ex: Explicit sex scenes are okay, but they should not be graphic. Meaning that the emphasis should be on what the characters are feeling/thinking, and less on what they're doing. Tasteful and integral to the plot. I'm more willing to allow a sex scene that actually has a point beyond itself because it just feels less pornographic. Rape, child abuse, and "kinky" sex are by their nature more adult; I have no problem with their being discussed and the emotional consequences being dealt with, but portraying the actual sexual act would probably move it into NC17 for me.

The sex in Threshold is what I would call "tastefully done," and "integral to the plot". Although the story's erotica is rather explicit, it is always written to develop the story and characterization. So, perhaps it will be acceptable.

*crosses fingers that it will not be booted out right off the bat for lascivious conduct*

Now!

Because I received this nomination and was inspired to look at the other nominations, I wanted to highlight the noms of people who are on my Friends List. If you look down the MEFA "authors" list, you will see many more names of writers we know and read, but, for the sake of space, I am only listing the writers who are on my list.

From names on my f-list, these are the authors whose stories were listed for MEFA nominations as of this morning....

I have provided links to each author's MEFA blurb. The blurb lists the nominated stories, along with links to the stories where they can be read.

* * *

First, I want to cite the nominations for the writer who nominated my own story -- Ariel. She's a wonderful tale-teller, many times recognized for the quality of her work. I am HONOURED to have my story singled out by her.

These are
elasg's (Ariel's) MEFA nominations for 2006: "Starlight at Eventide", "Inspirare", "Passing Regrets", and "The End of All Things".

To look at her nomination blurbs and find her stories, click here.

I looked through the MEFA awards archives and saw that Ariel has not gone undecorated. Her previous MEFA awards have been:

~ "Turnabout": The Thain for the Great Smials Award, 2005 (Races/Places: Hobbits, Post-War of the Ring, First Place)

~ "The Mark of a … Warrior?": The Legolas and Gimli Award, 2005 (Races/Places: Cross-Cultural Humour, First Place)

~ "Ashes and the Flame": The Faramir, Son of Denethor Award, 2005 (Genre: Drama [including angst], Fourth Age, Third Place.

~ "A Little Night Music": The Luthien and Beren Award, 2004, Romance: Hobbits, First Place

~ "The Gift of Iluvatar": The Two Towers Award, 2004, LotR fanfiction, Second Place

~ "Fear": The Thain of the Great Smials Award, 2004, Races/Places: Hobbits , Pre-War of the Ring, First Place


* * *


Now I want to post a note for everyone else on my f-list who have stories nominated this year (so far; nominations are not yet closed, I think):


just_ann_now (what a pile!!!):
"Aglarond"; "Benison"; "Elfwine"; "For the Moon to Lead, and the Stars to Follow"; "Heirlooms"; "History Becomes Legend,"; "It's a Thought"; "A Length of Haradric Silk"; "Lobelia's List"; "Today"; "Thus Are Legends Born"; "Too Few Words"

Her noms can be seen here.

She also co-wrote a fic with Edorlass that is nominated, "Diplomatic Relations". Its nom and link can be seen here.


abby_normal's nomination for "Scattered Leaves" (writing as Aratlithiel) can be found here.


abby_normal's "Counterpoint" (writing as Daffodil Bolger) has been honoured, "Scherzo" being singled out. The nomination can be seen here.


lame_pegasus'S (aka Cuthalion) nominations can be seen here. Her nominated stories are "Breath of Winter" "Hands of Healing" "Tinúviel, Tinúviel" and "…And hear the song of salt and sea".


mariole is represented, too. Look here. The stories nominated have been "An Army of Tooks", "Bad Step" and "Merry's Present":


mews1945 is nominated for "In Frodo's Hands", and "Frodo Lad: First Yule". Look here for her MEFA blurb.


shirebound is represented at MEFA by "Shelter", "The Three Towers", "Whispers of the Dragon", and "Healed". Look here for her nominated stories.


silvermoonlady is nominated for "Heralded By Storms" and "Cierre, Min Heorte" ('Turn, My Heart'). See her nominations here.


white_gull has been nominated for "Unspeakable". See the nomination here.

Note: White Gull, I have seen copies of emails saying you need to respond to this nomination. Just sayin'.


My best wishes to you all! If I have made errors or left out new nominations, please let me know.


~*~


P.S. News on Threshold: Scarlet, the story's lead beta, just sent back Ch. 13 littered with notes and corrections, all extremely helpful. I sent the revision back for her O.K. this morning. She's still working on Ch. 14. Hopefully, it won't be too much longer, Frodo/Rosamunda fans. I want to post these two chapters together, since they form a thematic unit....


P.P.S. I have finished creating a new LJ account for posting Threshold, complete with an image at the head of each chapter for mood, and very tasteful text formatting (although I am guessing all the formatting drops out if one is not an LJ user...?). The links between chapters are working, and the chapters are all listed in the side bar on the "Recent Entry" page, but the Main Chapter Listing is not yet in place. If you click the links so labelled, they don't yet work.

If you'd like to take a look at it, you can find the "Recent Entry" page HERE. (I'm keeping a link for it in this journals "Links" list, too.)

~ Mechtild