Since posting my new "Frodo Art Travesty" manip...

Frodo and the Enamoured Woman (detail below), one of the Tolkien friends with whom I correspond, jan-u-wine, was inspired to write a poem to go with it. She is a writer of very perceptive, very fine LotR poetry (a link to her works appears below her poem).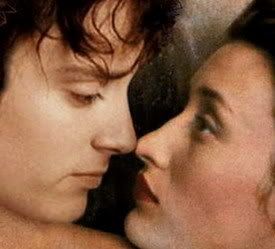 What she wrote for this manip was so evocative to me of what might have transpired in the mind of Frodo when faced with the spectacle of such love for him in the face of another, I decided to edit it into my entry.

Here it is....



The Fields of Forever by jan-u-wine


The warm-cool curve of her throat rests upon my shoulder,

tender pulse
racing and fluttering like the wings
of some wild and frighted bird,

though
her eyes are calm
and sure

and sorrowfully certain

(as if she held some great truth
untold,

untellable,
within).

And I feel
caught

unawares,

as though there were more
to my nakedness

than a simple lack of clothes,
more that rises within

than that without.

Almost
I welcome
the familar sharp definition
of the cliff-face at my back,

the chill counterpoint of rock
holding me on the edge of a dreme.

I wanted.......

I wanted
to smile

as her nose brushed mine

I wanted.......

I wanted to
laugh

at the sweet absurdity of the gesture,
at the curious

intimacy of it.

I wanted.....

oh,
I wanted to know
(above all, I desire to know)


why
her eyes were sad with a wanting of their own

how
in all the wide Circle of the World

she chanced upon me
(or we, upon each other),

who she should be
and

where she might call home......

I wanted.....

I want
to know

what
the summer-crushed-berry
of her mouth tastes like

and the feel of her hands,
running

like water

like silksmooth moonlit water
upon me

and mine -

answering,

answering
until

there can be no more questions,

only
the gentling of my name upon her lips

as if it were the only word the moon and stars
and sun

had need of or would ever know.

She is settling the rich darkness of her garment about her again,
though

her unbound hair still mingles with mine,
the scent and feel and aching-sweet sense of
her

echoing and singing within me.

And we fall into sleep, thus:

arms and legs twined to and twixt,
a warm puzzle of limbs
(gently tired by loving),

eyes speaking all which there are no words for
until

perforce
sleep closes them.

And that last moment of waking
falls

into the first moment of dreme,

her eyes holding me more-so
than ever hands could do,

until
I am walking within the startling fields of them

and dreme upon
forever.


~ Frodo and the Enamoured Woman: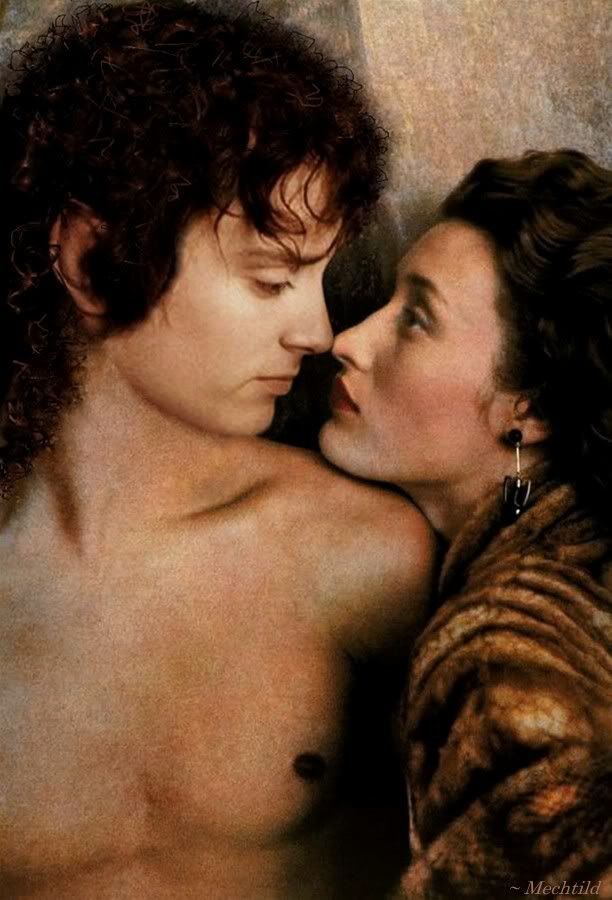 ~ Jan-u-wine's Lord of the Rings-based poetry is featured at LotR Scrapbook.



~ Mechtild



View Frodo Art Travesties Table of LJ Entries page HERE.

View Frodo Art Travesties Album HERE.