*

That's right. Over two thousand miles of driving (round trip) and a lot of moolah later, our daughter still wants to go to college in Hawaii, not Montana....

On the way home she told me apologetically, "You know how Erin said, she was a 'mountain person'? Well, I guess I'm just an ocean person, Mom."

"Who is Erin?" you might ask. Erin is the young woman who spent an extra couple of hours snowboarding with Rachel, after her beginner's lesson at Bridger Bowl was over. Erin is the daughter of one of my husband's best Minnesota friends. Erin went to this college in Montana, married a fellow snowboarder, and never came back. She's an expert boarder. She also very enthusiastically talked up the university (as did total strangers whenever they overheard that we were looking at the place).

But, no. Hawaii is what she wants. But she did like snowboarding. A lot.

~ Here's Rachel being instructed in the basics at Bridger Bowl ski resort in Bozeman, Montana: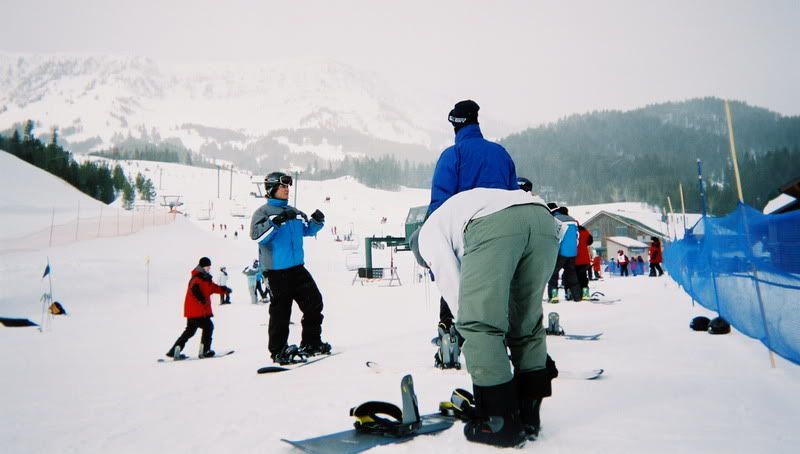 This is Rachel with Jeff, the instructor for the beginner's group that morning:





Here's a long shot of the Bridger Range, where the ski place is, just twenty minutes out of Bozeman: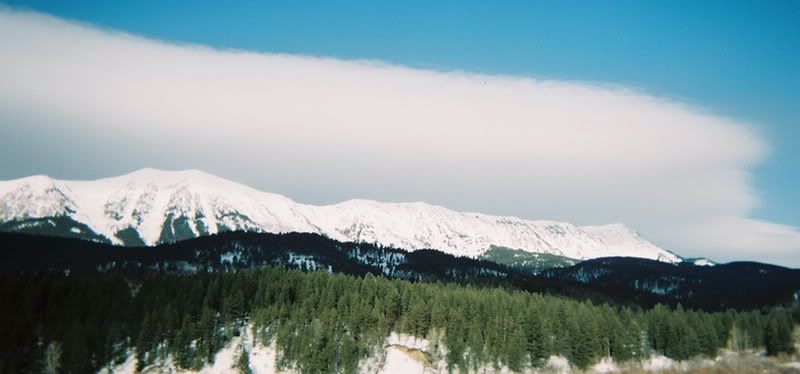 This is a shot of the main "ski hut" where a person buys lift tickets, passes, food and so forth. Another couple of lodge buildings had more food places, equipment rentals, lessons offices, etc.: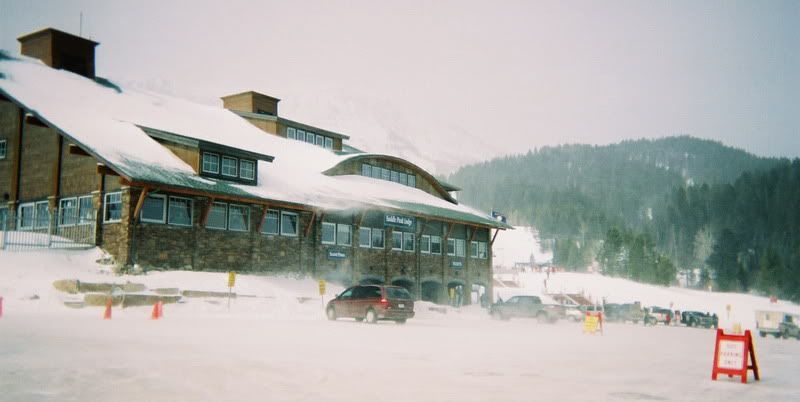 Here's Rachel making one of her first runs down the beginner's hill: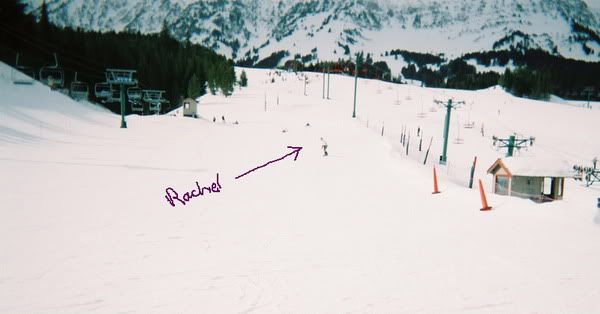 It was later on that Erin drove up from town and spent a couple of hours teaching Rachel more, encouraging her to venture up the lifts to the intermediate part of the mountain. Rachel would not have left the "baby hill," otherwise. Erin normally snowboards from the very high runs near the top where the powder is deep and fresh. Seen from the lodges, people up there looked like mere specks, like ants descending a giant sugar spill. From the tops of the highest lifts, up near the summit, it's another twenty-minute's hike to get to these pristine runs. They carry their boards with them.

Ah, youth.

Below are shots of the petite but athletic Erin with Rachel. Here they are getting into the lift line: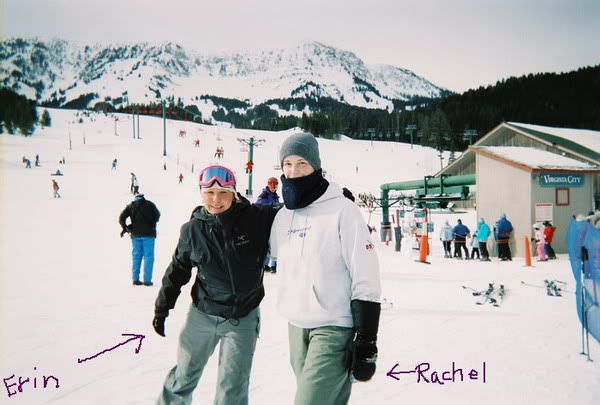 Going up to the intermediate level: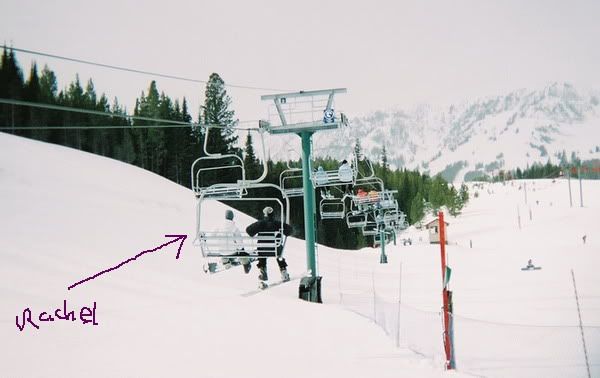 After about twenty minutes of waiting at the upper lodge, I finally spotted them coming over the last rise. Woo hoo!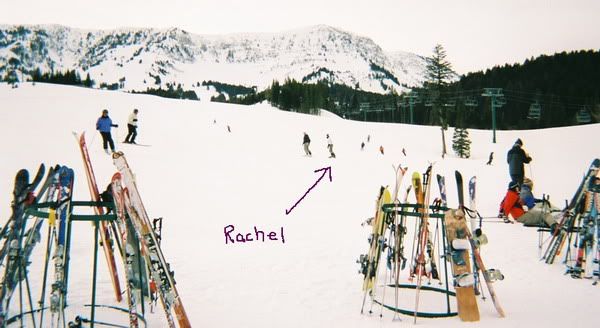 Here they are for a moment, before they go back up another lift to try another run:





Really, friends, I am very sorry Rachel doesn't want to go to this school. The campus was smallish but looked really nice. Their nursing program looked excellent. We met loads of nice people, the town had good movie theatres (they were showing Capote and Matchpoint, which our own much bigger array of theatres are not), there were good places to eat, and plenty of cafes and bistros. Lots of live music, too. The scenery was awesome, of course, and the distance drivable.

Speaking of driving (and I do love this drive), I got a speeding ticket in Montana. Driving west, we were heading uphill and into the wind (Duluth on the shore of Lake Superior is at 620 feet; Bozeman sits at 4,957 feet). Our Honda Element was just making the 75 mile-an-hour Montana speed limit without stressing. But, driving home, going essentially downhill and with a tail wind pushing the boxy rump of our car, I was constantly finding myself speeding without realising it. Finally, a very nice state trooper whirled his lights at me and pulled me over. I was clocked at 89 miles an hour. Still, speeding tickets in Montana are not too costly, so I looked at it as a friendly warning.

When we arrived at our stop-over motel in Bismarck, North Dakota, the rosy-faced man behind me in line at the desk said he had seen me being pulled over and had felt for me, having been speeding himself. That was about two hundred miles back. That's how empty the roads are, that he should remember the one Honda Element travelling it. It also turned out that he, too, had been in Bozeman. "There were three feet of new snow at Bridger Bowl last night," he commented, impressed.

"Wow! We were just there, too."

"With that big group from Duluth?"

(Quite coincidentally, a big ski club group - 60 people? - from Duluth was in Bozeman for the week. All of them were at our hotel, too. Small world!) No, I told him.

"Did you get a lot of skiing in?" I asked him.

"No," he sighed, "I never made it to the slopes. I had a heart attack and was in the Bozeman clinic. We cut the trip short, now I'm heading home."

Poor fellow, to miss his skiing, but lucky to be alive.

Just to show the difference between the mountain areas and the flatter parts of the high plains of the upper midwest, here are a couple of shots from eastern Montana.

I actually love this sort of land, especially where it is broken by rocky outcroppings and buttes. The skies are unbelievable. In otherwise undistinguished Billings, Montana, the land was hilly but still wide open, with huge skies set off by magnificent, dramatic weather as we drove through. Blue patches were on the horizon, with sun beaming down in shafts. But in other directions dark towers of clouds loomed over us. Smudgy veils of what turned out to be hail swept down and across the road in front of us. In the uncanny light it looked like black particles, as if hoardes of locusts were hurtling out of the sky.

Even where it is mostly flat, it must be fabulous on the high prairie in the spring, when it is covered in wild flowers and teaming with birds.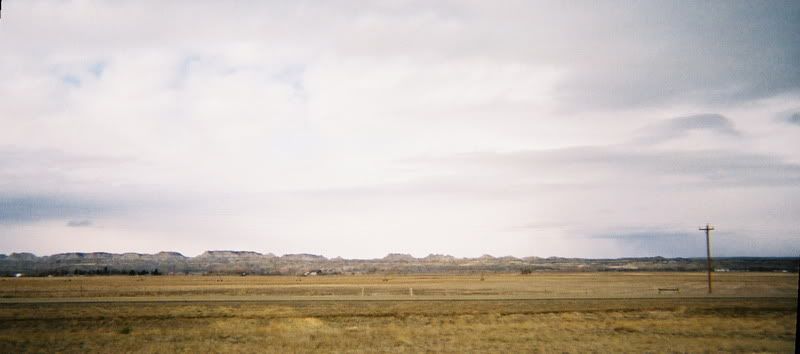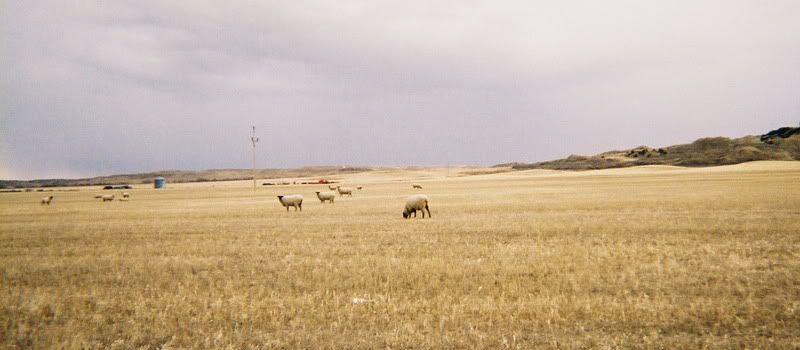 ~ Mechtild