A Sanctuary for Tolkien Fanatics Who Aren't Ready to be Cured
December 2nd, 2006
---
Posted on 2006.12.02 at 06:10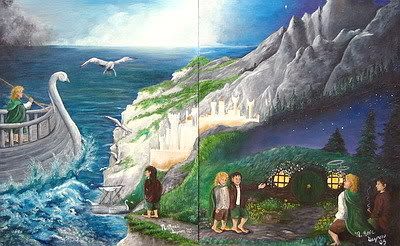 ~ Greatly-reduced version of Nan's "Reunion".
I
n my last post I mentioned that
jan-u-wine
not only brought herself to visit me in the frigid North, but the two-panel oil painting she had commissioned from a fellow artist friend. Because I am always interested in seeing Tolkien illustrations, Jan had sent little images of this diptych in emails. I was intrigued by its imaginative composition and folk-art style, and wrote wistfully it was a shame they couldn't be seen life-sized in person. Jan, in her visit, surprised me by giving me just that opportunity. She allowed me to hang onto the panels after she left, so that my husband could take some high resolution pictures of it. (It's since been returned to its loving owner.)
(
Read more...
Collapse
)
---