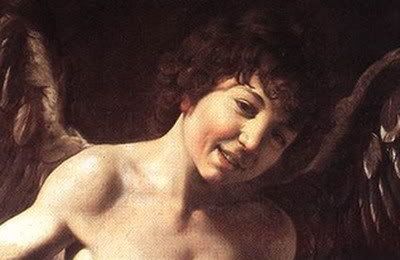 ~ detail from Caravaggio's "Love Victorious", 1602, with 'Cecco' as model:
Note to Caravaggio fans:
Here are links to two ETA's to my last journal entry:
1. Info. about the film that was made in the 80's, called
Caravaggio
.
2. Info. about Caravaggio's boy model
Francesco 'Cecco' Boneri
.
P.S. I'm sorry the entry is so time-consuming to open, but "the pictures are the story" seemed extra true in this case. I just couldn't make myself stint on the images (and links to images), in illustrating it.
~ Mechtild