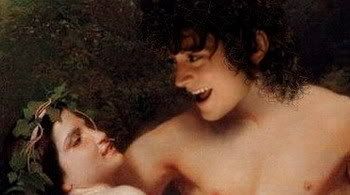 ~ 'Faun and Bacchante', by W. A. Bouguereau, 19th cent., detail.
Warnings:
NOT WORKSAFE. By no means sleazy, but it is a nude painting. Depends on your workplace.
* * *
So, then. I'm back from my trip. Once I had gone through my mail, I had meant to get right to work on my next chapter. But it's too darned hot! I can't get serious about writing anything. Catching up on my f-list, I saw an entry from
Frodosweetstuff
, putting out a call for hobbit-oriented posts. I thought, what about a manip...?
(
Collapse
)