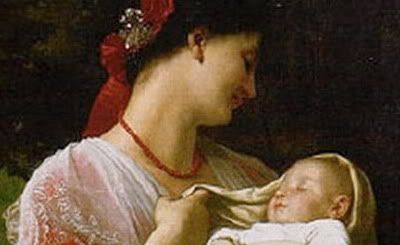 ~ 'Mother and Child', by William-Adolphe Bouguereau, 19th century, detail.
After
I posted my announcement and thoughts on "my old Mum," I got a letter from e-friend and poet,
jan-u-wine
, whose work I have posted several times when she has written things inspired by
Frodo Art Travesty
manips. It turns out that the black-and-white photograph I had posted of
me and my mother
(petting the little dog), reminded her of a poem she had written about her own mother. She wrote it after her mother had died, inspired by an old black-and-white snapshot of her and her mother, when she was a baby.
(
Collapse
)