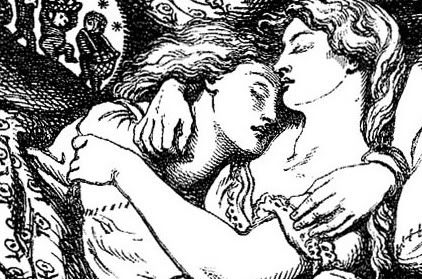 ~ 'The Goblin Market', by D. G. Rossetti, cropped.
I
am taking a break to post tonight because I wanted to publicly thank
Ariel
(
elasg
) for nominating
Threshold
for a MEFA award. It's never been nominated for anything, so I am thrilled and touched.
(
Collapse
)
Now!
Because I received this nomination and was inspired to look at the other nominations, I wanted to highlight the noms of people who are on my Friends List. If you look down the MEFA "authors" list, you will see many more names of writers we know and read, but, for the sake of space, I am only listing the writers who are on my list.
From names on my f-list, these are the authors whose stories were listed for MEFA nominations
as of this morning
....
(
Collapse
)
P.S.
News on Threshold
:
Scarlet
, the story's lead beta, just sent back Ch. 13 littered with notes and corrections, all extremely helpful. I sent the revision back for her O.K. this morning. She's still working on Ch. 14. Hopefully, it won't be too much longer, Frodo/Rosamunda fans. I want to post these two chapters together, since they form a thematic unit....
(
Collapse
)