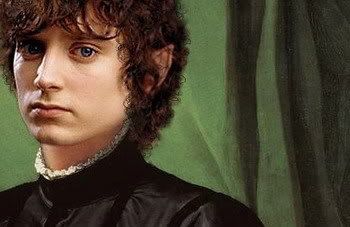 ~ Detail of Frodo as Agnolo Bronzino's 'Ludovico Capponi'
.
Warning
: Very long post, more like a "mini-essay".
Last night I was restless. I stayed up late and re-did a manip that had been bothering me. It had been made from another portrait by Agnolo Bronzino (1503—1572). I had done it to indulge my pleasure in seeing Frodo in fancy dress.
(
Collapse
)
Discussion of
Frodo's Dreme
(or,
The Sea-bell
), and related matters.
Tolkein wrote a preface for the Tom Bombadil collection, very droll. In it he submitted the poems to various forms of literary criticism in vogue at the time, assessing their genres, conjecturing as to who wrote them, when, and how they were passed down -- just as if they were real works of ancient literature discovered in a dusty under-used Oxford library.
To start, here's a snippet from Tolkien's 'Tom Bombadil'
Preface
[The emphases in italics are mine]....
(
Collapse
)