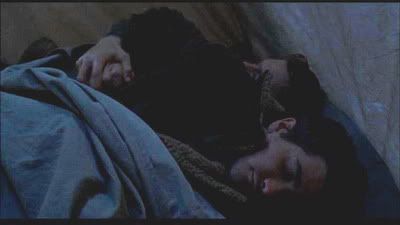 Brokeback Mountain Screencaps ~ The Kiss Scenes: Part IIWarnings
: Adult content for discussion of sex, erotica, homosexuality, slash, etc. No explicit images, though.
Well!
I certainly learned a lot reading the comments from my introductory post, particularly as they touched upon
Brokeback Mountain
-- both the short story and the film based on it -- when it came to watching real love scenes between a man and a man.
Yesterday, I singled out the kissing scenes as the "love scenes" of
Brokeback Mountain
, dismissing the opening tent scene (murkily but unmistakably showing anal intercourse) as abrupt, wordless, and quick (not to mention, from behind, not face to face), raw sex.
(
Collapse
)