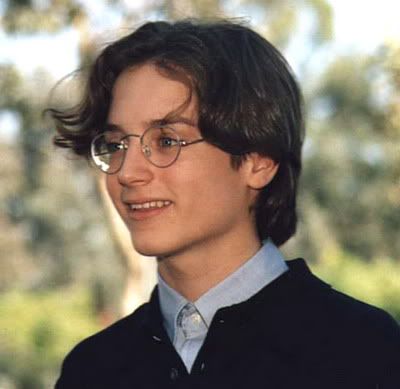 Harry Potter, had he been portrayed by Elijah Wood. *wink*
SPOILERS
OK, I've resisted reading the Harry Potter series since it came out, but the reviews and word of mouth on
The Half Blood Prince
were so enthusiastic I decided I had better do it. When was that? Sometime this summer? July? August? Anyway, in my spare time ("spare" - HA!) I started reading them.
Harry Potter and the Sorcerer's Stone
. Cute, but no more than many other books of far less renown. On to
Chamber of Secrets
. A little cuter, but, still; so what?
Prizoner of Azkaban
. Much better. Hermoine gets more interesting and I liked Sirius Black, sure that he was going to turn out to be a good guy. He did. Good! Then,
Goblet of Fire
. Far better still. I stopped pretending to work on my own fic to read it through. Things were definitely perking up!
The Order of the Phoenix
. Completely couldn't put it down. (A bit of a let-down in the big show-down at the Dept. of Mysteries -- kept picturing the battles in the first three Star Wars movies -- but otherwise, really a pleasure to read.)
This afternoon, I finished
The Half Blood Prince
.
(
Collapse
)