I meant this for K-D's Fanfiction thread, but, since it's still down....
Posted on 2005.12.03 at 20:18
~ Elijah Wood in the 1995 rock video for Ridiculous Thoughts, by the Cranberries: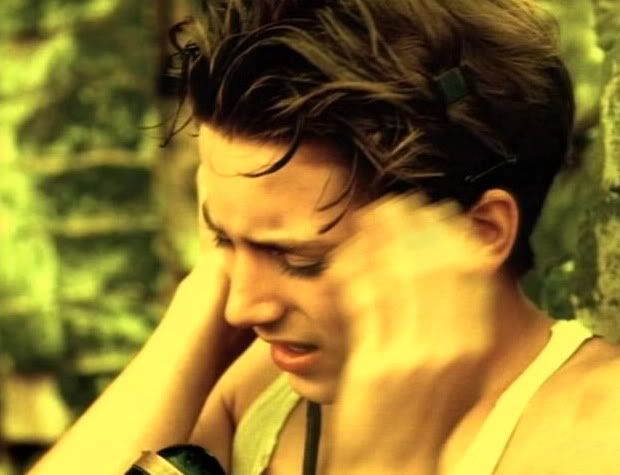 My, my, how I love the angst on that kid's face. It's just
perfect
for
Willow-wode
's sorely afflicted hobbit 'tween hero,
Rites of Passage
Frodo, Middle-earth's, "Boy Who Lived" (barely).
I would have posted these remarks in Khazad-dum's "Fanfiction" thread, but it's still down....
As some of you know, I fell in love with fanfic reading Willow-Wode's
Rites of Passage
. Her first section, "The Hall," drove me crazy with its AU Frodo, its anachronisms and Americanisms, all jumbled into its mix of archaic forms of English speech, and its non-stop angst. But this fic changed my life. No kidding. I wouldn't have begun writing my own fic. Heck, I wouldn't have spent so much time in bed with my husband. *snicker* It has been a
gift
to me. I have loved this fic and its messed-up Frodo
to pieces
.
I am one of those fans, however, who became disoriented and a little disenchanted reading RoP's second half, "Bag End." Only on the strength of the first half have I continued doggedly to slog through all its chapters, gypsy fortune tellers and endless recuperations and all. Typically, I have waited until a few chapters stack up before wading through them, ever hopeful that things will "pick up."
Last night, I forded through chs. 21 and 22. I read ch. 23 this morning. They weren't bad chapters, mind you, they were just ... tiring. As a reader, I have been feeling as exhausted and despondent as poor, never-quite-on-the mend Frodo.
*Begin hiss of cymbals and slow drum roll*
Well! This afternoon I read the latest installment, ch. 24. (It is not yet up at WotM, but is up at Willow's site.) What do you know? I'm in loooooooooove again!
Yes, what a happy fanfic reader I am. Ch. 24 really de-livered, yessirree, bob. Oh, I kiss your feet, Willow-wode!
(OK, I'm done. I just wanted to squee somewhere.)
~ Mechtild