June 25, 2011

Yes! We've had FOUR summer days in a row - upper seventies to eighties - even in the nineties away from the lake. The flowers are beginning to do their thing in earnest.

These photos are from yesterday, the 4th of July. It's been nine days since my last garden photos. The Dutch iris are done, the French lilacs, too. But the hybrid lilacs (Miss Kim, dwarf Korean) are still in full bloom, their perfume everywhere in the warm air. Also in full bloom are the yellow day lilies, Siberian iris and Snowmound spirea bushes. There are even some roses blooming. The garden is lacking in red/pink/orange, but those flowers are nearly ready. How pretty it will be.



Here are those bushes around the big rock again. The big Bridal Veil spirea (not in the photo) are still in flower but past their prime. The little green bush above the red barberry is just coming into flower, a Snowmound spirea.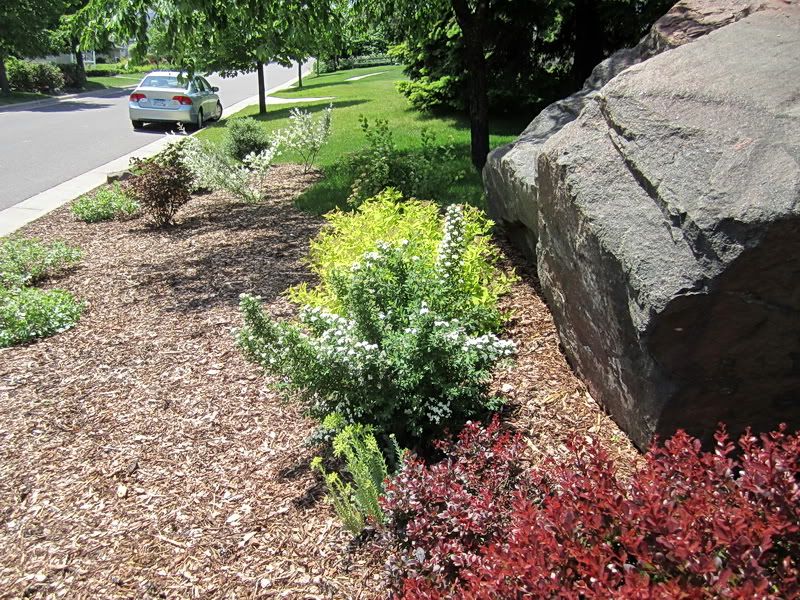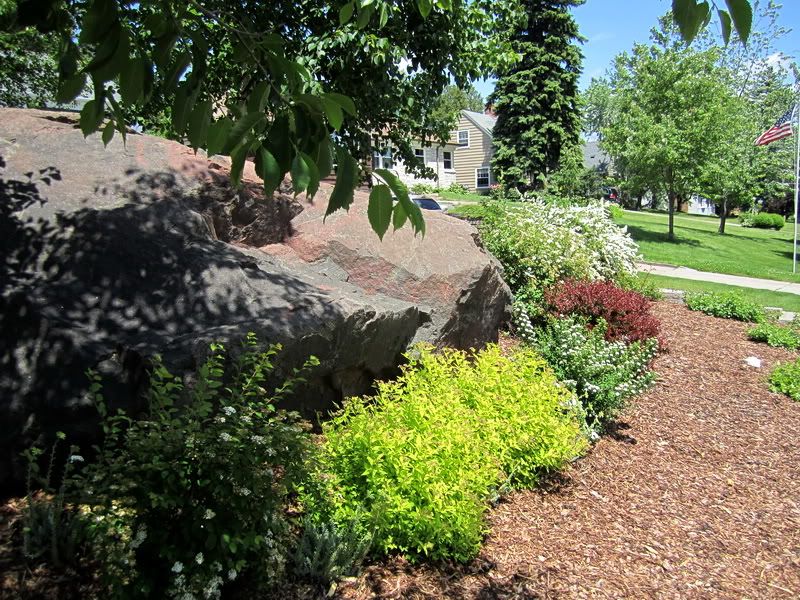 Here are those lilacs I was talking about. The big bush in the front in Miss Kim, the Korean behind. I should have planted the Miss Kim in back, but I didn't realise what a fast grower it would be.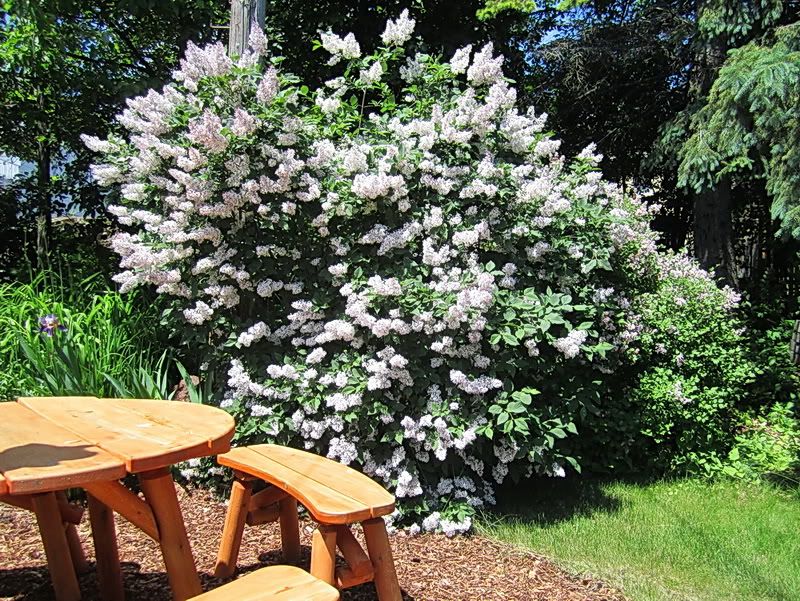 Here's a photo of the back yard, from the back corner of the house. You can see those lilacs up there behind the table and benches. In the foreground the first shrub roses are blooming, a red and a white. They're still quite small, only planted the year before last when the patio area was put in.






This is the west side of the yard, looking into the back. Those white flowering shrubs are the Tor Birchleaf spirea. The Cape Honeysuckle vine has the orange flowers, Siberian iris below and beyond it.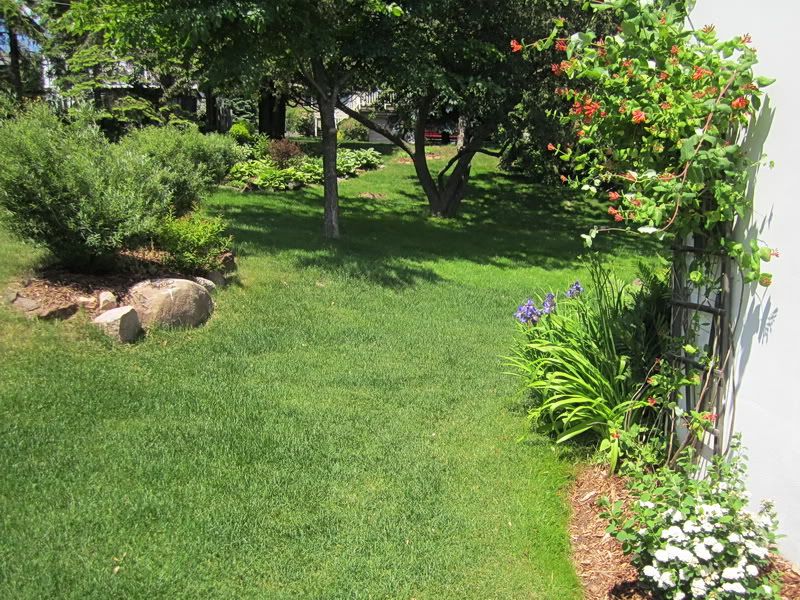 This is one of three big patio pots of annuals I planted this year. Last year I grew cherry tomatoes in them. Even though it was an extra-warm sunny summer, we didn't get very many. I'm so glad I planted flowers instead, this summer has been so cold. The annuals, planted at the end of May, nearly dormant during our cold grey June, are finally taking off and beginning to fill their pots. Yay!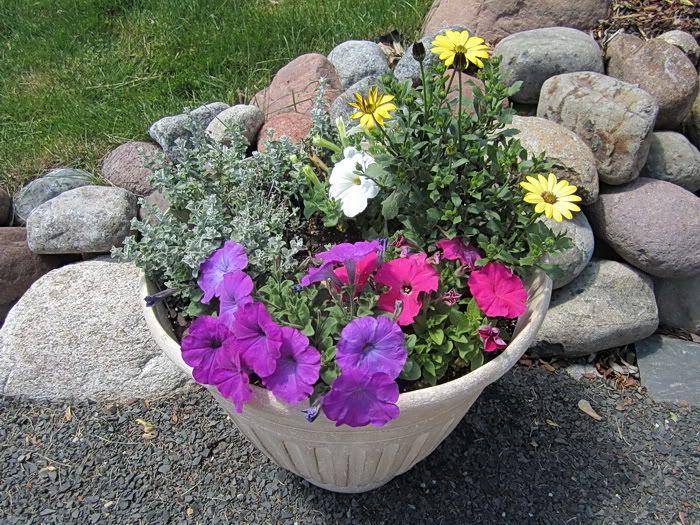 Here is a front garden shot to show the yellow day lilies. They are not only pretty, hardy and great growers, they have a nice fragrance. The purple-blue on the left is Siberian iris, the short blue flowers on the right are some salvia. Like most of the other gardens, this bed has tall orange day lilies, pink astilbe, red asiatic lilies and white shasta daisies, all nearly ready to bloom. How pretty it will look when they do. It will be weeks before the yellow rudbeckia, purple liatris, pink cone flowers and red monarda are ready, but I'll take a few photos when they come into flower.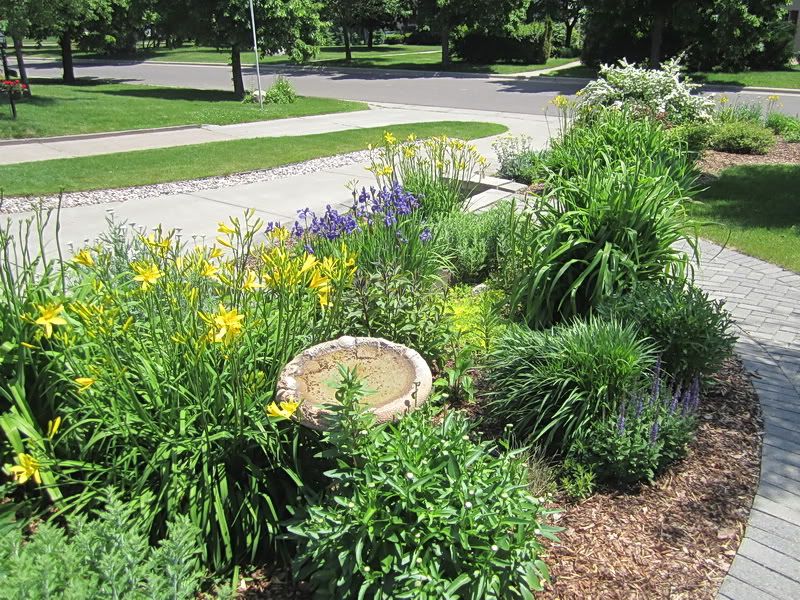 Mechtild